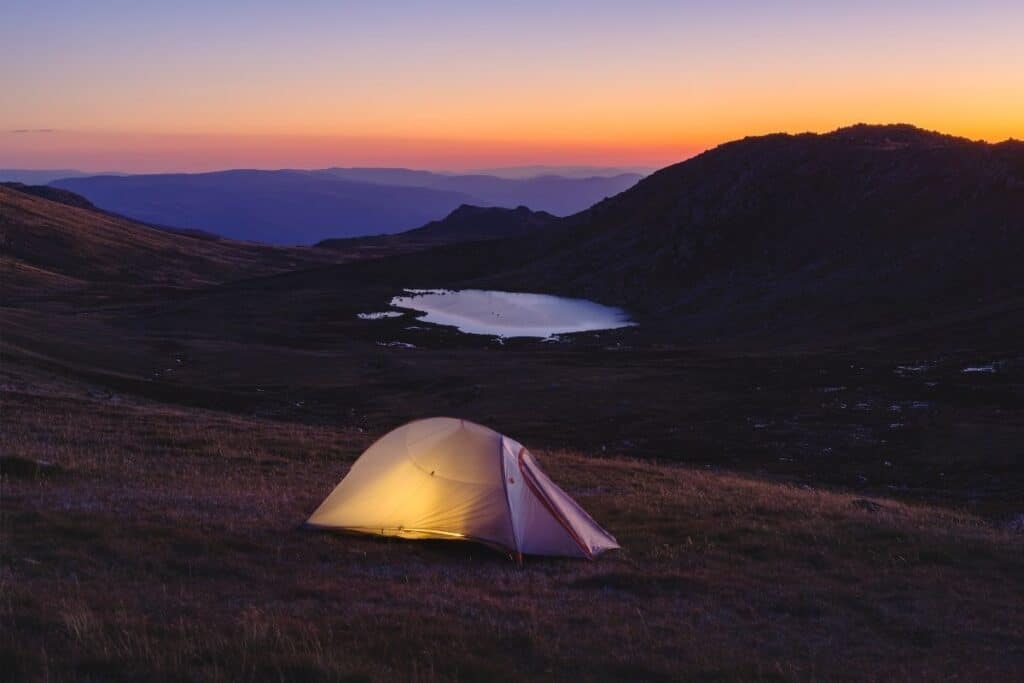 There's never been a better time to embrace the openness of the great outdoors. But when it comes to choosing a campsite, things can get crowded. If you're hoping to enjoy a blissfully solitary experience that affords the best possible views, you may want to opt for a backcountry camping site.
But what is backcountry camping? Keep reading to learn everything you need to know about this popular pastime.
Backcountry camping is the act of traveling away from paved roads and settled camping sites and pitching your tent. As a result, backcountry camping sites do not have plumbing, electricity, or designated parking spots.
Instead, they're just nifty places to settle down for the night!
Primitive Camping Vs. Backcountry Camping
One of the most significant sources of confusion for those hoping to go backcountry camping is how this camping type differs from primitive camping. Generally, these two terms are interchangeable.
Many campers who seek an off-the-path campsite may choose to venture into a forest or park. Several parks throughout the United States offer primitive camping sites that are only accessible via long hiking routes. These types of sites may be marked, even if they lack standard amenities.
Other parks may offer backcountry camping areas. Campers that decide to set up their tent in these spots may select any place within that (typically massive) location.
Still, some parks require a permit for backcountry or primitive camping. This type of camping is also sometimes called dispersed camping.
Because you'll be far from other people, electricity, and plumbing during your backcountry stay, it's crucial to bring along several essential camping items. This includes foods, a tent, a first-aid kit, and a water filter or sanitizing solution. Still, that's just the tip of the iceberg.
What Items Do You Need for Backcountry Camping?
Before you saddle up your car and head out into the great outdoors, you'll want to make sure that you have all the necessary gear for a successful backcountry camping trip. Some of the essential items to take along with you include:
Clean socks
A sturdy backpack (list of options here)
A tent
Compact cookware and dinnerware
Non-perishable foods
Bottled water or water treatment supplies
Non-toxic cleaning supplies
Clothing
A first-aid kit
A knife
A flashlight
A communication device
Each one of these items fulfills a specific and necessary purpose. For example, should you end up falling down and gravely injuring yourself, you may need an emergency communication device to call for rescue.
You could use your first-aid kit to help sustain yourself as you wait, and your flashlight may come in handy to signal your position come nightfall.
While backcountry camping can be an unforgettable experience, the solitary nature of such ventures adds an element of danger. You'll want to ensure that your hiking shoes are in excellent shape and worn-in to avoid blisters and accidental tumbles.
You'll also want to inform friends and family members of your camping trip before taking off.
Share your itinerary and planned travel areas and routes.
While this might seem like overkill, this information could end up being the thing that saves your life in an emergency. Believe me when I say that you will never regret doing this in the event that it's actually necessary!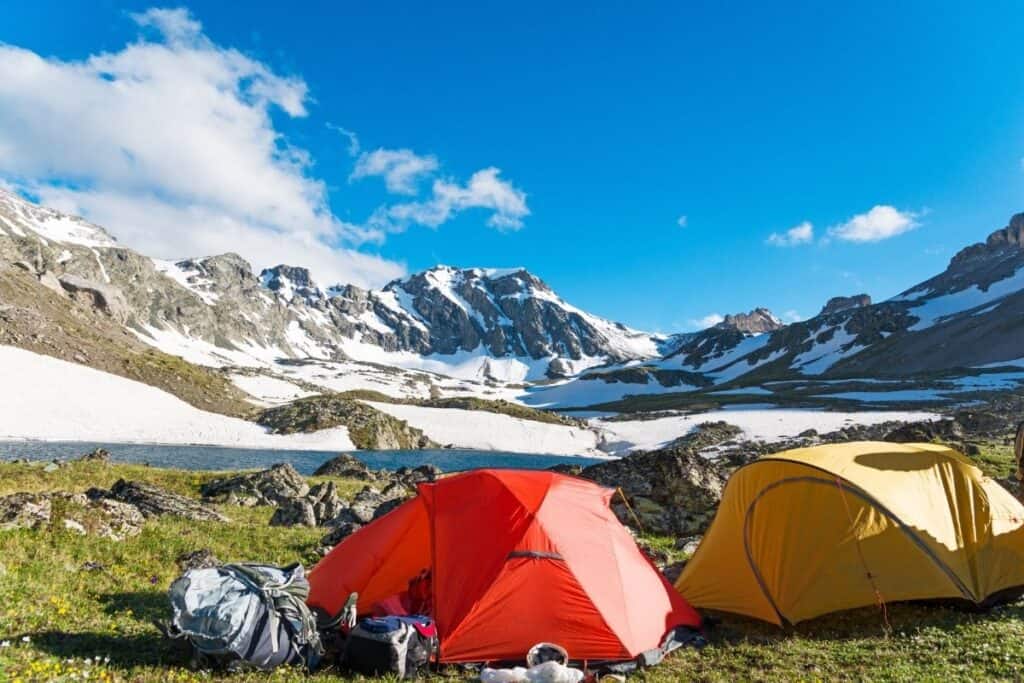 Is Backcountry Camping Dangerous?
If you do an adequate amount of research about your destination and follow general camping safety rules and tips, backcountry camping isn't likely to pose many dangers. Still, there are a few potential perils to consider before taking to the wilderness.
Understanding and preparing for these issues could mean the difference between a successful backcountry camping adventure and a life-threatening foray into the woods. Let's review some of these dangers.
Common Backcountry Camping Hazards
Some of the most common hazards campers might encounter when sleeping in primitive or backcountry areas are environmental ones.
For example, inclement weather (heavy rainfall or a sudden snowstorm) can pose significant problems to campers who might be far away from other people, vehicles, or stable shelter.
The most common backcountry camping hazards to consider are:
Zero access to clean water
No shelf-stable foods
Lack of dry clothing
Lack of protective clothing to help shield from the elements (rain and snow)
Sudden weather phenomena
Lack of communication with the outside world
An unexpected health condition or injury
Still, by ensuring that your backpack is filled with the right supplies, you can avoid most of these dangers. Additionally, it's crucial to find out what the weather conditions might be like when you visit your backcountry camping destination.
Some months may be sunnier and drier than others, allowing you to soak up some sun rather than fight a flash flood. However, the most pleasant months of the year could also be the most expensive times to go camping.
While the beautiful views are free, some fees are still associated with this awesome activity!
Is Backcountry Camping Free?
Generally, backcountry camping is free. But when you think of all the costs that can go into your camping trips, the notion of a cost-free experience quickly fades away.
For example, if you're determined to go backcountry camping, you'll need to commit to paying:
Gear Costs
Supply Costs
Transportation Costs
Entrance Fees
If you already own all the essential camping gear, then you'll still need to invest in some snacks and camp-safe meals. These items fall under the 'supplies' category.
And unless you're fortunate enough to have a National Park in your backyard, you'll likely need to travel to your destination. Sure, you'll be hiking a decent way at some point to reach your final camping spot, but you may also need to purchase gas for your vehicle, rent a car, take a bus, buy a train ticket, or hop on an airplane.
These transport costs can certainly add up!
Finally, some parks and camping areas charge entrance fees. Others may charge for primitive, dispersed, or backcountry camping permits.
Luckily, these fees are typically affordable. But the last thing you'll want is to show up at your destination without the right amount of cash-on-hand.
To ensure that you're prepared for every aspect of your backcountry camping expedition, you'll want to research your destination's associated entrance or permit fees. Can't decide on a place to hunker down for the night? Don't worry. You can find some helpful suggestions just below!
Best Backcountry Camping Locations in the United States
Many of the parks under the National Park Service jurisdiction are beloved for their stunning backcountry camping locations.
Just a few of some of the most notable of these backcountry-friendly parks include:
Rocky Mountain National Park
Yosemite National Park
Zion National Park
Often, a new hobby begins with a dream. It can be challenging to daydream about the perfect backcountry camping trip if you don't have a destination in mind.
As such, let's take a brief look at these astounding national parks to discover what areas might make the best spots for you and your tent!
Rocky Mountain National Park
This sprawling park consists of about 415 square miles of forests, mountains, streams, waterfalls, and unique animal life. In total, there are more than a hundred backcountry campsites in more than a dozen unique areas that visitors can choose from.
Campers will want to select a campsite before applying for a $30 wilderness permit.
If you're planning on parking at one of the visitor's centers before hiking to your camping spot, you'll also need to bring $35 to cover your entrance fee and 7-day parking pass.
Yosemite National Park
Are you looking to get away from it all and experience some rugged natural beauty? If so, Yosemite National Park could be the right option for you. With more than 1,000mi² of mountains, waterfalls, groves, plains, geysers, and springs to explore, you may never want to go home!
Of course, Yosemite is a popular destination for backcountry campers. Consequently, you may need to reserve a spot ahead of time ($5 for the reservation, then an additional $5 per camper). The good news with this method is that you can apply for and receive your wilderness permit far ahead of time.
But some areas remain first-come-first-serve. If you've got your heart set on Cathedral Lakes or Rafferty Creek, you might want to visit the nearest permit station the morning before your trip is set to begin. You may also want to cross your fingers for good luck, as such camping spots tend to fill up very quickly.
Zion National Park
Southwest Utah might not be the first place you think of when you imagine beautiful views and breathtaking natural beauty. But Zion Natural Park is home to forests, rivers, and ancient rocky outcroppings with an unmistakable reddish hue.
This national park feels like an oasis, making it a fantastic option for campers needing a rejuvenating outdoor experience. Before you pack up your hiking gear and start readying yourself for a trip to Utah, you'll need to select your ideal type of wilderness camping experience.
After all, Zion National Park offers tons of options in terms of backcountry camping and hiking. Wilderness permits cost $15 for groups of up to two people, and you'll need an additional $35 to cover the entrance fee and week-long parking pass.
Final Thoughts
Backcountry camping is when campers get all of their gear together, hike through the woods or across a long stretch of unpaved land, and set up camp. It is also known as primitive, wilderness, and dispersed camping. Successful backcountry campers always bring high-quality tools and gear with them, and they never forget to get plenty of supplies.
If you're interested in doing some backcountry camping this year, then you may want to start with one of the many national parks found throughout the United States. You could see it all–from Yosemite's highs and lows to the Rocky Mountains' snowy peaks!
Related Articles
If you found this article helpful, then make sure to take a look at some of these related posts as well!