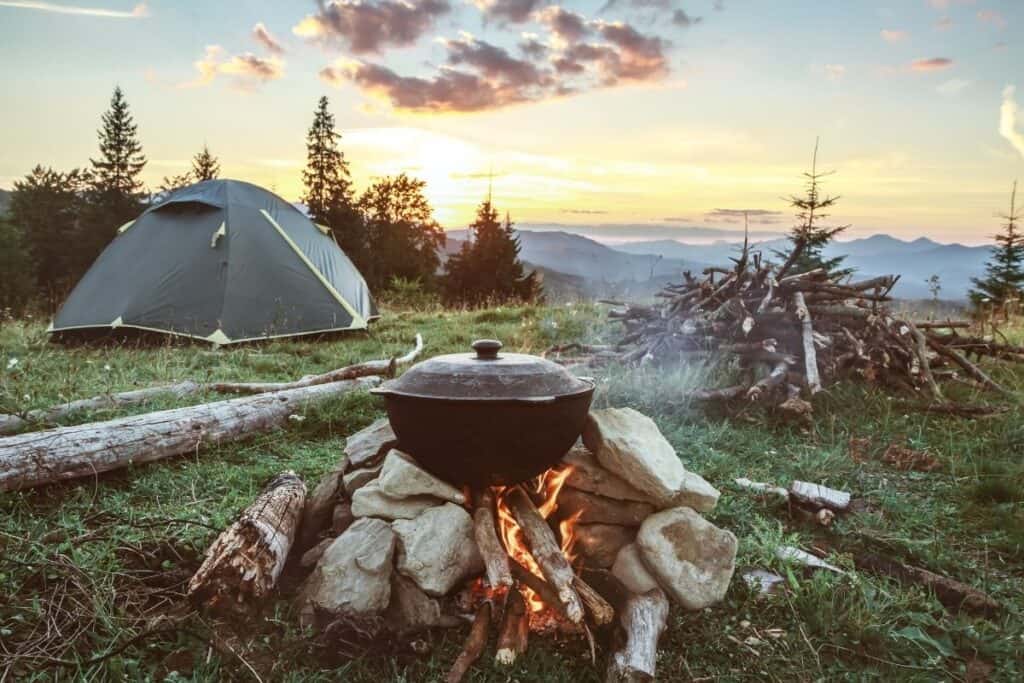 There's nothing better than the great outdoors. The sun shining on your face, the peaceful breeze blowing through the trees, the birds chirping around you. Camping gives you a chance to reconnect with the Earth and relax outside for a few days, away from crowds and the everyday noise of life.
Some people even look for an added challenge and want to live primitively for a while. If that's what you're interested in, perhaps dispersed camping is for you!
Dispersed Camping Defined
But what is dispersed camping, exactly?
Dispersed camping means camping anywhere that's not a designated campground site. Dispersed camping provides little to no facilities, such as fire pits or tables, and does not offer trash removal or other services. Some dispersed camping sites may have toilets, but not all do. 
Dispersed camping comes with more responsibilities than camping on a designated campsite. It is up to you, as the camper, to leave the area you stay in as undisturbed as possible!
You have to be extra careful and make sure you leave no waste or trace of your presence after you leave your campsite so that you do not disturb the surrounding nature.
That means packing up all trash you create, including the toilet paper you use, and carrying it with you until you can dispose of it properly.
Is Dispersed Camping Dangerous?
Dispersed camping is riskier than camping on a designated campsite, but is safe as long as you are a responsible and proactive camper.
You will want to plan ahead for your trip and follow these tips to make sure you are safe while you're having fun!
Is Dispersed Camping Legal in National Parks?
What is dispersed camping in National Parks? Dispersed camping is legal, free, and you don't have to make reservations.
As I have already mentioned, though, the first rule of dispersed camping is that there are no amenities, and you need to be self-contained. You are responsible for your own water, trash, and restroom use!
Legally, campers are allowed to camp in a dispersed area for a maximum of 16 days.
Campers must move to another dispersed area at least 5 road miles away after the 16th day. You're also not allowed to spend more than 16 days within a 30-day period in the same dispersed area.
Groups of more than 75 people have to get a special use before they can go dispersed camping in a national forest. You can get a permit from the nearest District Office.
Campsites should be at least 100 feet away from any stream or water source. Dispersed campers are allowed a one-mile perimeter for their campsite and should be away from other campgrounds.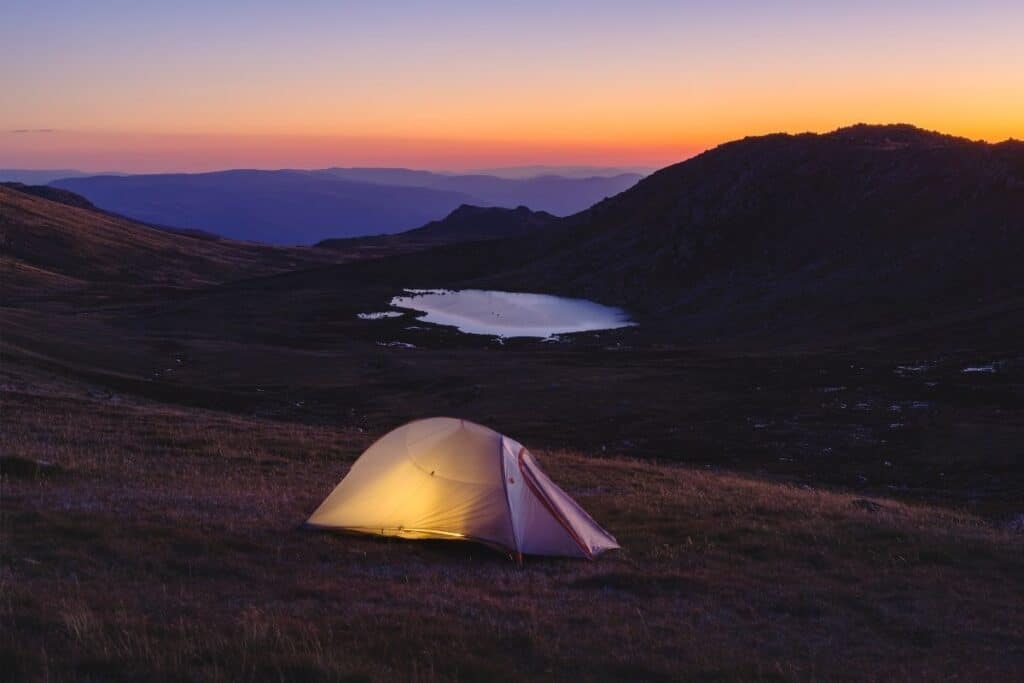 Where Am I Allowed to Go Dispersed Camping?
Dispersed camping is not allowed on or near developed recreation areas like trailheads, campgrounds, or picnic areas. The best way to find out which areas you are allowed to go dispersed camping in is by contacting the Forest Service office nearest to the area you want to visit.
Most people drive into the woods using Forest Service roads and find a spot or clearing with a view that's near water. Dispersed campers should not drive on meadows to access a camping site and should drive on existing roads to avoid damaging resources.
Dispersed campers should also keep their campsite within 150 feet from a roadway to prevent damaging resources. 
How to Pick a Campsite
Campers should pick a site that has been used by previous campers before. Using existing campsites limits your impact on the forest soil, plants, and wildlife. If possible, campers should camp on bare soil to avoid killing or damaging grass and plants.
Campers should also pick tent sites that are level and have good drainage and avoid digging trenches or trying to level the ground at their campsite. As I've previously mentioned, campers should not camp within 100 feet of any water source. This is because plants near water are particularly fragile. 
Lastly, campers should try to keep their campsite invisible and avoid camping in the middle of meadows or clearings. This helps to maintain that "camping in the wild" feeling.
Am I Allowed to Have a Campfire?
Campers should use existing fire rings while they are dispersed camping. Unless there are fire restrictions in effect, campfires are allowed when dispersed camping.
However, it is still up to you to know if restrictions are in effect before you go camping! Campers can contact their local Forest Service office to check.
Lastly, although wood permits are not needed for usage in the forest, campers should be proactive in following campfire safety rules. Like Smokey Bear always says, only you can prevent wildfires.
Safe Campfire Tips
Using existing fire rings minimizes the scarring of new plants, soil, and rocks. Your campfire site should not be in a clearing or meadow and should not be next to any trees with low-hanging branches.
Clear an area and make a 2-foot diameter ring of rocks. Use your own firewood if you brought it or collect deadwood from the ground. Never cut branches off live trees! 
If there isn't deadwood in the area you'll be dispersed camping in, be sure to bring your own! Animals and insects need deadwood to survive.
Keep a bucket of water near your fire pit for emergency extinction and to avoid having to leave your fire unattended later when it's time to extinguish it. You should always make sure your campfire is completely out before leaving it. 
When you put your fire out, stir the ashes to make sure all the embers have cooled. The ashes should be cool to the touch, and you should be able to put your hand in them without being burned.
Pack-In and Pack-Out
Dispersed camping means being responsible for bringing everything you need from home and taking it all back with you when you leave.
Be sure to bring enough food, toilet paper, water, and gear such as flashlights, compasses, and clothes.
How to Use the Bathroom on Dispersed Camping Trips
What is dispersed camping bathroom protocol? When campers don't take care of disposing of their food, garbage, and human waste properly, water gets contaminated.
Campers have to be extra careful when it comes to disposing of their human waste. Campers should urinate and defecate 100 feet away from any water source. If you're pooping, you'll have to dig a hole at least 6 inches deep to go in and then cover the hole back with the dirt when you are done.
Used toilet paper should be placed in bags and carried with you until you can dispose of it properly later. Toilet paper should never be buried or left on the ground because it could easily contaminate the water nearby.
How to Stay Hydrated Safely While Dispersed Camping
Sadly, there aren't any safe water sources in the national forests anymore. The increase in visitors has left water sources contaminated with microorganisms that can make people sick or even die.
Giardia is the most common type of contamination, and it can cause cramping and diarrhea, among other problems. Therefore, the only way to ensure water is safe to use it to treat it!
Campers should boil water over a campfire or use a water purification filter or purification tablets to make it safe to use. Developed recreation areas also have water faucets that have been tested, treated, and are safe to use.
For more tips around having enough clean water for camping, make sure to take a look at my full article here.
Important Tips for Dispersed Camping
For outdoor enthusiasts, dispersed camping can be incredibly fun. As long as you're respectful and know how to conduct yourself when dispersed camping, you'll have a blast. Make sure to follow these tips, so your trip is as successful as possible.
#1 Call Ahead
Make sure you're allowed to camp in the area you want to visit and find out if there are any restrictions or rules to follow. You can contact the nearest Forest Service office or ranger station to be sure.
#2 Remember There's No Cell Reception
Be sure to bring a paper map in case you aren't able to pull one up on your phone. Also, get ready to enjoy some technology-free days without email or text!
#3 Don't Go Alone
Use the buddy system, especially if you don't have wilderness skills or training. Make sure to let someone back home know where you'll be and when you'll be back, just in case something should happen.
#4 Leave Before Dark
Don't wait until the sun is setting to start setting up camp. You'll need daylight to find a good spot and settle in for the night.
#5 Beware of Animals
Make sure you store your food properly unless you want any unwanted visitors. Raccoons, bears, or even mountain lions may be around, so be sure to research the area you'll be in so you can prepare yourself with the proper gear for your trip.
#5 Leave No Trace
As we already talked about, dispersed camping means leaving a site better than you found it, or at least leaving a site looking like you weren't even there. It's your responsibility as a camper to check and clean up after yourself before you leave.
Be sure to take care not to disturb the nature around you while you're visiting and to take all your gear and trash with you when you go.
Conclusion
It's important to take care of yourself and the nature you visit so that everyone stays safe and the earth remains beautiful.
So long as you camp without disturbing the surrounding nature, you and other dispersed campers can enjoy the same amazing experience that comes with dispersed camping!
Related Articles
If you found this article helpful, then make sure to take a look at some of these related posts as well!