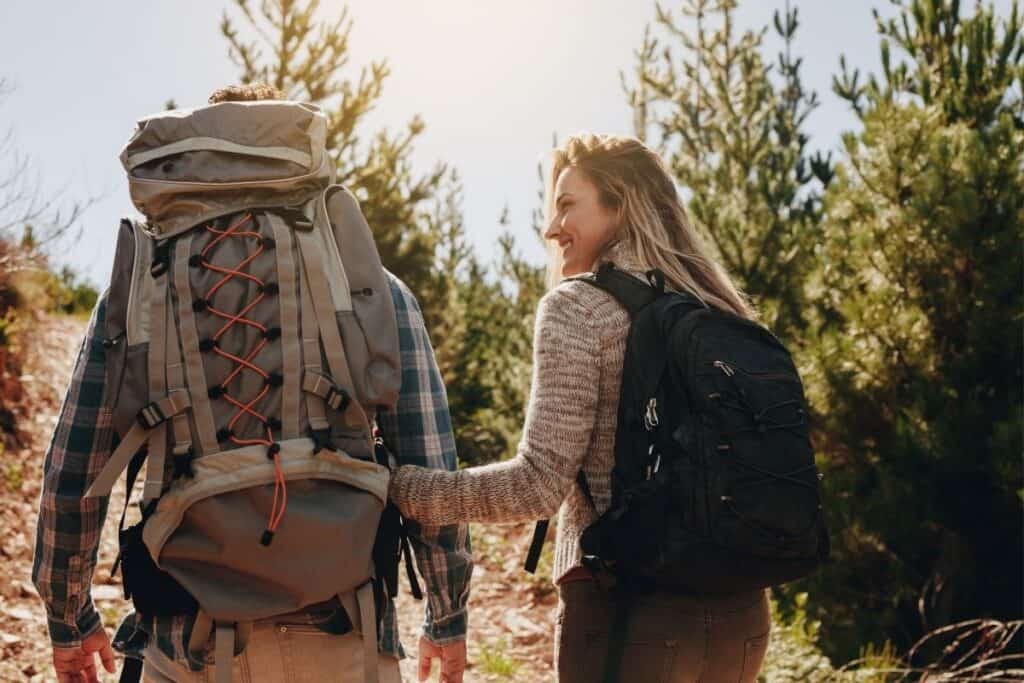 If you've gotten hooked on hiking, you might be thinking of buying a hiking backpack for your more grueling expeditions. You might also know that hiking gear is often over-priced. So, how much does a hiking backpack really cost? 
The average hiking backpack costs approximately $2 per liter of storage capacity. Specialty backpacks such as child carriers or advanced features and functionality will further increase the backpack's cost.
With that general guideline in place, it's easy to see that a range of prices can be expected that is largely dependent upon the bags size.
Given that most backpacks have a storage capacity somewhere between 20 and 65 liters, this results in an expected price range of $40 – $130.
As with all gear, there are both budget and high-end brands that produce goods outside of this expected range. However, let's take a look at a few examples of different backpacks with their features and size to help you gain a better understanding!
Note: The prices referenced in this article were gathered at the time of writing for informational purposes only. Please click the link underneath each backpack to check its latest price as it may have changed.
Summit 1500 – $60 (25L)
The Summit 1500 by Tetonsports claims to be built with hikers in mind. This backpack boasts a fully adjustable frame that's built for hiker comfort.
What it lacks in pack space, it makes up for in durability and lightness! While the 25 liter option is the most popular for day hikers, you can also get it in a 35 and 45 liter capacity as well.
The Summit 1500 is excellent for hikers who don't want a broken bank or a broken back. If you're just starting out in hiking and aren't yet taking on the arduous treks, this backpack is a working solution for your storage needs!
The Summit 1500 has multiple gear loops and exterior pockets so you can hold water bottles, carabiners, or medkits without taking up internal space.  
KKbags Hiking Backpack – $70 (85L)
This pack has a nylon, waterproof exterior and enough space to pack all your necessities for a more extended hiking trip.
With 85L of space, you don't have to worry about where you're going to be putting that Ziploc bag of crushed ramen you're planning on packing.
The KKbags pack also has exterior mesh pockets for pocket knives, water bottles, and just about anything else you can fit in there. Its exterior pockets and storage spaces also bring its total storage volume up. Sixty more liters of space for just a $10 price hike is a glorious thing.
This pack is durable, lightweight, and well worth the low price!
Scout 3400 – $77 (55L)
As we move into our higher price ranges, it's good to stop and consider one last cost effective option. The Scout 3400 backpack is a sleek, beautiful pack with a color scheme to blend in with a wooded area. 
The Scout 3400 comes in various colors, from canvas to fluorescent orange, and has 55L of storage space. 
With compression straps, exterior pockets, and decent storage space for a manageable price, the Scout 3400 is the best bet for medium-skill hikers who want to up their game just a little bit without going overboard. 
Now, let's start working our way up to the bank breakers 😉
A $100+ backpack might seem hard to swing, but when you're out in the wilds, you'll want durability, comfort, and storage space to get you through those long days and long distances! 
High Sierra Appalachian – $117 (75L)
The High Sierra Appalachian 75L has an impressive storage space, and while it might be less bang for your buck than the KKbags pack listed above, the pack is also equipped with mini-weave duralite fabric. This ensures maximum durability and material strength without adding undue weight. 
The High Sierra Appalachian should be the first consideration for hikers who want to start getting serious. 
Kelty Women's Coyote – $125 (70L)
The Kelty Women's Coyote 70 is a durable, lightweight solution to your long-distance backpacking needs. 
The Coyote 70L is designed with lightweight carry in mind and is designed to provide incredible comfort. 
The pack is fully adjustable and features hex mesh shoulder straps and an HDPE-reinforced waistbelt. It also has perfectFIT adjustable support.
Although the pack is marketed for women, we're sure that men would enjoy using it as well. This is really useful if you're considering sharing a backpack with someone else in your household.
Gregory Stout 65 – $185 (65L)
The Gregory Stout is made for multi-day trips. What it lacks in storage space, it makes up for in effeciency. 
The 65 in its name comes from its 65L storage capacity, which doesn't seem like much until you consider that you're also getting adjustable suspension with a breathable back panel and a separate sleeping-bag compartment with front-zip access.
Finding a place for your sleeping bag on a long trip can be the most frustrating aspect of hiking. Usually, hikers will go with a rope or strap and hang it on the outside. With the Stout 65, there's no need to contrive some mcguivered sleeping-bag system. 
Alps OutdoorZ Commander Freighter Frame + Pack Bag – $160 (86L)
The Alps OutdoorZ Commander is a classic-style backpack with a metal frame and a pack back. 
When I was a kid, my father had a metal-frame hiking pack, which he had used to backpack across New England. I thought it was more comfortable at times than my fabric backpack, and felt it possessed incredible stability.
This pack boasts a whopping 86L of space and can hold seemingly infinite quantities of Ramen, dried fruits, water purifiers, and anything else you may need while you're on the trail.
Despite its price, the Commander is an all-around spectacular pack with high functionality.
Osprey Atmos AG 65 – $223 (65L)
The Osprey Atmos AG 65 is where your wallet will start to feel the pressure. But that doesn't mean it's not worth it!
This is an award-winning pack is actually my current backpacking bag, and I can wholeheartedly say that I LOVE it.
It carries far more than its 65 liter capacity would suggest, and is extremely comfortable to wear. The "AG" in its name is short for anti-gravity, and is based on its unique construction that makes the pack feel like it's floating on your back at times.
Not only does this make the bag feel lighter, but it does wonders to improve air flow!
Osprey Poco Child Carrier – $290 (20L)
This pack is designed for hikers who want to introduce their (very) young ones to the joys of nature. Although the pack has adequate storage space, its real advantage comes from its unique functionality.
The Osprey Poco Child Carrier comes equipped with a special saddle, so your little guy or gal can ride shotgun with you on short hikes and experience the beauty of the world outside their backyard.
The Osprey Poco is an excellent choice for hikers looking to share a formative experience with their young ones when they are most impressionable. The price point is steep but may just be worth it. 
Gregory Baltoro 75 – $276 (75L)
The Gregory Baltoro 75 is similar to the 65 in its functionality but adds storage space so you can go on longer hikes. 
With ten extra liters of storage, you can store far more energy than you could with a smaller model. The Baltoro 75 is a best fit for men and comes with a total of nine external pockets. That's loads of space for energy bars, water bottles, and other such what-have-yous.
If you want a higher-storage version of what you got in the 65, the Baltoro 75 is most certainly the way to go. 
F4 Terminator Pack – $469 (65L)
Make sure to do something nice for your significant other before snatching up this pricey purchase 😉
With all the functionality of a military-style rucksack, the F4 terminator will take you up and down the most challenging trails with little resistance.
Hikers who want a pack with extensive opportunity for organization and compartmentalization will adore the F4 terminator pack. Its durable, lightweight fabric is made to withstand the harshest conditions- from thickets of bramble to low-hanging branches.
Considering all its functionality, the 67L storage capacity is nothing to scoff at. This is a tough, durable pack made to go the distance. 
Ranch Beartooth 80 – $550
The Mystery Ranch Beartooth 80 might be referred to as the Ferrari of hiking packs.
While it is technically a hunting pack, its functionality in the field is exactly the same. Hunters often pursue prey and hunting spots for miles, enduring all of the same hardships hunters do.
For this reason, a hunting pack like the Beartooth 80 will do you just fine. With its Guide Light MT Frame System, it offers strength and stability that just can't be matched in cheaper packs.
If you want a pack that will take you the distance- something you'll have for the rest of your life- the Beartooth 80 should be your go-to!
Norrøna Recon – $699 (125L)
If the Beartooth was a Ferrari, the Recon 125L is a semi!
This pack offers a mind-boggling quantity of storage space for hikers who, obviously, want to stay in the woods forever (If this is you, I won't judge). 
While the pack's infinite storage space can be intimidating, it will only add ten pounds to your total carry. So, stuff it up- you won't have to worry about a bent spinal cord.
This pack offers adjustable back-length for hikers of all sizes and was designed by the Special Forces in collaboration with Norrona. 
Final Back Selection Tips
As you can see, the cost of your hiking backpack can range from tens to hundreds of dollars.
As a general rule of thumb, the price of the backpack increases with its size and number of features.
You should determine your hiking needs based on what kinds of hikes you are doing and your level of commitment to the sport.
Save yourself money (and time deciding) by getting a great backpack for your needs today. Trying to guess or plan for the future will only make this a more complicated decision than it needs to be 😉
Related Articles
If you found this article helpful, then make sure to check out the related content below before you go!