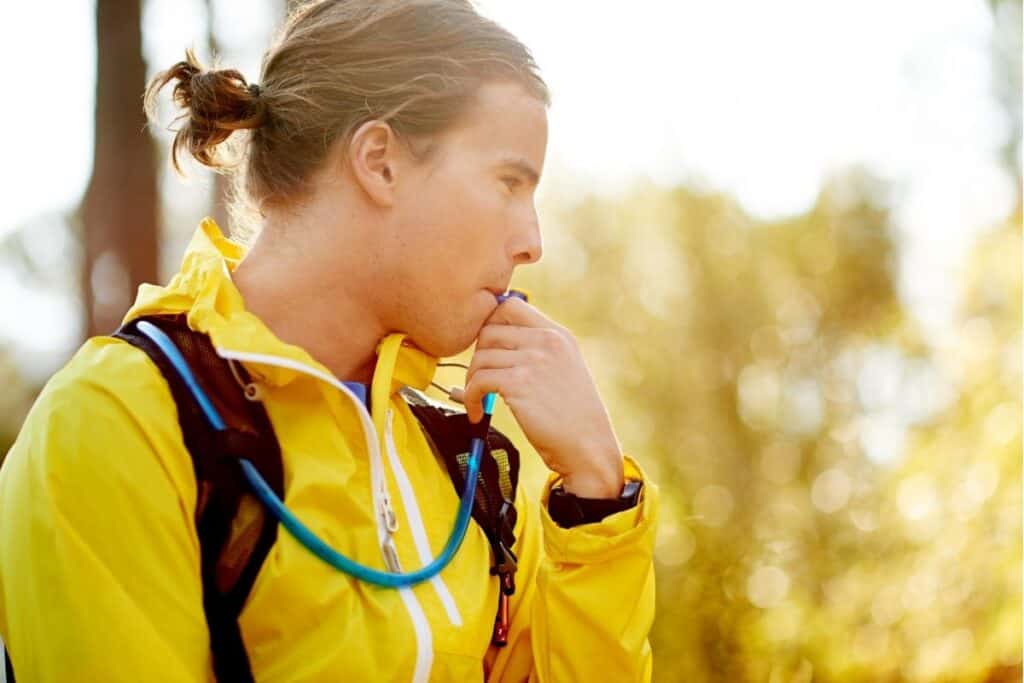 Have you ever seen another hiking joyfully drinking from a hose mid-hike and wondered if hydration packs are worth it? Are they worth the added cost over a traditional water bottle?
Hydration packs provide several benefits, such as increased fluid capacity, better weight distribution, and ease of access, which many hikers find advantageous over long or hot hikes compared to traditional water bottles.
Description:

The Skarab comes in 18 and 22-liter options and includes a 2.5-liter water reservoir. Its simple low-profile design is functional but still comes with plenty of gear compartments and features.

Description:

CamelBak takes the cake when it comes to lightweight designs! At just under one pound, it doesn't add any unnecessary weight while still allowing you to tote around a few key essentials and 70 ounces of water.
Best for Hiking
Description:
The Skarab comes in 18 and 22-liter options and includes a 2.5-liter water reservoir. Its simple low-profile design is functional but still comes with plenty of gear compartments and features.
Best Lightweight Pack
Description:
CamelBak takes the cake when it comes to lightweight designs! At just under one pound, it doesn't add any unnecessary weight while still allowing you to tote around a few key essentials and 70 ounces of water.
While that provides the quick and simple answer – there are, of course, both pros and cons to hydration packs that I'll now cover.
What Is a Hydration Pack & How Do They Work?
Whether you're a beginner or experienced hiker, you probably heard about hydration packs.
Oddly enough, they began as a device for cyclists but soon expanded to other sports, such as running and endurance training. Today, they are also commonly used in hiking, camping, and many other outdoor activities.
Simply put, a hydration pack is a hydration system stored in a backpack or waist pack that allows you to consume fluids without removing the bag that it's stored in.
The water, or any liquid, is stored in a bladder packed in a hydration sleeve inside the backpack. A tube is attached to the reservoir and snakes its way out of the bag, allowing you to drink conveniently at any time you want!
To make sure that water doesn't simply drain out of the hose when you're not drinking, most also come with a bite valve to prevent unwanted leakage.
A summary of the main parts and functions of a hydration pack includes:
Bladder: Storage for the liquid
Reservoir: The apparatus that holds the bladder
Hydration tube: Also called the hose; used to gain access to drinking from the bladder
Bite valve: Attached to the tube, where you bite down and drink; the primary function is to reduce leaks
Cap: On top of the reservoir to insert the bladder and clean the device
Accessories: Various add-ons include insulation covers for the tubes, reservoir, and bladder for hot or cold climates; clips to secure the tube near the shoulder for easy access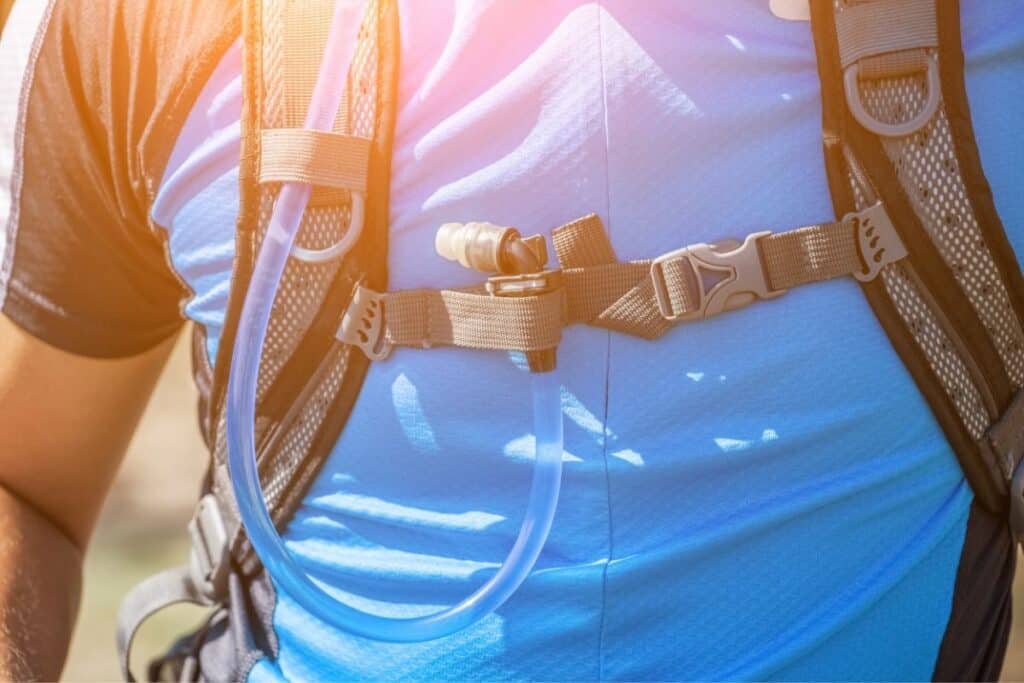 Hydration packs have come a long way, having advantages and disadvantages for hikers of all skill levels.
Hydration Packs Pros
There are advantages and fantastic features about the hydration pack that make it a desirable addition to a hiker's arsenal.
Continue reading to find out the pros of owning a hydration pack.
Convenience
Instead of carrying a water bottle in your handle or on the side of your backpack, you can quickly drink from your hydration tube, hands-free.
The hassle of taking your backpack off or fumbling with your water bottle on a hot day can make hiking more tiresome. However, with a hydration pack, the only step is biting your hydration tube to release the liquid.
You also can clip the hydration tube on a shoulder strap for even more easy access!
Protection
Hydration packs protect the water from sunlight or harsh weather.
Unless you have an insulated water bottle, the liquid will either become too hot or cold, ruining your hike and hydration. Depending on the weather, some insulated bottles wear out quickly, failing to keep the liquid's temperature.
Because the bladder is in an internal sleeve, the fluids are more protected, with no sunlight exposure.
Additional insulation is available to protect not only the reservoir but the tube as well, ensuring the temperature stays the same after it leaves the apparatus.
Some backpacks are military-grade or durable material, ensuring your items are secure and safe. Extra padding is available for purchase, such as winter tops to protect from blistering cold weather.
Stay Hydrated Longer
Did you know that hydration packs hold 2 to 3 times more water than a traditional water bottle?
That's a BIG difference!
Dehydration is a real risk on long or hot hikes, so having a way to conveniently carry more water becomes massively important.
With a hydration pack, you can plan ahead and hike without interruption.
Increases Stamina and Endurance
Because the hydration pack holds more liquid than other options, you have the opportunity to increase your stamina and endurance.
As you continue hiking, instead of stopping to take a water break, there are minimal excuses not to continue as there is an ample supply of liquid for the journey. As a result, you get better at hiking, and it may translate to other activities, such as trekking, which is more challenging.
Also, being more active may lead to more health benefits, translating to your daily life and overall well-being.
Carry More On Hikes
Hydration packs are more than just a bladder and reservoir, but like any backpack with multiple pockets and substantial capacity to carry your belongings.
Depending on your hydration pack brand, it may have more space and pockets than a traditional backpack.
Consequently, you won't feel you have missed any items on your hiking journey, providing you security while keeping hydrated at the same time.
Versatile
Hydration packs aren't just for hiking, as it is useful for other activities, such as cycling, camping, biking, and running.
If you are looking to expand your leisure beyond hiking, the hydration pack sets up the opportunity to try new outdoor activities.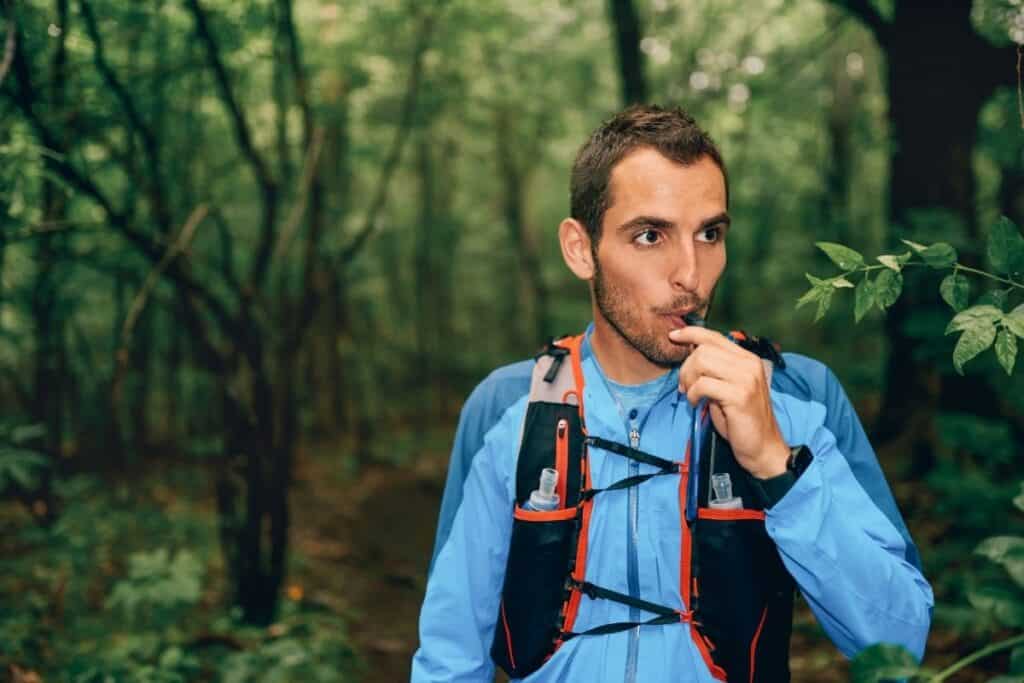 Hydration Packs Cons
While a hydration pack has its pros, it also has disadvantages that may not be attractive to some hikers.
Let's take a look at these disadvantages now before making a final decision!
Additional Costs
Hydration packs can range anywhere from $29.99 to $160, possibly more, depending on the brand. There are lightweight options available, which tend to be more budget-friendly, but they often have very little additional storage space.
The average cost is roughly $45 to $60 for a regular-size hydration pack.
CamelBak is one of the most popular hydration pack brands available but sits within the higher price range due to its quality and durability.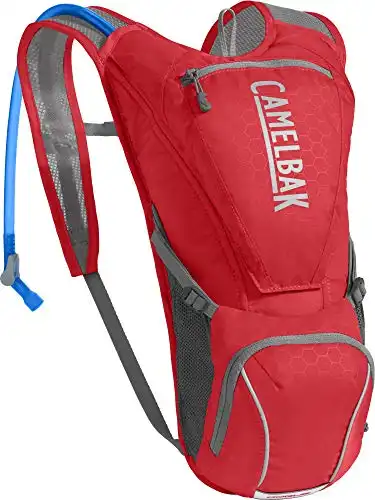 CamelBak ROGUE Hydration Pack
The 2.5L Crux reservoir can be refilled on the fly via the quick-release flap on the front of the pack. Two external pockets for small items like keys, wallet, phone or storage for a shed layer. It also has reflective accents to keep you visible on early morning and evening rides!
Buy from Amazon.com
Keep in mind that a hydration pack is not always a one-time expense. If you were to puncture the water bladder during use, you'll very likely have to replace it. While this is just a single piece and not the entire pack that needs replacing, these types of things are worth keeping in mind.
Maintenance
Hydration packs require constant maintenance, as they need continuous cleaning and care.
The reservoir and bladder must be kept clean to avoid mold and bacteria. The hydration tube and bite valve need regular cleaning as well, as it's the easiest place for bacteria to grow because of the mouth.
The simplest remedy is to wash them out and hang up to dry as soon as you get back from an outing. This drastically reduces the chances for mold and general funk that many experience with hydration packs.
If you're not the type whose good at staying on top cleaning them (myself included), then I'd highly recommend grabbing some Bottle Bright cleaning tablets.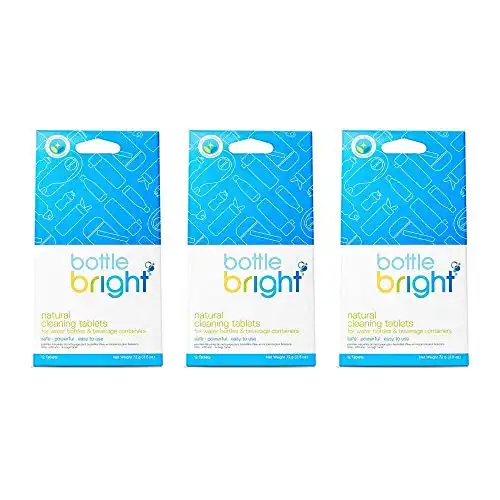 Fluid Level Monitoring
One of the biggest complaints about hydration packs is the inability to see how much water is left in the bladder.
If you're on a long hike, you cannot see if you will have enough fluids to last the rest of the day, putting you in a dangerous situation. A solution may be to feel the bag's weight, but it is not as reliable as being able to see how much is in it as you could with a water bottle.
Sure – you could stop, take off you pack, and open it up to find out. But many of us are too lazy to do that and simply keep going 😉
While you'll get used to gauging the amount over time, it is something to consider on long hike's where water management will be critical.
Difficult to Refill
While refilling the hydration pack takes some time, it is not ideal to do it in the middle of a hike.
Taking off the backpack, removing and opening the reservoir, twisting a cap, then refilling takes some time, as opposed to opening and closing a water bottle.
This is especially true if you're getting water from a stream or other natural source where it's not as easy to access as the kitchen sink.
Conclusion
As you can see, the answer to the question "are hydration packs worth it?" depends on several factors.
For instance, are you an avid hiker that wants to increase your endurance and stamina? It may be in your best interest to get a hydration pack to continue your longer hikes, as it holds two to three times more water than a regular water bottle.
However, it may or may not be beneficial to buy a hydration pack if you are a casual hiker, as it requires more maintenance than a simple water bottle.
Those who take short hikes may also not benefit, as it may be too much water to carry at an extra expense.
Overall, hydration packs have their benefits, especially those serious about hiking and taking it to the next level. The most avid hikers have hydration packs for uninterrupted adventures without the fear of dehydration.
Related Articles
If you found this article helpful, then make sure to also take a look at my other related articles!