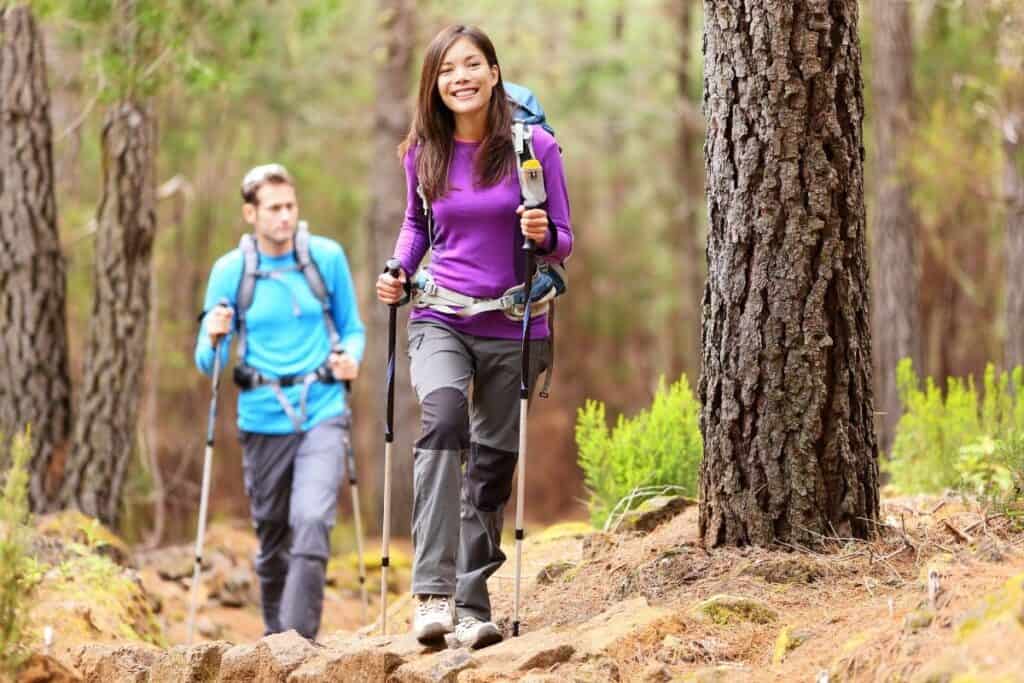 Hiking and other outdoor activities are fun, adventurous, and can be a thrilling experience with friends and loved ones. However, being comfortable while hiking all day, either in the winter or summer, can be difficult depending on the pants you choose to wear.
Some fits are relaxed, slim-fitting, trim, or baggy. In particular, slim-fit hiking pants are tougher to obtain, as relaxed and baggy are more popular.
In the guide, I'll cover the best slim fit hiking pants for men and women. Not only are these options extremely comfortable, but they bring a touch of style as well!
Best Slim Fit Hiking Pants for Men: prAna Brion
The Prana Brion hiking pants are extremely popular option for their comfort, style, and functionality!
The pants not only have a classic look, but Prana's designers made them from their patented Stretch Zion fabric that is both light and breathable while also having great durability.
Other key features of the Prana Brion pants include:
UPF 50 sun protection
PFC-free durable water repellency
Added durability for harsh environments
Abrasion resistance
Quick-dry technology
Mesh pockets
Five-pocket styling with belt loops and fixed waist
Made with 97% nylon and 3% spandex
The range of motion of these pants is excellent for hiking and other outdoor adventures. In fact, they're so comfortable that I often wear them as daily pants as well!
Pros:
Durable
Water-resistant and sun protection
Dries quickly
Five pockets
Strong nylon material with 3% spandex for some added mobility
Cons:
More expensive than other options
While these pants do cost a little more up-front, it's worth calling out that I've had my current pair for 5 years and they still look great. Between the trail and daily life, they have easily seen hundreds (if not thousands) of hours of wear.
The pants are also suitable for casual wear or work, as it's from high-quality materials and fashionable.
Many users note that the Prana Brion may look loose, but they are true to slim-fit sizing. After years of hiking, camping, and fishing, these pants will still look and feel brand new, thanks to their material composition with highly durable nylon.
The Columbia Bryce Canyon II are stylish, slimming, and functional set of activewear pants that are excellent for the outdoors and hiking.
These pants have desirable features for women, including:
Zipper hand pockets and security zipper back pocket
Tapered leg
4-way comfort stretch
Partial elastic waist
Adjustable helm with drawcord
Omni-Shield that repels rain and water
Omni-Shade protects from UVA and UVB rays with its UPF 50 sun protection.
Their mobility comes from its makeup, which is 91% polyester and 9% elastane.
Pros:
Fabric composition of polyester and elastane allows for versatile mobility.
Water-resistant
Protects from UV rays
Elastic waist for adjustability, including a drawcord
Pockets
Comfortable
Cons:
High price for those who are budget-conscious
Various wearers state these pants are comfortable, flattering, and functional. Their versatility is appealing to many women as these pants are suitable for any occasion, both casual and outdoorsy.
It's zipper pockets in the front are a favorite aspect of these pants, as pockets are hard to come by with other women's pants.
Overall, other users enjoy their sun protection. They're stretchy when climbing over obstacles, and both dirt and water brush off easily.
Differences Between Slim-Fit Hiking Pants for Men and Women
Not all hiking pants are alike, as there are apparent differences between men and women's slim-fit hiking pants, such as:
Fit: Women's slim-fit tends to be tighter than men's slim-fit, as men's look more loose and relaxed despite being in the trim category
Materials: Women's pants may have more spandex or elastane than men's for more flexibility
Pockets: While women's slim-fit do have pockets, men's pants still have more pockets and more room
Waist: Men's waistbands may have the options of a drawstring or a belt, while women may have an elastic waist
What to Look for When Buying Slim-Fit Hiking Pants
Finding the best slim fit hiking pants doesn't have to be difficult, as there are many choices to choose from, but which?
Luckily, I'll cover several aspects to look for when buying your pair of hiking pants!
Waist/Belts
While hiking, it's essential to have comfort at the waist.
Hiking pants with an elastic waist for better adjustments or belt loops to tighten up allows easy modifications to make a positive difference.
Many pants come with drawcords, drawstrings, or a belt for easy alterations while hiking.
Price
When it comes to hiking pants, the more affordable is not necessarily better, as the materials and features of hiking pants are more advanced than the average pants.
For instance, many hiking pants are mildly water-resistant or sun resistant, which is not common in other types of pants.
However, there are pants for any budget, depending on the brand.
Brand
Brand names such as Prana, The North Face, Columbia, Outdoor Research, and many others have made a name for themselves to cater to hikers and outdoor enthusiasts.
The materials, fabrics, and technology they use are specific to hiking, compared to an off-brand.
Also, longevity, quality, and durability come into play, depending on each brand.
Water Resistance
While hiking, it's not uncommon for the weather to change or for you to come into contact with creeks or a place with water.
An essential aspect of hiking pants is the ability to resist water and air dry quickly.
Hiking pants should never be 100% waterproof because there will be little to no breathability, making for an uncomfortable hiking journey.
Pockets
More than likely, you may spend a bit more than anticipated for slim-fit hiking pants, and it's essential to have pockets to distribute your weight.
Pockets are convenient, and you won't have to think about where to put your tactical flashlight, compass, multi-tools, or any other gear.
Weight
Long hikes can be grueling, and any added weight can make it more challenging and tiring.
Slim-fit hiking pants tend to be lightweight, making them more ideal for all-day hikes or casual wear.
Fabric
The material composition of your pants determines their breathability, stretch, mobility, and durability.
There are standard fabrics, such as nylon, polyester, cotton, and spandex, that come together to form long-lasting pants that enhance the hiking experience.
Different Slim-Fit Hiking Pants Fabrics
The fabric of your pants plays a massive role in its versatility and comfort.
We list the different fabrics most common to slim-fit hiking pants to help you decide.
Elastane/Spandex
Excellent slim-fit hiking pants will come with some spandex or elastane for mobility.
There are two-stretch pants and four-way stretch pants.
In particular, women's hiking pants tend to be a four-way stretch for much more mobility, as the fabric stretches lengthwise and crosswise.
Cotton
Cotton is a staple for various clothes because it's soft and comfortable. However, it is not suitable for hiking.
Cotton absorbs water, sticks to the skin, and can cause chafing when wet. Because of its potential danger in damp or cold climates, we do not recommend it for long hiking trips.
Polyester
In many hiking pants, polyester is a durable material that is naturally hydrophobic.
Polyester picks up less water than nylon, but wicks moisture to the surface effectively while drying quickly and evaporating.
Polyester is also less prone to pilling, which doesn't affect performance, but it may affect the outer appearance.
Nylon
Nylon is quick-drying, sturdy material that feels softest compared to other synthetic fabrics. It is better than polyester in terms of water-resistance and durability, however.
Because of its creation process, nylon tends to be more expensive than the other materials.
Why You Should Buy Slim-Fit Pants for Hiking
In general, buying pants specifically for hiking is much better than wearing regular pants because hiking pants tend to be more durable, weather-resistant, and more mobile.
Slim-fit pants for hiking take it up a notch with their adaptability and fabric composition.
Slim-fit hiking pants have their benefits, such as:
Aesthetically pleasing protection: Slim-fit hiking pants tend to look much more casual than their baggy counterparts, making them suitable for any occasion. Since they're hiking pants, they come with protections not found in regular pants, with the ability to wick water and protect from UV rays.
Comfort: Because slim-fit hiking pants are more lightweight than other types, they're better for hiking to avoid tiredness, leading to a more comfortable journey.
Quiet: When you're enjoying a tranquil hike in the woods, hearing your pants throughout the trail isn't ideal. Slim-fit hiking pants made from high-quality fabric have little to no noise when walking for long periods.
Long-lasting: Their durable materials and ability to fight off dirt and water add to these pants' longevity, making them worth the high-end price tag of some brands.
Versatile: Use slim-fit hiking pants for golf, camping, fishing, and other outdoor work.
In the end, slim-fit hiking pants serve their purpose for both novice and experienced hikers, as they protect hikers while providing comfortability and confidence.
Conclusion
Choosing the best slim fit hiking pants for your needs depends on your budget, size, and lifestyle.
Hiking calls for flexible and versatile outerwear, which many people do not think of when they hear the term "slim fit." However, fitted hiking pants often has a better feel than baggy pants. All while still having the same advantages or enhanced mobility and weather-resistance.
As a plus, slim-fit hiking pants have a casual-look, which means you can wear them with anything on most occasions!
Related Articles
If you found this article helpful, then make sure to take a look at some of my other related articles linked below as well!