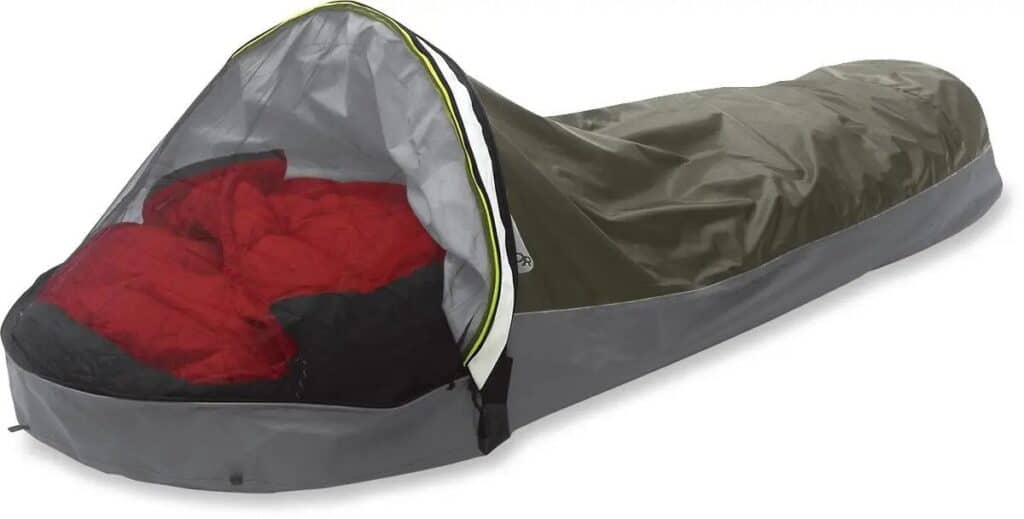 When it comes to camping gear, the less space, it takes up in your pack, the better. But when it comes time to finding a practical shelter, this can prove to be challenging.
Finding the perfect balance between protection from the elements and minimal pack is no easy feat. Luckily, the bivy sack offers a great alternative to traditional tents in terms of its lightweight portability.
While these versatile shelters are seemingly the cure-all to any multi-day excursion hiker, you might be thinking, sure, they are useful, but are bivy sacks waterproof?
Bivy Sacks are a Waterproof Shelter
Bivy sack is a shortened name for bivouac, a temporary shelter used primarily by soldiers and mountaineers. The word itself has French origins from the early 18th century and is a derivative of a Swiss-German word for watch or patrol.
Once used predominantly for soldiers, today, bivy sacks are a commodity for climbers on multi-day treks.
Bivy sacks are known for being compact and lightweight and are exceptional alternatives for traditional tents on extensive journeys.
How Does a Bivy Sack Work?
A bivy sack is essentially a thin layer of waterproof fabric used to encase your sleeping bag to add a layer of protection from the natural elements, such as rain and wind chill, while you sleep.
Because bivy sacks are made from a waterproof material, they help to provide additional insulation to you. While the amount of insulation will vary, most add around 10 degrees (Fahrenheit) of warmth.
Who Uses Bivy Sacks?
If you are not familiar with the benefits of a bivy sack, you might be wondering who they work best for. Bivy sacks are a great shelter option for:
Solo backcountry travelers
Big-wall climbers
Long-distance bikers
Snow cave campers
Anyone looking to drop weight in their packs
Bivy sacks work great as an emergency shelter but also as a planned shelter for those in need. Considering the size and weight, nearly anyone can find space for a bivy sack in their backpack.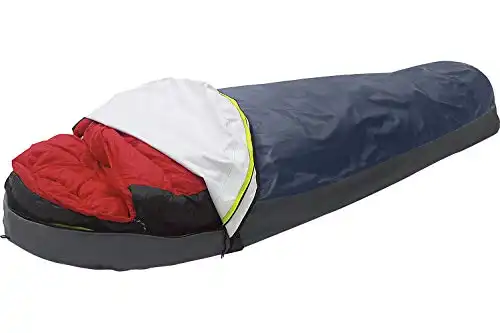 Different Types of Bivy Sacks
Today there are several different types of bivy sacks you can purchase. You have the basic bivy sack, which is just like an outer layer to your sleeping bag, or the more complex forms, which are more like traditional tent structures.
Your particular adventure's different needs will help you determine what type of bivy sack is best for you.
When shopping around, consider these characteristics before making your purchase.
Material Considerations for Waterproof Bivys
Typically, you will see bivy sacks made from two different types of material.
The fabric that will touch the floor is heavier and more durable because it can withstand ground conditions. The other material tends to be lighter and slightly more breathable but still waterproof to protect you from the elements.
There are ten popular materials used for bivy sacks, each different offering benefits based on your needs.
Silnylon
Silnylon is a combination of silicon, for strength, and nylon, for waterproofing. Silnylon has a ripstop weave, which prevents rips and tears, making it an excellent fabric for the bottom part of your bivy sack.
Because silnylon is not a breathable material, it is best for just the bottom side of your bivy sack. You might find cheaper alternatives that use silnylon throughout, but be wary.
Gore-Tex
Gore-Tex is a laminate material made from polytetrafluoroethylene (PTFE), commonly referred to as Teflon. This material is not only waterproof and windproof, but it is also extremely breathable, making it an excellent material option for the top of your bivy sack.
Epic
Epic combines polyester and silicone, making a breathable, windproof, and water-resistant material. Make heavy note that it is water-resistant, not waterproof.
Since the water resistance is a part of the material and not a coating, you can wash it without impacting its efficiency. It is breathable, so it's the right choice for a top layer, but not if you anticipate rain.
eVent
eVent is a material used by fire departments, police, and the military that uses a dry technology that eliminates moisture immediately. This material is waterproof, breathable, washable, and fire-resistant.
eVent is also known for offering additional protection from hazardous substances while maintaining its breathability. As a result, eVent is an excellent option for the top material of a bivy sack.
ToddTex
ToddTex is similar to Gore-Tex in that it is a stretched Teflon material. This material has the breathability and waterproofing for a top layer of a bivy sack, but you have to treat it for it to be fire-retardant.
Momentum
Momentum is a material that is windproof but not waterproof. This material is not ideal for bivy sacks because it is only water-resistant and not known to be very breathable.
Pertex Quantum
Pertex Quantum is a material known for its softness as a result of its two fiber components. The material is waterproof, wind-resistant, and breathable.
The thicker inside layer of fabric absorbs moisture and then quickly wicks it to the outer layer, consisting of thinner fibers.
Sympatex
Sympatex receives one of the highest waterproofing ratings in bivy sack materials, making it an excellent option for the top. This material is known to be waterproof, windproof, and breathable.
Sympatex differs from other bivy sack materials because it uses a wicking technique to rid the sack of condensation.
Textrem
Textrem is 100% polyester that has a polyurethane coating. It is the right choice for the top of a bivy sack because it is both waterproof and windproof thanks to its layer.
Powertex
Powertex is not a material, but a coating applied to the outer fabrics on a bivy sack. This coating ensures a weatherproof sealing for your bivy sack.
Structured or Unstructured Form
If you have the space to carry it and prefer a little more wiggle room, structured bivy sacks are an excellent option for you. They will provide you with more headspace and general breathing room.
On the other hand, unstructured bivy sacks are great for longer excursions where every inch of space in your pack counts. Additionally, unstructured bivy sacks are better for higher elevations where you want minimal open air to help you stay as insulated as possible while you rest.
Options for Openings
For optimal insulation, some bivy sacks close up entirely. Some people have claustrophobia issues in environments like this and might want to opt for one with an opening.
You might want to look for a bivy sack with a mesh area to help you alleviate any constricting feelings while still protecting you from any bugs while you sleep.
Overall Weight and Size
The different fabric options for your bivy sack will significantly determine the weight and size, but aside from that, there are still options that you can choose.
Keep in mind that the bivy sack was intended for minimalist purposes, so the lightest weight possible tends always to be favorable.
Are Bivy Sacks Worth It?
Under the proper conditions, a bivy sack's benefits will well exceed those of a traditional tent or neither. Here are a few reasons that prove the effectiveness of a bivy sack.
Lightweight
There are bivy sacks out there that weigh just a few ounces, making them a practical addition to any pack. With something this lightweight, it's not a bad idea to throw it in day packs in case of emergencies even.
Compact
Bivy sacks are the design of a minimalist's tool, meaning they will pack down into petite sizes. Some, you will find, pack down to the size of a burrito.
Minimizing its footprint in your pack means you can cover more land over a more extended period without having to worry about lugging around a traditional tent.
Versatile
While they provide one primary function, bivy sacks open up your opportunities for sleeping spaces in nature by giving you a substantial footprint to lay. No nook or cranny is too small as long as it is the length and width of your bivy sack.
Don't worry about having to find a sleeping footprint the size of a tent; you can sleep nearly anywhere with the help of a bivy sack.
Warm
Because of their lightweight nature, bivy sacks work best in relatively moderate climates to provide a thin layer and a few extra degrees of warmth. That's not to say they cannot be helpful in harsher environments, though.
With the heavy-duty material underneath you, you create another layer of separation from the cold ground. Additionally, you can trap in your heat by being fully enclosed.
Efficient
Standard tents tend to be more complicated the more compact they get. With a bivy sack, you don't have to worry about any of that.
No assembling or disassembling required means you save time setting up and breaking down your sleep area. Every hiker knows that every minute of daylight is precious.
Immersive
Tents tend to cut you off from your natural environment. You don't have to worry about that feeling when you are inside of a bivy sack.
Feel the vastness of the mountain range engulf you, or the openness of the desert while you sleep under the stars. Bivy sacks provide you with a real immersion in your environment!
Best Bivy Sacks
With those specs in mind, here are a few bivy's that fit the bill and will serve you well.
If you're looking for a great all-around bivy to protect yourself from the elements without adding too much bulk then I'd recommend taking a look at Outdoor Research's Helium bivy.
Best Overall Bivy Sack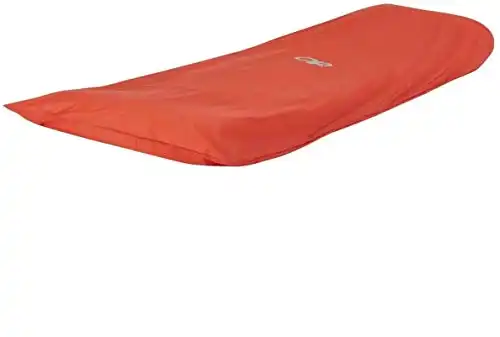 Outdoor Research Helium Emergency Bivy
Turn your 3-season sleeping bag into a 4-season bag by layering it with the Helium Emergency Bivy. This bivy was designed to protect your sleeping bag from the elements while trapping in warmth. This ultralight shelter system uses a simple tube-like construction and cinch closure to seal out wetness and save on bulk.
Check Current Price
For winter-specific conditions, you'll be better served by something like the Apline Bivy from Outdoor Research that is better suited for true four-season use.
Best Winter Bivy Sack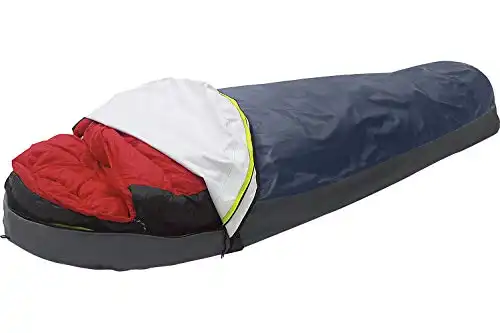 Outdoor Research Alpine Bivy
The Alpine Bivy features the seam-taped waterproof performance of GORE-TEX Respiration Positive technology - without collecting interior condensation. A traditional clamshell opening lets you breathe freely without letting in the weather, and a single pole can be used to create overhead space or left at the trailhead to save weight.
Check Current Price
Final Thoughts
So, are bivy sacks waterproof? Yes, bivy sacks are a waterproof minimalist shelter essential to any multi-day trekker.
Whether you are spending days in a snow cave or days biking through the mountains, there is a bivy sack that is right for you.
Related Articles
If you found this article helpful, then make sure to take a look at some of these related posts as well!