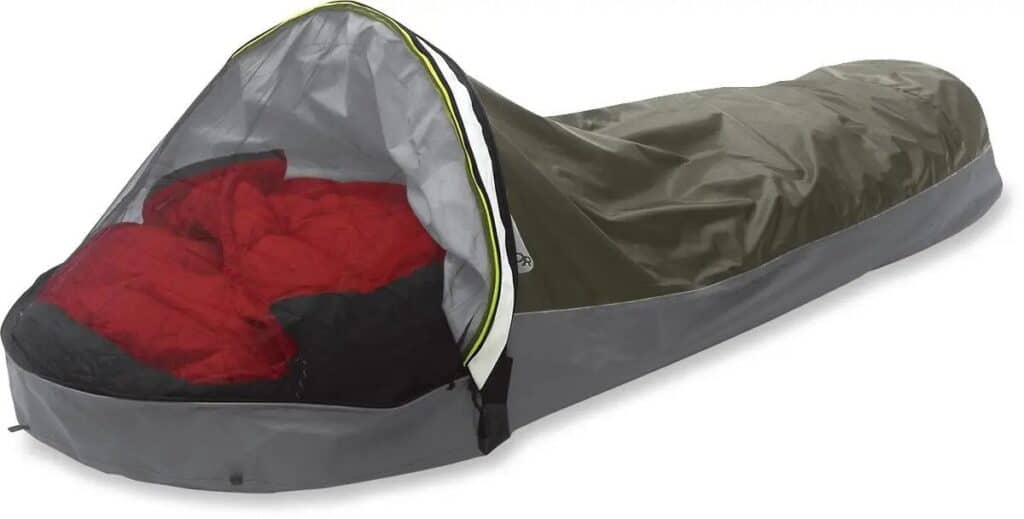 When deciding what camping gear is worth picking up, people face a variety of choices with competing tradeoffs. Among these purchasing dilemmas is the question: are bivy sacks worth it?
Do You Need a Bivy Sack?
Justifying the expense of a bivy sack could be your top concern, because picking a quality product may take a bit of legwork and a willingness to shell out some cash. Choosing a cheaper option may mean you wind up disappointed, so it's a decision that takes some consideration!
I made this mistake with my first bivy and ended up returning it after a single use! It didn't breathe at all, and left me soaked in sweat inside my sleeping bag.
Definitely not a fun experience.
But another question is whether you can justify buying and carrying a bivy sack on all your outdoor adventures. Most backpackers, hikers, and light-packing campers need to maximize their available space when it comes to loading up a pack.
At the same time, there are some things you do need to bring along, and a bivy can be the perfect shelter in a range of scenarios.
If you're wondering whether it's worth schlepping another piece of equipment with you, not to mention spending even more on your adventuring hobby, let's consider the pros and cons of investing in a bivy sack.
You'll also get a good idea of when you do and don't need a bivy sack, depending on a range of circumstances.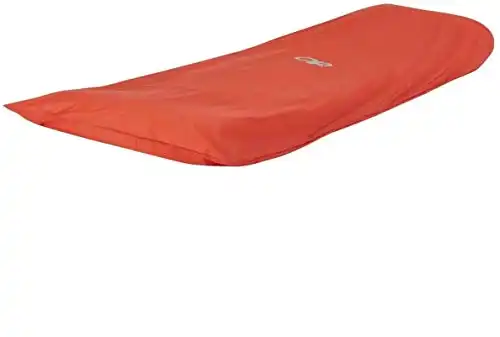 Pros of a Bivy Sack
Bivy sacks have a number of qualities that make them an attractive option for people considering whether or not they are worth buying.
Size
Bivy sacks are lighter and smaller than other forms of shelter, most notably tents. Taking a bivy bag with you instead of a tent will take weight off your shoulders, allowing you to walk, climb, or hike more easily and quickly.
As long as your chosen bivy tent is lightweight and compact, you probably won't be sacrificing a ton of pack space. Plus, taking a bivy bag instead of a tent could allow you to bring something you otherwise could not, like an extra change of clothes or snacks!
As well, because the bivy sack takes up less room when in use than a tent, it can be easier to find a spot to camp, which can be especially useful when camping on cliff edges when rock climbing.
General Ease of Use
Bivy sacks are incredibly convenient. Instead of spending lots of time setting up your tent in the evening and taking it down in the morning, all you do is open up your bivy bag and crawl in when you want to sleep, and roll it up in the morning when you are ready to move on.
Saving this kind of time is every adventurer's dream!
It is also much easier to find a spot to set up camp with a bivy sack than with a tent. When looking for a tent spot, you need to find a location with ground that is firm enough to hold your tent pegs in place but not so hard that you can't get the pegs in the earth. With a bivy bag, you can pretty much camp anywhere.
Additionally, because there are no poles involved (unlike a tent), you can bring a bivy sack on an airplane in your carry-on baggage. You may even be less likely to get a fine for sleeping in a designated 'no tent zone' while out on the trail.
Climate
Many campers enjoy picking up a bivy sack to provide them with the best possible protection from the elements possible.
Because bivy bags trap less air closer to your body than other forms of shelter, using a bivy sack can provide people with a warmer and more enjoyable sleeping experience than they would otherwise have. 
Bivy bags are especially adept at handling wind. Unlike a tent or a tarp shelter, bivy sacks will not become dislodged or get blown away in high winds, meaning they are far more reliable when dealing with extreme gusts of wind.
Atmosphere
A bivy sack will provide you with a more authentic camping experience. Because you are sleeping outside, you will feel closer to nature and can end up falling asleep with phenomenal views of the stars.
Cons of a Bivy Sack
Unfortunately, there are drawbacks to bivy sacks that complicates the question of are bivy sacks worth it.
Space
A bivy sack provides you with significantly less space than other forms of shelter. Unlike a tent or tarp, you will not have any space where you are protected from the elements in which you can socialize with others.
You will also not have space to store your pack and boots while you sleep, meaning you will likely have to set up another waterproof shelter, such as a tarp, in order to keep your belongings dry.
Comfort
Many people find bivy bags less comfortable than tents for a variety of reasons. It can be difficult to move around while you are sleeping and make adjustments while inside the bivy sack.
Another concern is that bivy sacks do not provide their users with very much privacy, so if you are in a group while using one, make sure to keep that in mind.
Importantly, people who suffer from claustrophobia will not want to use a bivy sack.
Moisture
Lastly, bivy bags are less likely to keep you totally dry than a tent. In torrential rain, people in bivy sacks will inevitably get wet, regardless of the quality of their bivy sack.
Condensation is also an unavoidable problem for bivy bag users, so you have to be willing to put up with it if you want to use a bivy sack.
When a Bivy Sack is Most and Least Useful
Whether or not you find a bivy sack worth buying will depend heavily on what kind of use you want to get out of it.
When is a Bivy Sack Worth It?
If you are a speed hiker who frequently takes solo trips or a mountain climber who often finds themselves having to sleep in small spots, then you will find lots of great uses for a bivy sack.
For example, bedding down on a narrow slice of ground means no tent would be possible!
But even if you're someone who likes to enjoy the journey, a bivy could prove invaluable. Let's say you stray too long taking in the view, and your itinerary is off by a few hours. Camping in a bivy is preferable to walking through the night or sleeping out in the open.
Whether you like to take some risks on the trail or just like the flexibility of taking a snooze on any open ground, a high-quality bivy may be worth the investment.
When is a Bivy Sack Not Worth It?
If you are someone who likes to camp in maximum comfort and doesn't stray far from the car, then a bivy sack is not going to do you a lot of good. After all, bivy sacks are minimalist camping tools, not glamping equipment.
A bivy sack is also not worth it if you don't often encounter "just in case" scenarios, like hiking past your bedtime. For shorter day trips, or those where you want your down comforter and pillow, a bivy clearly won't meet your needs.
In short, if your ideal camping experience involves more amenities (or more room to store stuff), a bivy tent isn't your best bet.
Recommended Bivy Sacks
If you decide that a bivy is right for you, then I'd recommend taking a look at either of the great options below.
I'd recommend avoiding my bad experience by buying "right" from the the get-go!
If you're looking for a great all-around bivy to protect yourself from the elements without adding too much bulk then I'd recommend taking a look at Outdoor Research's Helium bivy.
Best Overall Bivy Sack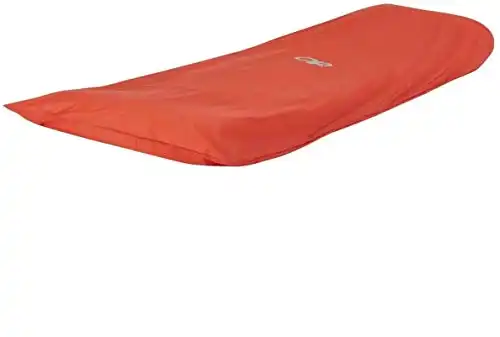 Outdoor Research Helium Emergency Bivy
Turn your 3-season sleeping bag into a 4-season bag by layering it with the Helium Emergency Bivy. This bivy was designed to protect your sleeping bag from the elements while trapping in warmth. This ultralight shelter system uses a simple tube-like construction and cinch closure to seal out wetness and save on bulk.
Check Current Price
For winter-specific conditions, you'll be better served by something like the Apline Bivy from Outdoor Research that is better suited for true four-season use.
Best Winter Bivy Sack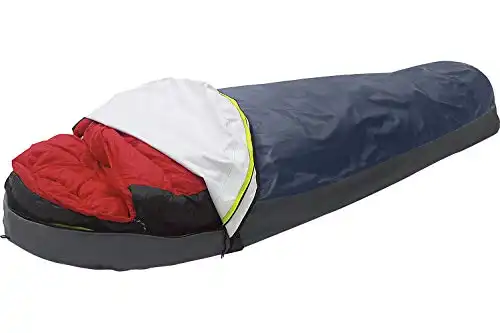 Outdoor Research Alpine Bivy
The Alpine Bivy features the seam-taped waterproof performance of GORE-TEX Respiration Positive technology - without collecting interior condensation. A traditional clamshell opening lets you breathe freely without letting in the weather, and a single pole can be used to create overhead space or left at the trailhead to save weight.
Check Current Price
Conclusion
To answer the question are bivy sacks worth it, you will need to consider what your priorities are.
If you want comfort and space, it may not be worth buying, but if you want lightness and efficiency, then buying a bivy sack is worth it.
Good camping gear is rarely cheap, so it's worth thinking about whether or not you really need one.
Related Posts
If you found this article helpful, then make sure to take a look at these other posts before you go!