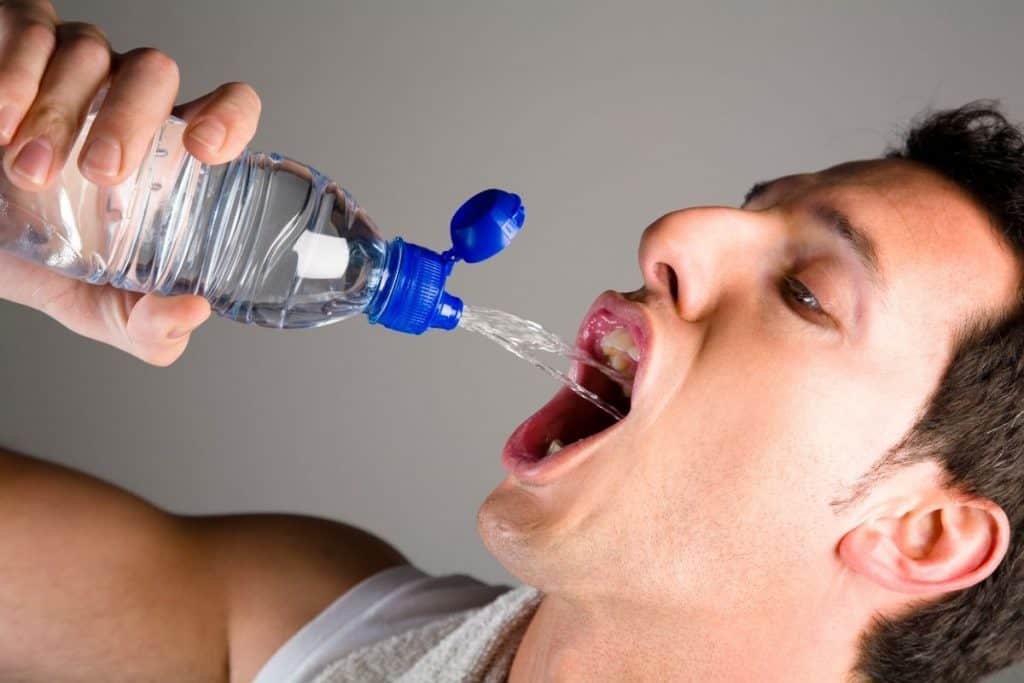 Are you new to mountain biking but wondering if a water bottle or hydration pack is your best bet? If so, you're not alone as the answer to this question is more nuanced that you might realize.
First of all – it's worth calling out that mountain biking is a strenuous activity!
If you are planning on riding for a few minutes, you need water to stay hydrated. The most common options will either be water bottles or hydration packs. Choosing one over the other will depend on personal preferences.
But what we can all agree on is that water is essential.
Doing so will help you avoid:
Muscle fatigue or cramping
Heatstroke
Heat exhaustion
Loss of muscle tissue
Before choosing a water bottle or hydration pack, you want to consider just how much water that you'll want for the ride. For example, you're going to want to carry more water for a multi-hour ride in hot summer weather compared to a short leisurely outing in the fall.
Water Bottle Considerations
If you carry a backpack when mountain biking, you will enjoy using a water bottle since it will be on your bike frame. Having it on the frame will reduce the weight you have to carry. When finding the best water bottle, consider finding the size to fit on the frame mount for your bike.
Most will hold either a small 14 to 16 oz size or a large 21 to 26 oz size.
The frame of your bike will indicate how many mounts you can have and the size of water bottles to get. It will be easy to find the ideal cages and bottles that will match your outfit, bike, or anything else.
However, if you have a full suspension bike than finding extra mounting plates may be hard to come by.
However, you can opt to use your seat or a dropper post. Using a water bottle when riding will require coordination. If you can't, you should consider a hydration pack or be comfortable with stopping every time you need a sip of water.
Pros of Water Bottles
Inexpensive
Easy to clean
Wide variety of choices
Assorted mounting options (sometimes)
Cons of Water Bottles
Difficult to drink when on the move
Limits the amount of water to carry
Not all frames have mounting places for multiple water bottles
Excellent Water Bottles To Consider
Even after knowing the different reasons for considering a water bottle, you always need to check the different solutions you can pick. Here are the best options to consider.
Polar Bottle
If you prefer cold or warm water, this is the ideal bottle for you since it's insulated. It also has a good opening aperture, which ensures that there is an ample flow of water.
Its liquid capacity is 24 ounces, and it's easy to use. There are many designs to choose from, and the maintenance procedures are easy to deal with.
Pros
Squeezable
Affordable
Anti-spill feature
Good liquid capacity
Cons
Doesn't have the best insulating capacity
Via Velo Double Insulated Bike Water Bottle
Having a double insulated water bottle means that its easier to keep your water chilled when riding. The lightweight ABS plastic is another feature that makes the bottle desirable. To maintain visibility on the road, the bottle has reflective material covering. Its holding capacity is 26 ounces.
Pros
Portable
Easy mounting to the bike frame
Doesn't have carcinogenic chemicals
Has reflective material
Cons
CamelBak Podium Chill Insulated Water Bottle
With a double-wall insulation design, this water bottle will keep your water cold during your riding. Since most people love drinking with ease, this bottle will be a perfect solution since it has a self-sealing jet valve cap.
The polycarbonate materials that make the water bottle also eradicates any unsavory water taste.
Pros
Self-sealing jet valve cap
Made from polycarbonate material for easier squeezing
Double-wall insulation
Cons
Tedious to replace the nozzle after cleaning
Hydration Pack Considerations
Some people love hydration packs, and some love water bottles, while others use both. With a hydration pack, it's easier to carry more water. Some will have different bladder sizes ranging from 1.5 to 3 liters.
Unlike water bottles, hydration packs can be a bit expensive. Most of them will range from $25 to $200. They will vary depending on the amount they can hold, their quality, and build. The reason why some people love using hydration packs is that they're easier to use when riding.
You don't need to have a rack on your bike for water bottles. All you need is a backpack with all the luggage that you will need and a hydration pack.
Hydration packs will be simple to use if you ride one bike or multiple bikes. This spares you from needing to worry about having multiple mountain solutions to fit each bike.
Furthermore, when riding, it'll be easy to drink from the hydration pack. You need not stop like someone who will frequently be using their water bottle. You will come across some disadvantages when considering to use a hydration pack.
The first disadvantage is that many mountain bikers find it difficult to keep hydration packs clean.
Unlike a water bottle, the bladders will be tough to clean, and in case you damage them, they might be expensive to repair. However, there are some companies which offer cheap, quality replacement options for their hydration packs.
For someone accustomed to riding without a backpack, you might need to adjust with time. Having a hydration pack will necessitate for you to have a backpack.
Since the backpack adds some weight, it'll be easier to become comfortable with the additional weight!
Pros of Hydration Packs
Can carry more water
Easy to drink from
Can work with any bike
You can use the backpack to carry more tools and gear
Cons of Hydration Packs
Not easy to clean
Expensive
Needs some getting used to it when riding
Excellent Hydration Packs To Consider
If you're new to using hydration packs, consider looking at these solutions to find one you will be comfortable with. You have to consider one which will be satisfying and something that will be safe.
Below are the best options to consider.
Mubasel Gear Mountain Bike Hydration Packs
The best compact solution available in the market. You won't be tired when you wear the backpack, and it has some FDA approved bladders for water storage. The hydration pack has thermal insulation technology to guarantee that your water can stay cool at all times.
During rainy seasons, you can enjoy using the pack since it's water-resistant. Due to its compact nature, the pack is light, thus removing any pressure on your back. The design also fits both women and men, hence making it a versatile option.
Pros
Thermal insulation for colder water
Water-resistant
Suitable for both women and men
Has free bladders
Cons
Doesn't have the biggest storage
Teton Sports Mountain Bike Hydration Packs
It's an excellent solution for rough terrains since it's a safe solution. The pack is made from shock-absorbing, durable materials that can assist with cushioning a fall. In return, you will negate any injuries after a fall during mountain biking.
The reflective trim on the side allows other riders and drivers to see you clearly when riding during the night. There is also a safety whistle, which is efficient for preventing accidents. Besides being hydrates throughout, this pack will keep you safe.
Pros
Safe with a reflective trim
Light
Cushy and shock absorbing
Cons
CamelBak Rogue Mountain Bike Hydration Packs
If you don't want something hefty on your back, this pack is the best solution. It's light, thus being a perfect solution for the longer rides.
Besides its size and weight, the pack has a good hydration bladder and a practical reservoir. The bladder is big, with a capacity of 85 oz.
Pros
Good crux
Easy to refill the reservoir
Perfect for hydration
Light
Cons
Osprey Seral Bike Hydration Packs
It's a waist bag that doubles as a hydration pack. It's small and lightweight, thus being able to hang it comfortably around your hip. The small nature ensures that your waist won't have any issues during long rides.
It will also be stable when riding aggressively or on a bumpy road!
The reservoir in the pack has a 1.5-liter capacity, which can serve you for several hours. The pack also has some divided storage space, which ensures that it's easy to organize everything.
Pros
Great storage options
Small and light
Cons
Small water holding capacity
After checking out the different bottles and packs, it's up to you to decide the different options to consider. Picking a water bottle requires you to check whether your bikes will handle the different mounting solutions.
Water bottles will also be cheaper, and you can improvise different ways to mount them onto the bike. For additional comfort and more storage solutions, a hydration pack should be the go-to option. It'll be easier for you to drink water when riding and have additional storage space for your essential tools.
In addition to addressing your hydration needs, there are other tools and accessories that you'll want to consider as a mountain biker. Linked below are two articles that should help steer you on this journey and save you money!