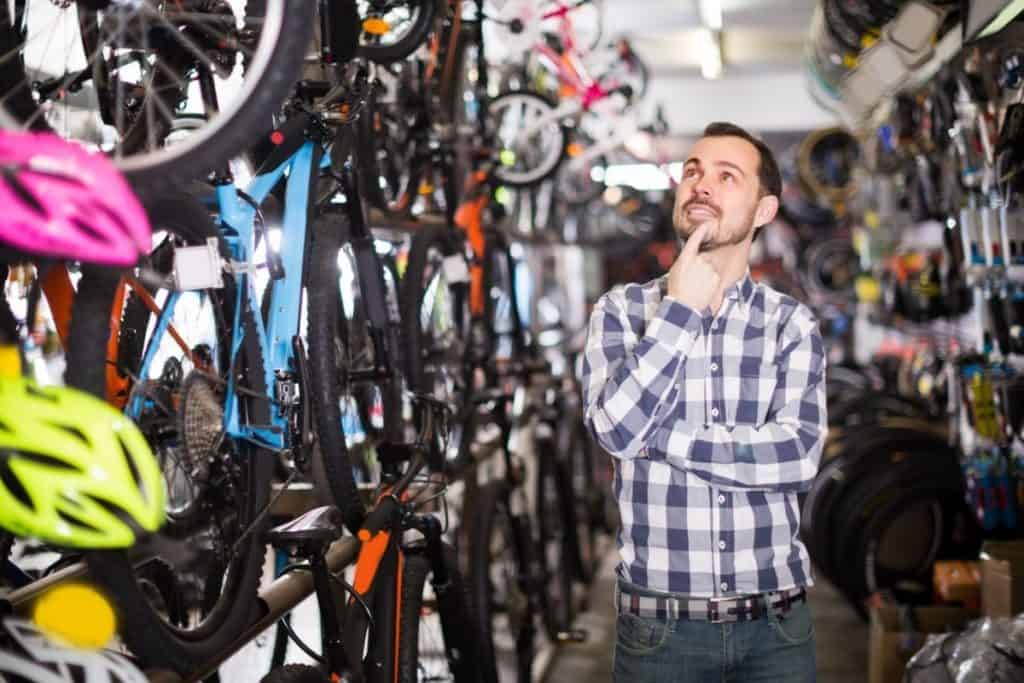 It may start with the bike, but you'll quickly discover that there are many useful accessories to have in mountain biking. In fact, I'd argue that many of these aren't just useful but are in fact required from a safety standpoint!
This list includes items to have at home as well as with you on rides.
#1 Eye Protection
Losing vision while riding your mountain bike might spell disaster. Regardless of whether it's a bug or piece of dust, you do not want your vision obscured mid ride!
Moreover, if the wind blows your face, your eyes have a high chance of becoming watery. Thus, occluding vision, and this brings about the need to have your eyes protected.
#2 Proper Shoes
The choice of the mountain bike shoes will be dictated by the pedals that your bike has i.e. flat (Five Ten above) or clipless (Giro above). Flat as the name entails means that your foot is free to move around the pedal, whereas a clipless pedal keeps it locked in place.
Regardless of which route you go, having a pair of mountain bike-specific shoes is one of the best investments that you can make to up your game and ride more safely.
If you're still on the fence about this, make sure to take a look at my article on are mountain bike shoes worth it.
#3 Bike Shorts
Mountain bike shorts are a perfect solution in reducing pain while you are riding. The market today has well-padded and comfortable riding shorts in different styles and colors.
Sure, you could try riding for a while with regular gym shorts….but spare yourself the chafing and get a proper pair now!
#4 Gloves
Hands are a critical part whenever you control your ride, and this way, they need to be free and capable always. With the gear shifting and braking, your hands might experience numerous wear and tear.
However, with decent mountain bike gloves, you can alleviate any pain caused by these activities.
#5 Mini-pump
Having a flat tire is one common encounter for most people, especially when it comes to mountain biking. Without a pump, getting stuck during your pedaling experience is possible.
Therefore, carrying a mini-pump as a key accessory anytime you are to have mountain biking is ideal. Don't be that guy or gal walking your bike home because you didn't bring a pump!
#6 Windbreaker
Mountain biking in fair weather is always the goal, but we all know just how fast the weather can change at times.
That's why having a compact but effective windbreaker is such a good item to keep on hand to ensure that you stay comfortable out on the trail.
#7 Patch Kit
Patch kits are your best option for quickly handling those pesky flat tires! Let's face it, while no one enjoys a flat tire you're bound to experience one from time to time.
Rather than letting a flat ruin your ride, you can quickly take care of them by having a good patch kit on hand.
#8 Multi-tool
One of the standard backcountry tools you need to have with you, whether sun or snow, is the multi-tool. Carrying with your pliers to a knife is always worthwhile anytime you are to have mountain bike pedals.
Multi-tool with pliers enables you to have great simplicity as you repair the bike whenever a need arises.
#9 Tire Lever
Rims on any mountain bikes are not cheap. If you do not have a tire lever for the popping of the tire off correctly, you can easily damage the rim.
Most of the tire can hardly get out without using the tire lever, and thus you need a tire lever at hand.
#10 Zip ties
Zip ties are the duct tape of the mountain biking world! Like the running flat of a car, zip-ties are a perfect solution whenever you temporarily fix your mountain bike.
Zip ties easily fix any form of breakage that your mountain bike may encounter. If, for example, seat droppers fail or other breakages, zip-ties easily corrects the issue.
#11 Snacks!
If you plan to spend several hours on the trail then it's always a good idea to keep some snacks on hand!
Whether it's out of necessity for the energy boost or just a good excuse to stop and enjoy the views, I'd recommend keeping something available in your bag.
From trail mix to energy bars, you'll want to get something that provides some carbs and has a respectable calorie count to ensure that it's worth carrying.
#12 First aid kit
Carrying a first aid kit will always be a necessity when one is going for longer rides. A first aid kit helps cover up any health emergency that might come along.
The first aid kit needs to be fully equipped with key things such as bandages and Neosporin, to enhance great safety.
#13 Hydration Pack
Even with favorable weather, carrying a water bottle is critical as you'll want to stay hydrated during your ride. One of the biggest energy drains will result from dehydration, and it's not something that you want to mess with on a ride.
While water bottles are certainly a viable option, you can usually hold more water for longer trips by also adding a camelbak to the mix! You should also consider reading my article on water bottles vs hydration packs if you're not sure.
#14 Saddlebag
A saddlebag offers extra storage for several items, such as a puncture repair kit, food, and many other things. These bags are common for most mountain bikers, for they offer great support. Anytime you aspire to get a saddlebag, you are entitled to a hassle-free process since different designs and styles are available.
#15 Headlamp
Mountain biking is normally done when the sun is shining. However, some people might have an extended full-day tour; a situation that a headlamp comes in handy!
After the going down of the sun, it can be difficult for you to see while pedaling.
#16 Spare inner tube
While patch kits are the go-to for most mountain bikers, a spare inner tube is your ultimate fallback in a bad blowout. While swapping a new inner tube on isn't the fastest fix, it's certainly faster than walking your bike home!
The good news is that they're cheap and lightweight, making them easy to strap to your frame or toss in a bag to ensure that you've always got one on hand.
#17 Sunscreen
Most people plan on mountain biking in good weather. This means you'll be getting plenty of sun exposure!
If you're anything like me, you don't want slippery hands as a result of regular sunscreen. That's why my favorite go-to option is a mineral based protectant that is also sweat and waterproof. While you don't necessarily need to carry it with you on the ride, it's absolutely a smart item to keep in your vehicle to apply pre-ride.
#18 Knee pads
The number of kneepads available in the market today is incredible. This offers you a chance to get a kneepad of your choice anytime you have a mountain bike ride.
With the kneepads, it is possible to have great comfort and functionality anytime you have a ride.
#19 Bike rack
As a mountain biker, transporting the bike needs to be made easy by owning a bike rack. A bike rack ensures that you do not have to dismantle your bike whenever you are transporting it.
It would help if you only were a high-quality bike rack, one thing that will ease any mountain bike transportation.
#20 Floor pump
Inflating the tires of your mountain bike is one task you cannot afford to overlook. A floor pump ensures you inflate your bike's tires easily since it has a larger air chamber.
While it's not something that you'd take out on the trail, you'll certainly want to keep it at home or in your car.
#21 Rain jacket
Rain gear is one of the best gears you can have as a mountain biker. This keeps you on the safe side anytime you are bike riding and there is a change of weather. Lookout from the nearest outlet for the best rain gear you can embrace as a mountain bike rider.
While this article focused on the best mountain biking accessories, one thing that it didn't get into were maintenance-related tools. To learn about building up your own kit, you can take a look at my full article on mountain bike maintenance kit.