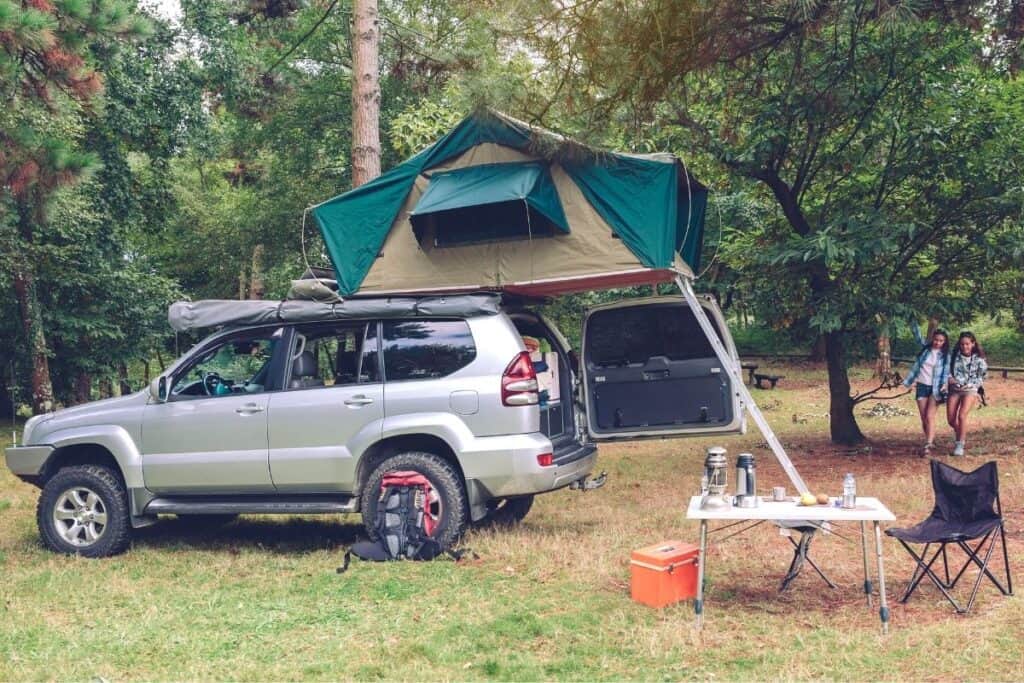 Are you tired of camping on the ground and waking up to critters next to your tent or getting wet during rainstorms? Rooftop tents are a great solution, but you need to know whether your car can handle the extra weight for a good night's sleep.
Plus, you have to get the thing on top of your car to begin with, so it helps to know what to expect!
So, how much do rooftop tents weigh, and are they heavier if they can sleep more than one person? Let's find out!
What's the Average Weight for a Rooftop Tent?
Here's the million-dollar question: how much do rooftop tents weigh?
The average 2-3 person rooftop tent weighs 135 pounds. The tent construction materials play the largest factor in determining the tent's overall weight instead of its capacity.
| | | |
| --- | --- | --- |
| Tent | Weight [pounds] | Capacity |
| Tepui Hybox | 177 | 2 Person |
| Trustmade Hard Shell | 205 | 2 Person |
| Thule Tepui Low-Pro 2 | 105 | 2 person |
| Thule Tepui Low-Pro 3 | 120 | 3 person |
| Smittybilt Overlander Std Gen 1/2 | 132 | 2 Person |
| Smittybilt Overlander Gen 1/2 XL | 148 | 3-4 |
| Yakima Skyrise Medium | 115 | 3 Person |
| Yakima Skyrise Small | 95 | 2 Person |
| Thule Tepui Foothill | 108 | 2 Person |
| Voyager | 160 | 2 Person |
| Thule Tepui Autana | 152 | 3 Person |
| iKamper Skycamp | 155 | 3 Person |
| Front Runner Roof Top Tent | 95 | 2 Person |
| Roofnest Sparrow Eye | 130 | 2 Person |
Tents with a solid or formed base tend to weigh more, as do pop-up options with more components and hardware. The lightest-weight tents have aluminum frames and all-around bird-like builds, much like ground-level tents.
It may be worth the tradeoff to wrestle a heavier tent atop your vehicle though; many heftier models offer better comfort, insulation, and more storage (and sleep) space.
Rooftop Tent Examples and Their Weights
Using the same list of rooftop tent models from above, let's take a look at each of these deeper!
I'll compare size (sleeping capacity), materials used to construct the tent, and weight options.
Note: The tent weights listed were gathered directly from the manufacturer. The weights that you see listed on other websites where the tents are for sale may differ, so for consistency, the manufacturer-provided values were used.
Vehicle Considerations for Heavier Rooftop Tents
Not all vehicles can handle a heavier tent, or a heavy tent plus sleeping campers and gear, on their roofs.
Before you opt for a heavier rooftop tent, here are a couple of things to take into consideration:
Make sure you know what your rooftop's load capacity is beforehand. Most tents themselves have a load capacity around 500 to 600 pounds, but that doesn't mean your roof does!
If you can, avoid using a sedan, hatchback, or smaller car with your rooftop tent. A bigger vehicle may withstand the pressure better.
Inspect the rack system and connection before (and after) every use. If you see signs of wear and tear or it's not connected well, don't keep using it.
Apart from ensuring you don't overload your vehicle or the tent with too much weight, it's also essential to follow the instruction manual when installing and setting up your rooftop tent.
The right steps can help avoid accidents and ensure that your vehicle doesn't sustain damage due to your rooftop camping habits.
Related Articles
If you found this article helpful, then make sure to take a look at some of my other related articles linked below!