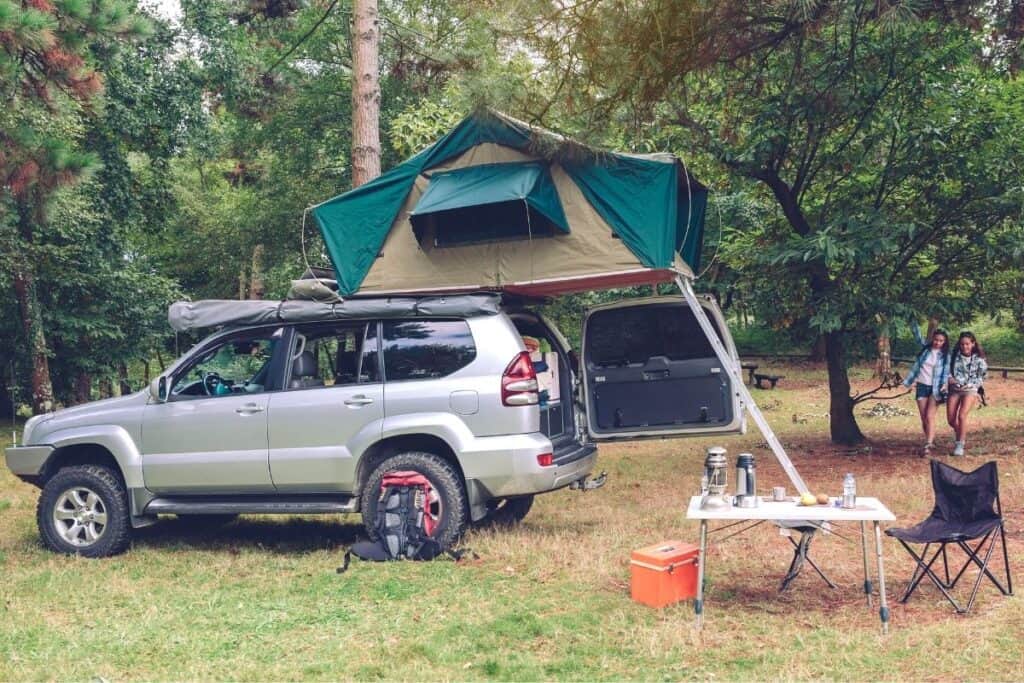 Some campers go out into nature terrified of bears or wolves ransacking their camp. True veterans know that the real thing to worry about that will ruin a camping trip faster than anything is cold temperatures.
Being cold is a miserable state to be in, and it's impossible to get any form of good sleep while freezing. The worst part is being tucked snugly into your sleeping bag and tent while fully clothed and still feeling cold.
Tents haven't advanced to the point that you can safely build a campfire inside, but there are still several ways to stay warm while camping. Roof top tents are no exception and can even be warmer than regular tents.
So are roof top tents warm? Well, let's find out!
What Is a Roof Top Tent?
Despite the name, you won't be setting up camp on the top of houses. Roof top tents are designed to go on top of vehicles with the proper roof rack designs. It's as simple as driving to a spot you want to camp and placing it on top of your vehicle.
Roof top tents are surprisingly large, thanks to their ability to overhang past the roof of the vehicle itself. As long as you keep it to one or two people, they can even be roomier than traditional tent setups.
Why Are Roof Top Tents So Popular?
Roof top tents have several advantages over regular tents that make them warmer, comfier, and safer for those using them. All of these factors make them a much more popular choice than most other tents.
Elevation Prevents Pests!
It would take a very determined spider or snake to make its way up to your vehicle and into a roof top tent. Pests love to invade warm tents if they see an opportunity, and camping so far above the ground takes away their access to you and where you sleep.
This is especially true if camping in places with dangerous critters like venomous snakes or scorpions. The further away you can get away from them while sleeping, the better. Most designs come with a ladder to avoid climbing all over your vehicle.
Extra Comfort
Roof top tents have a built-in mattress for additional comfort and a better night of sleep. As long as you didn't park on a slope, you'll be lying evenly without any odd bumps or rocks digging into your back as you try to go to sleep.
The walls are also much thicker than regular tents, so there's little chance of a cold wind forcing you deeper into your sleeping bag. Using a roof top tent is pretty much as close to glamping as you can get without actually crossing that line.
Big Time Saver
Roof top tents save time at several stages of the camping process. Every saved minute makes a difference if you've been driving for hours to reach your destination. No one wants to then spend another hour finding a good spot nearby and setting up your whole tent.
These roof top tents remain on top of your car, with most allowing your sleeping bags to remain inside as well. It only takes a minute or two to set up, and you're good to go. No excessive unpacking or setup times are required to start your camping experience.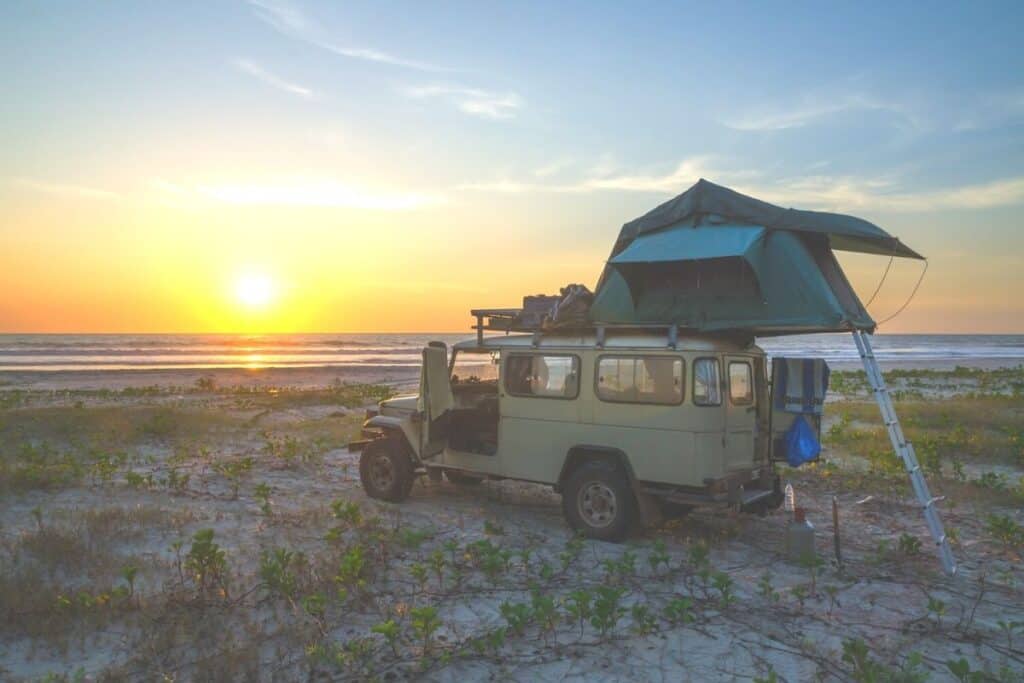 Are Roof Top Tents Warm?
The short answer is that yes, roof top tents are warm. At the very least, they tend to be warmer than traditional tents.
The long answer is a bit more complicated.
Roof top tents have several aspects that improve their warmth, but you'll still need additional protection if you plan on camping in colder months or areas!
Elevation
At first glance, it may seem like being up high would make you colder, but when it comes to camping, it's the opposite.
The ground leeches away heat in the night no matter where in the world you're camping, so getting away from it will increase your overall heat in the tent.
Thicker Tent
Roof top tents are constructed to be much thicker than traditional tents, with sturdy aluminum frames and a thicker canvas.
They aren't built to be super-insulating, but it's far easier for them to trap heat when compared to a typical camping tent.
Add-on Designs
There are a few types of add-ons that are designed to make roof top tents more resistant to the weather. They cost a pretty penny, but the extra warmth at night can make long trips worth buying them.
Weather hoods are like a sleeping bag for your tent and will both trap heat more easily and fight off the chill of the wind and rain. It fits around the tent like a glove and can be collapsed along with the tent when not in use.
There are also insulators that can line the inner walls of the tent. The heat from your body or heaters will be trapped inside the tent, and you won't spend the night shivering as your body heat drifts off into the night.
How Do You Keep a Roof Top Tent Warm?
The quality of your roof top tent makes a big difference while camping in cold weather, and there are several add-ons that can assist with that.
However, there are still several extra things you can do throughout the day and night to stay as warm as possible.
Wear Layers
This may seem obvious if you're camping in cold weather, but layers are your friend! You should have a base, middle, puffy, and shell layer when you're outside in cold weather.
When sleeping, only wear as much as you feel comfortable having on inside your sleeping bag.
Throughout the day, you should also micromanage the number of layers you wear to avoid sweating. Sweat is designed to cool the body, which is the last thing you want in the cold.
Put on and take off layers depending on your activity level to maintain a good state of warmth. This is something you should be doing inside the tent as well as out in the cold.
Hot Item in Your Sleeping Bag
Hot water in a bottle or even just a heating pad can make a big difference in the tight confines of your sleeping bag. Even if the heat from it dies during the night, you'll still be comfortably asleep for a long time.
It may sound weird, but place whatever item you've chosen for heat around your groin area in the sleeping bag. This will warm up your blood so that it can flow all throughout your body more efficiently.
Floor Padding
You should already have a sleeping pad as a layer between you and the ground, but a second one can make all the difference. The ground is the biggest leech of heat you'll see, so the extra distance between you and it will prevent some significant heat loss.
The extra layer also provides a layer of insulation that isn't normally available to you. Your body heat is far less likely to seep through two pads rather than one. Not to mention, you'll be just a bit more comfortable while sleeping.
Layer Your Sleeping Bag
This may seem a bit obvious, but an additional blanket or quilt can go a long way to keeping you warm and cozy throughout the night. You can place it on top if you want, but using it to line the inside of your bag is the best way to retain warmth.
Even a light or compact quilt can do a lot to retain your heat. Storage won't be an issue, and an extra layer in the sleeping bag can be more comfortable than an extra layer on your body.
Heating Technology
The best way to get warm is to have something that keeps you warm. There are some types of gloves or boots with built-in warmers to keep your extremities from getting dangerously cold.
The tried but true hand warmers are also a great option. You can activate and tuck them anywhere you need the extra warmth, and storing several of them is an easy endeavor.
Using a roof top tent also gives you access to electricity from your vehicle, so an electric powered heater can fill your entire tent with some cozy heat. Try to look for options that will turn themselves off so that you can sleep knowing that you will be safe.
Electric or propane heaters are powerful and useful but not really worth it unless you're camping in freezing temperatures. Stick with some of the other options unless you feel you have no other choice.
Air Out Your Tent
Letting cold air into your tent seems counterintuitive, but it's a necessary evil. Your tent is surrounded by cold air, and your breathing inside the tent lines the interior with a warm vapor.
This condensation turns to ice very quickly, and soon you'll be in a fabric freezer!
Airing out your tent from time to time will prevent the moisture from your breath from building up on the sides and freezing. You don't have to air out while you're sleeping, just once when you wake up, once before you sleep, and maybe one more time during the day.
Best Roof Top Tents
Choosing the best roof top tent depends on what you want to get out of it. Are you on a budget? Trying to camp with family? Using a small car?
Here are the best choices based on what you need!
The Smittybilt Overlander may be the cheapest roof top tent you can find by a significant margin. Despite being far cheaper, the quality is still great if you're willing to put in a little extra work in some areas.
The inconveniences are minor when compared to the reduced price. The ladder will sometimes stick and is a bit difficult to attach.
Installation can also be a bit more laborious than other models, but overall this is still a great option on a budget.
Best Value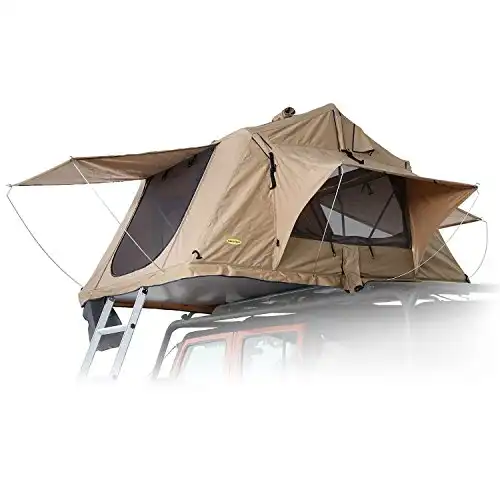 Smittybilt Overlander Tent
Standard size tent (sleeps 2-3) with high-density 92" x 55" foam double/full mattress and 661 lb. max load
600D heavy-duty waterproof top and rain fly; sunroof; side windows with mosquito netting; anodized aluminum tent frame poles; telescopic ladder; interior LED strips and many more features
Easy to set up and take down; heavy duty PVC cover keeps tent dry and free from UV rays when not in use
Buy from Amazon.com
The Cascadia Tent is perfect if you are taking multiple children or doing a double date version of camping. This option is equipped with two mattresses, a room divider, and two separate entrances.
Bottom line – get this tent if you don't expect to do much solo camping!
The main downside is that all of that extra room also increases the tent's weight by quite a bit. If you want to use this tent, you'll need to use a larger vehicle to properly handle the extra load.
Best for a Crowd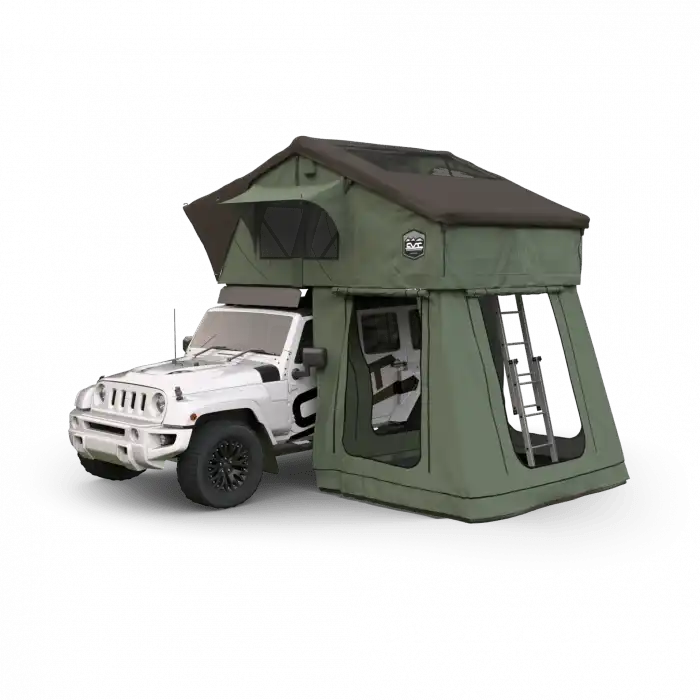 Cascadia Pioneer Series Mt. Denali
This Series is a great choice for both those just getting into roof top tent camping and those looking for simple refinement. From the floor pops up the Tent Body, made of 280 gram poly-cotton rip-stop fabric that has a normal nylon tent feel like a paper bag. Crowning the Tent Body you'll find the Rain Fly permanently attached with integrated Stargazer Windows that let you enjoy the sky whatever the weather.
Buy from CascadiaTents.com
The Tepui Low-Pro is the best tent to buy if you own a smaller car. It's incredibly easy to set up even with just one or two people, and the lightweight design means your smaller car should have no issues with the load.
Keep in mind that, due to it being smaller and more lightweight, you won't have as much room compared to other tent designs.
It can still sleep two, but you'll be a bit more cramped than you may like. But that's not always a bad thing 😉
Best for Small Vehicles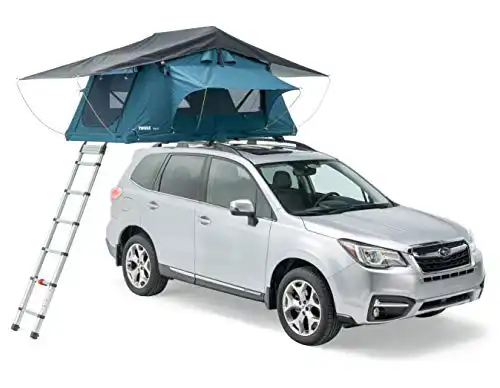 Thule Tepui Explorer Ayer 2
A lightweight and low-profile tent that's easy to install, the Thule Tepui Low-Pro 2 tent can accommodate up to 2 people and conveniently folds down to 7 in. for a better vehicle fit and aerodynamics.
Buy from Amazon.com
Can You Put a Roof Top Tent on Any Car?
While everyone may want to go buy a roof top tent and start camping, there are a couple of restrictions on what car you use.
If your vehicle can properly handle these two restrictions, then you're good to start camping.
Load or Weight
You have to make sure that whatever load you have on top of your vehicle is spread evenly over the bars. Failing to do so will lead to too much weight on one side or the other which can cause issues for your vehicle like decreased tire pressure or oversteering.
The overall load weight of all items attached to the roof should not be more than the load rating of the vehicle's roof, and roof top tents combined with bars and other stored items can sometimes toe that line.
Going over the load rating can lead to safety issues and even interfere with steering.
Bars
The attachments you have to secure a roof top tent determine if your car will make the cut. Stick with bars that use gutter mount legs, fixed point, or a vehicle specific track. This will keep your tent secure and you and other motorists safe.
Attachments methods you should avoid are non-vehicle specific tracks or clamp-style fittings. These options are significantly less secure than other types of bar attachments and can result in your tent flying off your vehicle and creating a massive safety hazard.
Are Roof Top Tents Worth It?
Roof top tents are considerably warmer and easier to set up than their normal camp tent counterparts. Being elevated from the ground also reduces insect visits during the night.
That being said, to combat true cold weather, add ons are necessary. No matter what tent you end up using, there are still a plethora of tips to draw upon in order to keep yourself as warm and comfortable as possible.
Being cold is a miserable state to be in, so take any steps to fight it that you can if you really want to camp outdoors in the snow and cold.
Related Posts
If you found this article helpful, then make sure to also take a look at these related posts before you go!