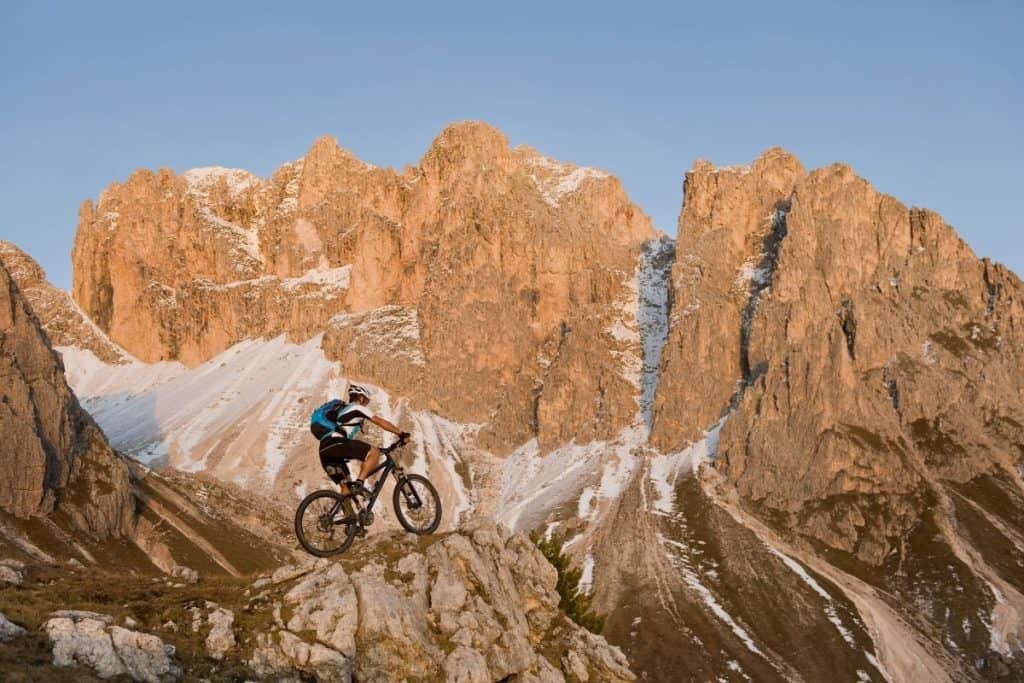 If you're looking into a new outdoor hobby like mountain biking, then you may find yourself wondering if it's dangerous. Mountain biking is a very popular sport, but it also has genuine safety concerns.
Anyone who has gotten mountain biking will tell you how exciting the adrenaline rush is. That comes naturally with riding on rough terrain, vertical drops, and high speeds. While it's popular, it's not without risks as well.
While there are risks associated with mountain biking, it is statistically safer than sports such as soccer, basketball, baseball, and football. Risk can be further mitigated by wearing proper safety gear, staying in control on the trail, and keeping up with bike maintenance.
This isn't to say that mountain biking is the only hobby with risks. Scuba diving, rock climbing, and even basketball have their own risks as well.
The largest single risk factor in mountain biking is the possibility of a fatality following a drop off from a precarious trail. Even crashes or accidents that don't result in fatalities still injure riders so badly that they're confined to wheelchairs or facing major corrective surgeries.
What Are The Dangers Of Mountain Biking?
While our minds are often quick to jump to worst case scenarios like death or paralysis, these aren't the only types of injuries (nor are they the most likely).
Why does mountain biking prove dangerous? There are many different risk factors, including but not limited to the following:
Terrain: Are you riding sharp rocky trails with steep drop offs or on flowy loam soil? The consequences for crashing on these types of surfaces can have very different outcomes.
Rider Error: Mistakes happen. No one is perfect, even if you feel like a god flying down the mountain. Just one slip in concentration or moment of unintended braking can mean the worst.
Failures: Even if you buy the very best mountain bike you can find, things are still bound to go wrong. Component failures and flat tires can result in fatalities, so spending a few minutes inspecting your bike before every ride is time well spent.
Experience Level: Agility and focus are always in high demand during cycling, but especially so in mountain biking. Riders with a lot of experience under their belt tend to be less likely to get into an accident.
Style: Certain races can be more hazardous and demanding than others, which is why riders have to be super cautious when on a trail. Downhill cyclists are statistically more likely to suffer an injury than a cross-country cyclist.
Kinds Of Mountain Biking Injuries That Happen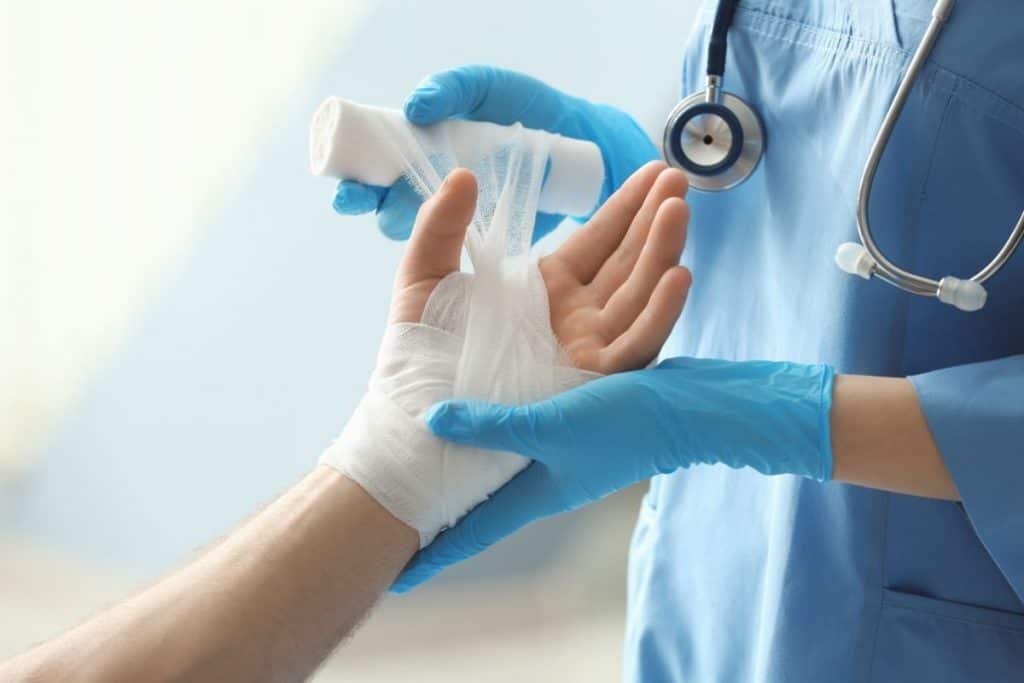 Even with increased focuses on safety, mountain biking injuries are still bound to happen. Whether serious or not, biking accidents happen, and there are several categories of them, such as:
Joint Injuries: These happen to fingers, wrists, knees, ankles, and other joints, ranging from sprains to dislocations and worse.
Skin/Soft Tissues Injuries: Not sure what kind of injuries these are? Think about cuts, contusions, lacerations, and abrasions. A light cut might be something you can treat on the trail with a first-aid kit and keep riding, but a deep wound might require medical attention in order for it to heal properly.
Fractured Bones: These kinds of injuries happen to mountain bikers all around the globe. The clavicle bone seems to be the one impacted most often, although bones anywhere in the body can break. These injuries can always mean a biker never rides again, at least not safely.
Face/Head Injuries:

Impact defines severity for these kinds of injuries. A broken nose is bad, but intracranial bleeding is far worse. You have to have a great helmet, and you need to wear it.

Abdominal/Chest Injuries: These happen more to kids than anyone, particularly when kids knock themselves on their handlebars. This has prompted country-specific bans on straight unpadded handlebars, as Australia has done to dramatically reduce liver injuries.
Fatalities: These kinds of injuries obviously result in death, but it's not always death on the trail. Chest trauma, transected coronaries, ruptured diaphragms, and pulmonary contusions are all things that result in death after an injured biker is off the trail.
Is Mountain Biking The Most Dangerous Sport?
In short, no, mountain biking isn't the most dangerous sport.
It does register more injuries than many sports, such as roller skating. On the other hand, it also accounts for far fewer injuries than sports such as baseball and football.
Mountain biking is over 10x as dangerous as roller skating, and it's statistically safer than cheerleading, BMX, and skateboarding. Having said that, it's a little less dangerous than surfing and half as dangerous as road biking.
It's nearly 5x safer than soccer and football, and roughly 7x safer than basketball. Mountain biking is actually nearly 10x safer than rugby and baseball!
Mountain Biking Safety Tips
While mountain biking is statistically safer than many other sports, safety still matters. Fortunately, there are safety tips you can follow to minimize and manage your risk:
Never Ride Without A Helmet: This is the biggest rule of them all. Helmets cut down your chances of severe head injury by 2/3. Make sure it's safe, comfortable, and fits well! If you don't have a good one, you should consider the the Giro Chronicle MIPS helmet.
Wear Proper Gear: Your helmet is always a must; that's worth repeating. However, two pairs of shorts also make sense, usually, one inner pair fitted and padded with a looser pair of cargo shorts on top. Mountain bike-specific footwear with hardened toes protects your toes from root and rock smashes. You can find my list of recommended gear here.
Know Your Trail: If you're going down a trail you've never ridden before, go easy. Take extra precautions like walking it in advance if you can or studying photos and videos of it online.
Blind Corners Are Worth Slowing Down For: Blind corners don't hurt blind people, they hurt everyone. They're called blind because no one can see around them. Learn riding techniques like riding the corner outside for less of a blind spot.
Maintain Control: Never ride past your personal skill level. That means always being able to stop, knowing where you can stop safely, and avoiding accidents or collisions with other riders.
Accept Your Crash: It's going to happen eventually. Hopefully, you'll walk away laughing, but if you ride long enough, you'll crash. Be ready, be calm, be careful.
Is Mountain Biking Alone Safe?
If you're already an avid rider, you might recall riding with others as often as you could, just due to the safety factor. Maybe you might have also done this to satisfy a parent or loved one who worried over you.
Then again, you might have started riding faster than most others wanted to go, and you might have even wanted to ride more often than everyone else would willingly join you for.
It winds up begging the question about whether or not you can go mountain biking safely while alone? You can go when you want, and you can go as fast as you wish. However, what are the risks, and what you can do about it?
Injuries: Various injuries have already been covered quite a bit in earlier sections, but what happens if you get hurt when you're by yourself. A fully charged phone, knowledge of your location, and good wireless reception are essential in these circumstances. You should also be checking in frequently with someone who would know to send help if they don't hear from you.
Animal Attacks: Knowing what to do for each animal is a matter of research because how you respond to a moose is different than how you respond to bears or mountain lions. Know who is in the area, and research what to do if you encounter creatures.
Hunting: Where there are animals, there are hunters. Wear bright colors on the trail to ensure that you don't surprise anyone!
Mechanical Matters: Stick to places you can walk out of or call a friend to come to pick you up. Learn your bike, its parts, and its mechanics. Bring the right tools and equipment to fix things.
Winding Up Lost: Download the Trail Forks App! It works around the world, even when you don't have a signal.
Mountain biking can be dangerous, and it will always have that edge and thrill. Still, taking the right precautions means you can ride as many times as you want.
Additional Resources To Read!