Camping is a fun hobby and pastime for a lot of people, but sometimes it's hard to know what equipment is best for your excursions. Today we'll be talking about the camping quilt and how it can improve your camping experience.
But what is a camping quilt?
A camping quilt is an insulated blanket that can be used in place of a traditional sleeping bag. This versatile alternative is often lower in weight and cost while also providing more options for controlling airflow.
While many think that camping quilts may seem overrated, especially compared to sleeping bags, I can guarantee you that a camping quilt will be worth the investment! It may not seem like much, but camping quilts can save you many sleepless nights in the great outdoors.
Camping Quilt Specifics
A camping quilt is designed to fit over your camp mattress and is essentially an insulated blanket. Like other blankets, a camping quilt allows you to stay warm while moving freely while you sleep!
Camping quilts are designed to regulate your temperature while you snooze outside, to prevent you from overheating or getting too cold.
The Difference Between A Camping Quilt and Sleeping Bag
What is a camping quilt compared to a sleeping bag?
Sleeping bags are great for keeping you warm on camping trips because once you're zipped up, drafts can't creep in. However, sleeping bags can also get uncomfortably hot, especially if you're camping during the warmer months because it's hard for heat to escape.
A camping quilt insulates you but allows for more options to let heat escape!
So if it's warmer out, you can lay down with a camping quilt on top of you and be cozy without being hot, and if it's colder out, you can always tuck your camping quilt down around your mattress and stay bundled up.
Another benefit to taking a camping quilt over a sleeping bag on overnight outdoor excursions is it's less heavy and bulky to pack. Camping quilts make it easy to travel light while still giving you all the warmth and protection you need when the sun goes down.
Sleeping bags are designed for below-freezing temperatures. Some camp quilts are designed to protect you as low as 35 degrees Fahrenheit. Unless you're consistently camping at below-freezing temperatures, you don't actually need a sleeping bag—a camping quilt will do just fine.
In addition to these differences, camping quilts are also generally cheaper than sleeping bags. But not in value, just in price!
Which makes sense since camping quilts are made of less material. It may be wise to invest in both sleeping bags and camping quilts, so you're prepared for the proper climate, whatever the weather may be.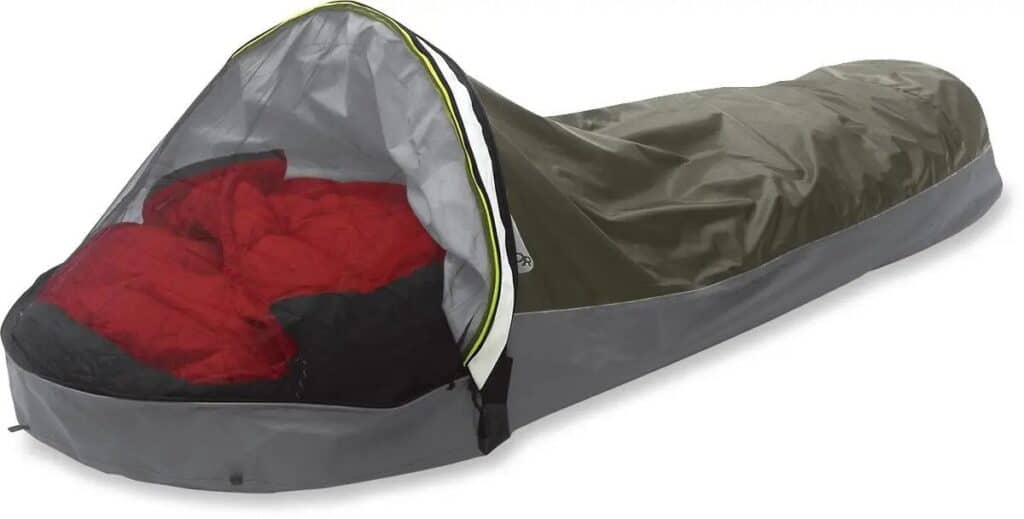 The Importance of a Sleep System When Camping
It's important to have a sleep system that you can build with your gear when you're out camping. A sleep system gives you the best coverage and protection for any kind of outdoor sleeping.
You should be able to change up your sleep system to fit your situation, be it in cooler or warmer temperatures.
What is a camping quilt in relation to a sleep system?
Sleeping systems usually include a sleeping pad and pillow but may also include a sleeping bag or even a sheet. A camping quilt, though it may seem unnecessary, is versatile and can actually make a great addition to your sleeping system!
If you are out in warmer weather, you can sleep with just a quilt and your sleeping pad. Or, if you find yourself in a cooler climate, you can sleep with a quilt over your sleeping bag instead of trying to bundle up with two bulky sleeping bags.
Another version could include putting your quilt or sleeping bag inside a bivy.
Either way, your sleep system should be adaptable so that way you can add or detract elements while still sleeping comfortably in all weather conditions. A camping quilt may just be the thing you need to add to your gear.
How to Use a Camping Quilt
A camping quilt is almost like a sleeping bag, minus the zipper. It has a pocket at the bottom that you can tuck your feet into. You can even pull the pouch down around the bottom of your sleeping pad for extra insulation.
Some camping quilts even have hooks or snaps that will allow you to attach them to your sleeping pad, so it's like you're sleeping in an elevated sleeping bag.
The more insulated you want to be, the tighter you can keep your camping quilt to your sleeping pad. Whereas if you want more breathing room, you can simply curl up on your sleeping bad and drape your camping quilt across your body.
Camping quilts work if you are hammock camping too. Just crawl into your hammock and pull your camping quilt up over your body. Camping quilts usually work best in hammocks when you're camping in warmer weather.
When it's colder out, your back is more exposed and vulnerable to the wind. If that's the case, you can even buy camping quilts called underquilts that wrap around you and your hammock. Underquilts, like all camping quilts, keep you warm without constricting your movement.
Reasons to Invest in a Camping Quilt
Camping quilts are great if you're bigger or taller than average. They give you extra room to spread out while you sleep. Sleeping bags are nice when you want to feel snug like a bug in a rug, but camping quilts are perfect when you want to stretch out.
Camping quilts are like a nice duvet, especially if you're looking for some snuggles while you sleep under the stars. Unlike sleeping bags, camping quilts give you that extra space you need when you're sharing your bed with someone and want to avoid overheating.
Plus, if you share a quilt with someone else, that's twice the body heat that can warm you up! Faster than laying in a sleeping bag by yourself. You don't have to worry about moisture build-up with camping quilts the way you do with sleeping bags because there's more ventilation.
Common Misconceptions About Camping Quilts
Many people shy away from using camping quilts during their outings because they seem a little intimidating. They're definitely different from sleeping bags, but that's not a bad thing!
There are misconceptions about camping quilts, and we're going to debunk them.
What About Back Insulation?
The lack of back insulation on a camping quilt is probably the biggest concern people have when they imagine trying to sleep in anything other than a sleeping bag outside. When you combine a camping quilt with a sleeping pad, though, your body is just as insulated and protected as it is when you use a sleeping bag.
When you lay down in a sleeping bag, the fill on the underside of it gets compressed by your weight, so it becomes significantly less thermally efficient. A sleeping pad is built to insulate you from the cold ground and provides your body with the warmth that a sleeping bag cannot.
A sleeping pad gives you the same comfort as a sleeping bag, but with the additional insulation, and pairs perfectly with a camping quilt.
Will a Camping Quilt Keep Me Warm?
Some people like the hood of a sleeping bag and worry about staying warm without one if they use a camping quilt. The good thing about sleeping with a camping quilt is you can still stay warm by sleeping in a hoodie or hat.
Plus, if you turn over in your sleep while using a camping quilt and wearing a hat, you won't be smothered by nylon the way you would when sleeping in a hooded sleeping bag.
You don't have to worry about drafts with camping quilts because they're made with high-performance material and designed to hold your body heat in, should that be something you want. Since camping quilts are made with pockets that you can hook around your sleeping pad or slip your feet into, you will be able to keep yourself extra cozy whenever you want.
What If I Move a Lot in My Sleep?
Maybe you're like me and prone to kicking a leg out from under your blanket while you sleep.
A camping quilt gives me the freedom I need to adjust to get that perfect "leg ventilation" while I sleep, even while I'm outside!
Plus, a camping quilt moves with a wiggle worm like myself, keeping me warm and covered when I'm sleeping.
What If Camping Quilts Make Me Too Hot?
You also don't need to worry about sticking to your sleeping pad under your camping quilt.
You can wear a base layer or add a specially made sheet for your sleeping pad to your camping gear. Even if it's warm out or you happen to sweat, these kinds of layers are sure to wick away moisture and keep your gear and yourself dry.
Camping Quilts Can Make a Difference
By now, you should be wondering how to get a camping quilt, not what one is! Camping quilts are great for every kind of camper, whether you are a full-blown backpacker or just going away for the weekend.
Camping quilts are lightweight, comfortable, versatile, and make a great addition to any outdoor enthusiasts' gear.
You may still be hesitant to try out a camping quilt, but after you take the plunge, it'll be easy to see why they're preferred by so many outdoor enthusiasts.
Hot summer nights when camping will be made that much cooler after investing in a camping quilt!
Related Articles
If you found this article helpful, then make sure to take a look at some of these related posts as well!