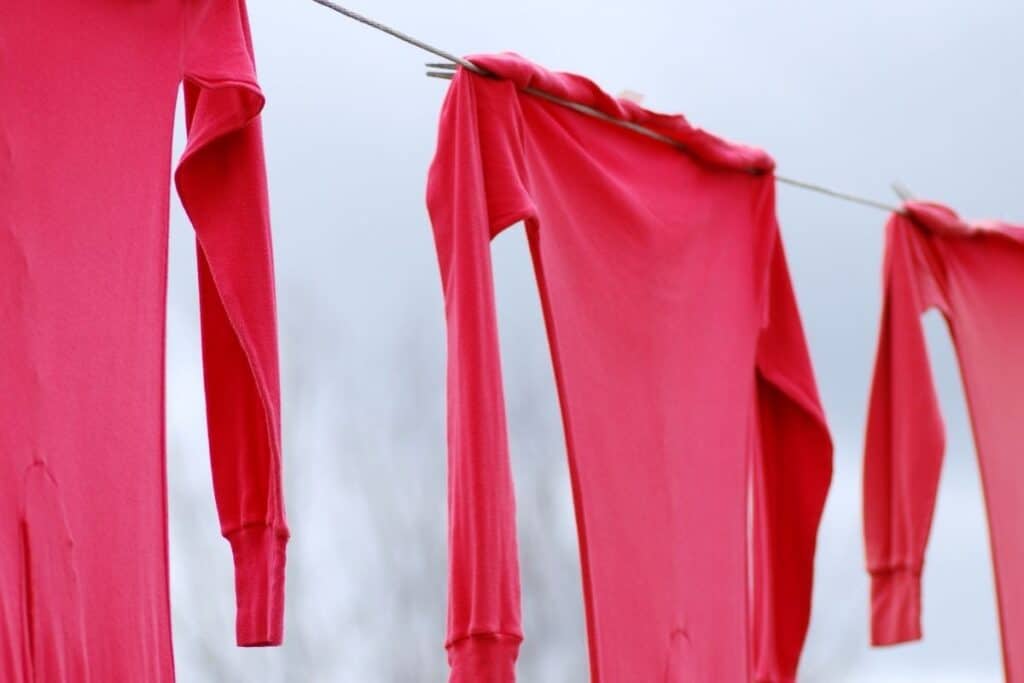 Long Johns are a great addition to anyone's winter wardrobe, keeping you both warm and comfortable. However, there is some confusion surrounding how they should be worn. For example, should you wear underwear with Long Johns?
Although Long Johns are technically a form of underwear, many people choose to still wear underwear with them for their added insulation and a tighter fit. Doing so can also help extend the life of the Long Johns by not needing to be washed as frequently. Ultimately it boils down to personal choice.
Even though Long Johns often appear to be a relic of the past, they are starting to make a comeback! So let's just into exactly what are Long Johns, and should you or should you not wear underwear with them?
What Are Long Johns Base Layer?
Long Johns, also referred to as thermal underwear, are considered by many to be the same thing as "union suits" (full-body Long Jons with a flap at the back), but it's a matter of contention among historians. Long Johns are effectively the same as a pair of briefs, but they extend down to one's ankles.
However, the history of Long Johns as we know them begins with bare-knuckle boxing legend John L Sullivan, who popularized the attire when dominating the sport in the late 1800s and is recognized as the first heavyweight champion of glove boxing.
The "Boston Strong Boy" would become world-renowned and instantly recognizable when seen fighting in his odd-looking, fuzzy long underwear. He would partner with several textile companies in the US and England to advertise this strange new attire, which would come to be known as "Long Johns".
Since then, very little has changed about the basic style, but some changes have been made regarding the fabrics and materials used to make them. This has helped Long Johns become warmer, thinner, lighter, and cleaner.
But, despite falling out of favor in recent decades, Long Johns offers plenty of warmth and comfort, and fashion designers are beginning to recognize that they can hold their own in menswear winter collections.
So you may still be wondering, how are Long Johns different from regular underwear? And, if they serve the same purpose, is it really necessary to wear underwear with your Long Johns?
Why You Should Wear Underwear With Them
While your Long Johns may serve the same function as your underwear, they aren't as breathable, don't stretch in the same way, and don't offer the same support. Many people opt to wear underwear with Long Johns simply because Long Johns don't hug your body the same way that a pair of underwear may.
Furthermore, Long Johns are typically made out of synthetic materials and can cause skin irritation. A pair of underwear may help prevent any skin irritation or chafing in this case.
Then you have to address the purpose of your Log Johns, which, presumably, is that you're wearing them with the intent of staying warm! Adding that additional layer of underwear below your Long Johns will provide added insulation.
Finally, there are hygiene considerations. Most people prefer to wash their Long Johns less frequently, and underwear can help prevent the accumulation of sweat and unwanted odors.
Like you wash your underwear every day, you would have to wash your Long Johns daily if they're worn without underwear. This also applies to durability.
The breakdown of the materials in your Long Johns will be slowed down if worn with underwear, and you won't have to replace them as frequently.
Why You Shouldn't Wear Underwear With Them
Technically, Long Johns are underwear, so wearing underwear underneath your Long Johns is like wearing briefs under boxers; it's largely redundant.
If your Long Johns are made out of pure cotton, you have no reason to wear underwear with Long Johns, instead, you should wear your Long Johns as underwear.
If you find a comfortable pair, they can merely be considered different underwear, and you can buy several pairs that you can put on a rotation, much like you would with regular underwear, and wash them daily.
Some people also want to avoid the seams and linings of their underwear showing through underneath Long Johns and prefer not to wear underwear underneath for purely aesthetic reasons.
Finally, it makes life a lot more convenient if you don't have to strip down an additional layer of clothing every time you go to the bathroom. This can be a dealbreaker for some, particularly in the cold winter months.
How To Wear Thermal Underwear
While some people do choose to wear Long Johns as outerwear, rather than underwear, it's a bold fashion choice that you need to consider whether you can pull off.
For the sake of it, let's assume that you're wearing them as underwear, just for additional insulation during the cold months of the year or on your travels to far colder places, such as Canada, Russia, or Alaska.
So, if you've decided to wear underwear with Long Johns, put them on before you pull on your Long Johns. Once you've got your Long Johns on, pull your socks over the bottoms and put your regular pants on over your Long Johns. Put on whatever shirt you please and wear it any way you like.
Feel free to add as many layers on top as you want!
When discussing the new Prada menswear collection, Vogue describes how Miuccia Prada and Raf Simons designed the line to be worn either alone, layered under oversized sweaters, or peaking underneath sharp tailored outerwear.
In a moment in history where we're all social distancing, warm and cozy clothes are trendy. Your winter look, complimented by knitwear, can be brought together with your comfy pair of Long Johns… and you won't look out of place if you wear them out!
Are Thermals Suitable For Camping?
You may be thinking that Long Johns aren't necessarily restricted to the home or going out but could make a big difference in making your camping trips a little bit more comfortable. And you wouldn't be wrong.
The clothes you choose to go camping in can often make the difference between a good trip and a torturous one, particularly in the fall or the winter when nights can get very cold.
When that campfire goes out, and you need to get into your tent and weather the cold, a pair of Long Johns will go a long way towards making it through the night without shivering all the way through.
If you don't have a pair yet, make sure to take a look at these options from Therajohn and Thermajane!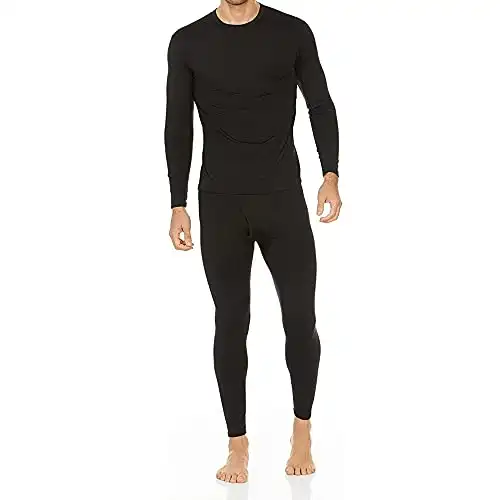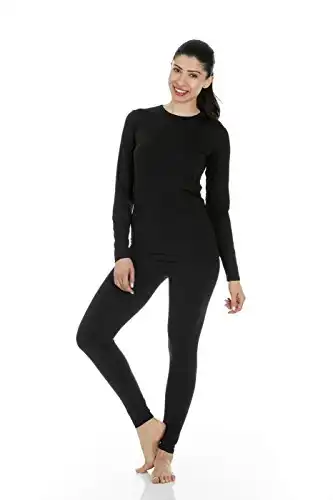 Conclusion
So, whether you're just looking to warm up this winter or if you're just looking to get in on this burgeoning fashion trend, Long Johns will be a great addition to any wardrobe.
They can replace your summer underwear during the winter months, or they can be worn in conjunction with them for extra warmth and support. And if you know how to put an outfit together, Long Johns will be a real hit with the fashionistas out there!
Frequently Asked Questions
Can I Wear Underwear Underneath My Long Johns?
Yes, you can wear underwear underneath your long johns. However, doing so may cause bunching and discomfort. If you choose to wear underwear, opt for a lightweight and breathable fabric such as cotton or bamboo to avoid overheating.
Is It Necessary to Wear Underwear Under Base Layers?
No, it is not necessary to wear underwear under base layers such as long johns. Base layers are designed to be worn next to the skin, and wearing underwear underneath may cause discomfort and bunching. However, if you prefer to wear underwear for personal reasons, choose a lightweight and breathable fabric.
Do I Need to Wear Thermal Underwear?
Thermal underwear, also known as long johns, is designed to keep you warm in cold weather conditions. If you plan to spend time outdoors in cold weather, wearing thermal underwear can help keep you warm and comfortable. However, if you don't plan to be outdoors for an extended period, you may not need thermal underwear.
Should I Wear Underwear with My Base Layer Pants?
It is not necessary to wear underwear with your base layer pants. Base layer pants are designed to be worn next to the skin, and wearing underwear may cause discomfort and bunching. However, if you prefer to wear underwear for personal reasons, choose a lightweight and breathable fabric.
What Should I Wear Over My Thermals?
When wearing thermals, it is best to layer clothing to stay warm and comfortable. You can wear a fleece jacket, a wool sweater, or a down vest over your thermals to stay warm. Avoid wearing cotton as it absorbs moisture and can make you feel cold.
Do People Wear Underwear When Wearing Long Johns?
Some people choose to wear underwear when wearing long johns, while others prefer not to. It is a personal preference, and there is no right or wrong answer. If you choose to wear underwear, opt for a lightweight and breathable fabric.
Related Articles