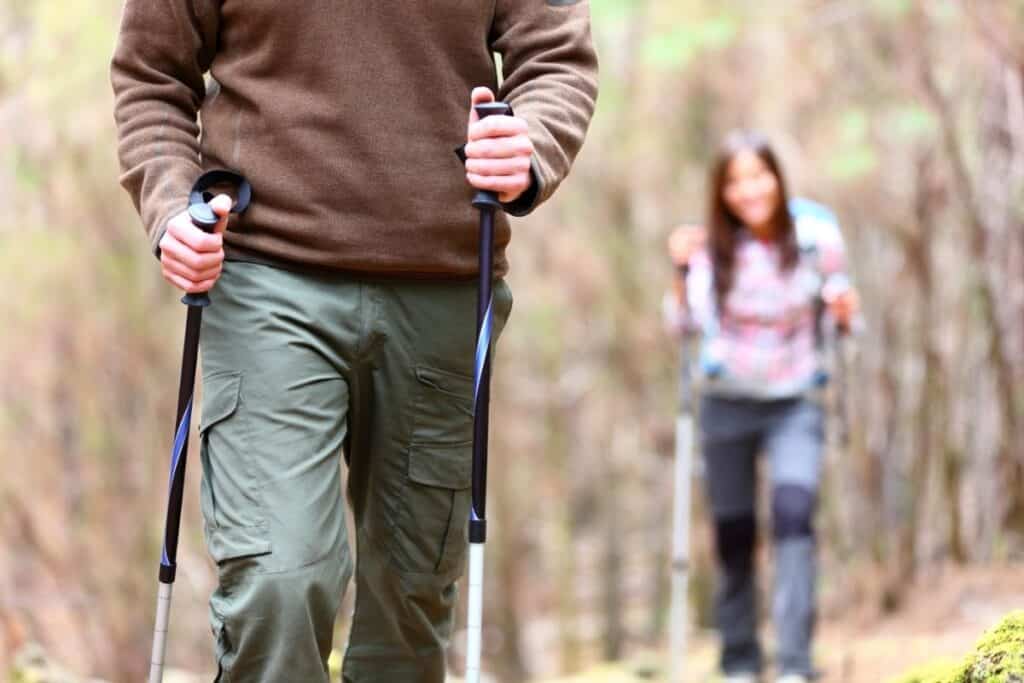 If you're looking to cut costs around hiking then you may find yourself wondering if hiking pants are necessary. After all, pants are pants – right?
Hiking pants are not necessary but they do provide the added benefits of waterproofing, moisture-wicking, increased breathability, enhanced insulation, and added toughness compared to casual attire.
While hiking pants are not necessary, they do provide a LOT of benefits. But before you consider splurgy on a pricey pair of hiking pants, let's dig into their critical feature first so that you know what to look for!
Why Buy a Pair of Hiking Pants?
While hiking pants might seem somewhat unnecessary (why buy hiking pants when I have perfectly good jeans?), hikers should still consider them for longer hikes.
They offer significant advantages over casual pants and may even help you reach your hiking goals. At a minimum they will make you more comfortable in the process!
Waterproofing
When you're hiking, you don't want any extra weight. More weight means more energy expenditure, which translates to more food consumed and fewer miles walked.
If you've got a daily distance target, you don't want to deal with delays. For this reason, soaking wet clothing can be a significant burden on hikers and can slow them down to the point that, if they have an end destination, they can't reach it.
It's good to have waterproofed clothing like raincoats or ponchos on a hiking trip, and hiking pants can help out in this area.
If you're looking for a way to skip over the delicate store-bought plastic ponchos or the bulky name-brands, having a set of specially-made hiking clothes might help out.
Hiking pants are often waterproofed, meaning that the materials they're made from deflect water and keep wearers light during hikes.
For this reason, if you're planning a hike in bad weather, you should probably bring along a pair of waterproof hiking pants.
Moisture-Wicking Fabric
You may have heard the advertisements for Under Armor garments offering moisture-wicking fabric. As it turns out, this isn't just a gimmick.
Many hiking pants are made from moisture-wicking fabric, which helps hikers keep moving by taking advantage of the chemical properties of synthetic materials.
Moisture-wicking fabric compliments the natural sweating process of your body by moving evaporated sweat away from your body as you walk, just as your bare skin would. In a lot of ways, walking in moisture-wicking fabric feels like walking in nothing at all.
Wicking sweat away from your body also has the advantage of decreasing hikers'-stench. After a few days on the trail, you've probably sweated enough for ten men! Getting rid of some of this sweat as you walk is a good idea.
Moisture-wicking fabric takes advantage of the molecular bonds in the small spaces between its threads to take sweat away from the body and cool the wearer.
For these reasons, hiking pants with moisture-wicking fabric have huge advantages over regular jeans or waterproof pants. If you're looking for an added edge, hiking pants may have it in moisture-wicking fabrics.
Insulation
If you're hiking in the winter, you might have noticed that one of the places lacking the most insulation is your legs.
Hiking pants can help fix the disparity between your padded torso and your seemingly naked legs with their added insulation.
A good pair of hiking pants might come equipped with a removable lining, which can be applied or removed depending on the outside temperature.
Whereas regular snow pants may not be made for long distances, a fine pair of hiking pants will add sufficient insulation without putting on the pounds or inhibiting your movement.
Having extra fabric around during winter is also always a good idea. Extra fabric traps heat, which is incredibly valuable when temperatures can reach below zero. Combine warm hiking pants with a sleeping bag, and you've got the perfect recipe for a deep sleep on a cold winter's night.
Finally, as you walk down the trail, you might notice the chill the wind brings on. An efficient pair of hiking pants can deflect Wind-chill and help hikers deflect excess chill and keep warm on those particularly pesky winter days.
Best Hiking Pants
Now I'll be the first to admit that I've bought a LOT of pairs of hiking pants over the years. Too many in fact…
But the good news for you is that I've seen what's worked and didn't work. In particular, I've learned which ones I simply love!
When it comes to a general pair of hiking pants, the number one model that I would recommend is the Prana Brion pant. These are not only my favorite pair of hiking pants of all time, but they're probably the most comfortable pair of pants that I have ever owned.
Not only are these my go-to option for hiking, but I almost exclusively wear them when I travel as well. They're just so comfortable and breathable that I find it hard to bother with anything else.
Better yet – while some hiking apparel clearly has the outdoor look to it, these have a sleek and casual appearance. You won't feel out of place at all wearing them out in public or to casual work environments.
That to me is a BIG bonus! That way I'm not just getting the use of enjoyment of the pants on the trail, but also around town in daily life as well.
prAna Brion Men's Pant
The Brion Pant is made with our original Stretch Zion fabric for ultimate durability suited for any adventure. These slim, stylish pants are abrasion-resistant, water repellent and provide UPF 50+ sun protection. Whether you' re biking across town, climbing your toughest route or just meeting up with friends, the Brion Pant has you covered.
Buy from Amazon.com
Now when I'm in need of a more tactical pant or am expecting colder conditions, I swap out the Prana Brion pant with the Outdoor Research Cirque pant.
These pants are more shell-like to provide better water and tear resistance. In particular, the ankle cuff area is reinforced to prevent it from being torn up if you're wearing spikes or crampons.
I also really enjoy how adjustable they are!
The waist has cinch loops that can be easily adjusted (this helps a ton when you're varying the layers that you're wearing), and the lower leg has zips to help them easily slip large boots on and off.
I also like that while they have some insulation, it's not really heavy. This make it comfortable for me to wear them in mild weather, as well as really cold conditions by adding underlayers.
Outdoor Research Men's Cirque II Pants
Built to withstand the vigors of mountaineering and climbing, they are weather-resistant and incredibly durable. Abrasion-resistant material and reinforced scuff guards offer superb trail protection, especially to the lower leg.
Buy from Amazon.com
How to Avoid Purchasing Hiking Pants
Alright, so you've seen the advantages, and you're still not convinced that you need to go out and buy a pair of hiking pants.
Some might call you cheap- others might call you smart- but either way, you're not dropping all that money on a simple pair of pants.
But how can you fix the problems that result from wearing casual pants on long hikes?
Use Waterproofing Spray
One advantage that hikers find most enticing in hiking pants is waterproofing. A dry pair of pants are lighter and more comfortable than a wet pair, and most dedicated hikers will know the pain of having to sleep in cold, wet pants.
But how can you avoid the price tag without sacrificing dryness? Are more frugal hikers destined to walk in soaked pants?
As it turns out, there are multiple outlets selling waterproofing spray for regular clothing that, if reapplied frequently, can produce a similar benefit to waterproof materials.
Nikwax is a popular water-proofing spray that could work as an adequate substitute for specially-made waterproofed fabrics.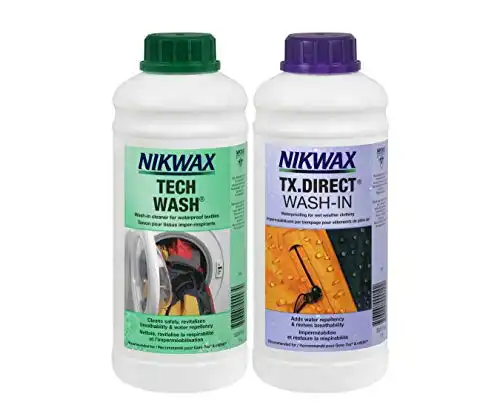 I'm still in shock after the first time I saw a waterproofing spray demonstrated. I couldn't believe how waterproof it made previously absorbent clothing!
Add Insulation
To fix the issue of insulation, hikers might choose to underlay their jeans with a pair of long johns.
Long johns are a simple, effective solution for wintertime hikes that can keep your legs insulated and warm. At night, long johns will increase the amount of warmth retained by your sleeping bag and gift you with more precious sleep.
Paired with a thermal shirt, long johns can turn a hiker into a heater and create enormous comfort!
While there are certainly cheap options out there, the only pair that I reach for these days are those made by Smartwool. Not only are they incredibly comfortable and effective, but they've proven to be surprisingly durable over the years.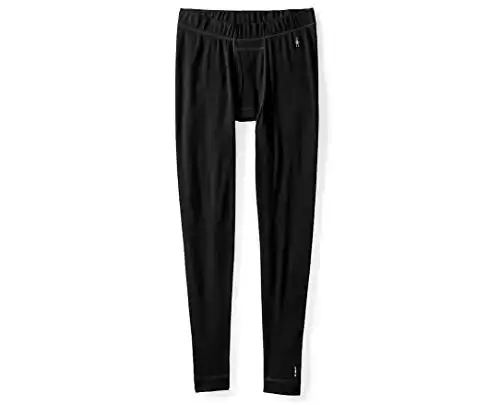 When Can I Use Casual Pants for Hiking?
Hikers who want to save their money can use casual pants for almost any hike. Just remain aware of the advantages hiking pants have over jeans or khakis.
Shorter hikes are an excellent place for a pair of jeans., as the minimal sweating you'll do doesn't warrant moisture-wicking fabric. If you don't have distance goals, you also won't have to worry about moisture's added weight.
If you're not spending the night, you also might be able to wear a pair of casual jeans or work pants without much fear. Day-hikes don't require much insulation, and hikers can always turn around if they get too cold.
All in All
All in all, hikers should be aware of the advantages afforded by a decent pair of hiking pants and calculate accordingly.
If a short hike is all you're after, casual pants will do. But for colder, longer hikes, you might want to invest in a good pair of pants from your local REI or outdoor store.
Related Articles
If you found this article helpful, then make sure to also take a look at the ones linked below before you head out!