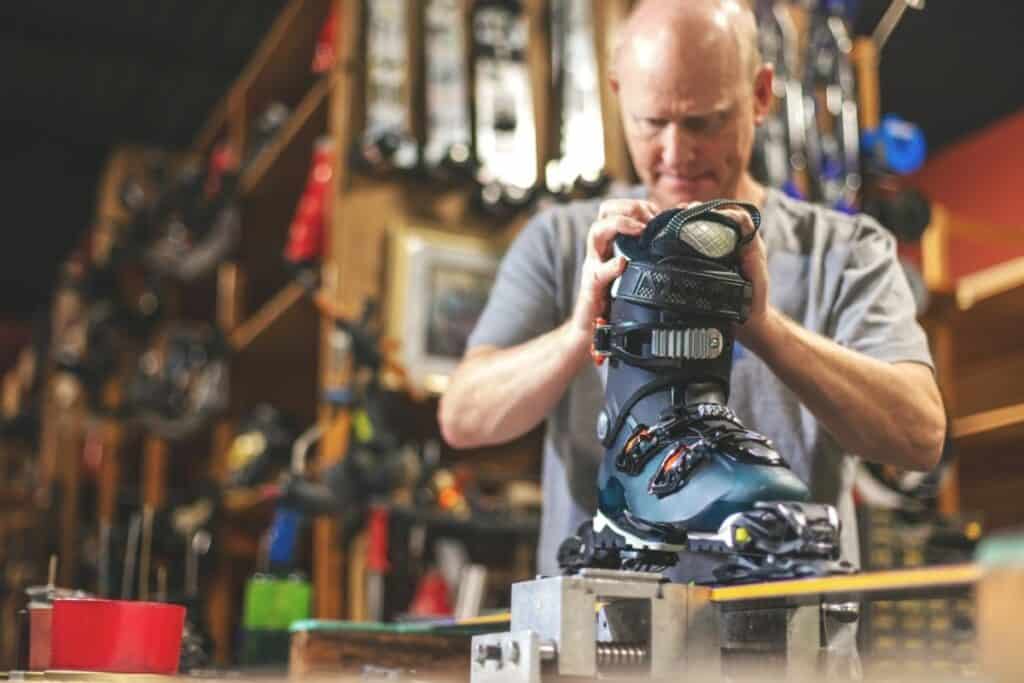 Ski bindings play a critical role in keeping your boots connected with your ski and, in emergencies, releasing feet to avoid injury.
In this article, I'll cover the essential items you need to know for choosing safe, well-fitted ski bindings regardless of the ski or boot type (or gender label).
Are Ski Bindings Universal?
Generally speaking, ski bindings are universal, provided that the style of skiing you do matches your ski boot. In other words, if your boots are for cross-country skiing, almost all bindings for cross-country skiing will be compatible.
However, a binding made for cross-country skiing will not be compatible with boots for downhill skiing.
Another factor that plays a role in determining whether ski bindings will fit with your skis and boots is the binding's width. Provided that your bindings' brake width is wider than your ski's waist width, you should be able to use it.
That said, the ratio of width doesn't replace the critical need to match your ski bindings with the same boot ski style.
Ensuring that you've properly fitted your ski bindings is essential for your safety. Skiing can be a dangerous sport on its own, and bindings play a crucial role in preventing you from freefalling down a mountain. 
Ski bindings also have DIN release settings that will cut your feet loose if they feel too much pressure, signaling to your bindings that you've encountered trouble.
Because of the safety role that ski bindings play, you should consider having a professional adjust your bindings, especially if you have wide skis.
That way, you'll be able to ski with confidence by knowing that the brake covers the entire waist of your ski.
Do Ski Bindings Fit All Skis?
The term "flat" refers to skis that don't have bindings. Almost all flat skis will accept any kind of binding, making them a popular option for people who ski on different terrains.
That said, integrated bindings need to pair with a specific type of ski, as they have a built-in mounting system. Integrated bindings are most common on all-mountain and mountain-wide skis.
Since they offer an excellent turning radius and flex more naturally, intermediate to advanced skiers prefer investing in integrated bindings. These bindings are also a great option for beginner skiers since they don't have to worry about an improper fit.
There are three main types of ski bindings. They include:
Alpine Bindings: Ideal for downhill skiing and pair with alpine boots. They have an anti-friction device on the toe and a wide-angle pivoting release to decrease the chance of backward falls.
Alpine Touring Bindings: Best for backcountry skiing and paving new paths through the snow. Allows for free-heel climbing when you're going uphill. On the descent, the binding has a lock feature to offer standard alpine binding protection.
Telemark Bindings: Telemark (called "Tele" for short) is a single brand that only works with Telemark boots. A notable difference from its competitors is that Tele has a free heel, so there isn't a DIN setting.
You have fewer options for style preferences with Tele than with Alpine and Alpine Touring bindings, but you can choose between cable stiffness and release options.
Do Ski Bindings Fit All Boots?
Not all ski bindings fit all boots. To maximize safety when you're skiing and avoid painful injuries by twisting your legs, you must choose boots that are compatible with your ski binding.
When it comes to tech bindings, these are compatible only with tech inserts. On the other hand, frame bindings are suitable for most alpine touring ski boots.
To keep equipment costs lower, some people choose to purchase used skis. In this case, you won't need to buy a new binding, but you would need to get a new boot if yours isn't compatible with your new ski.
If your boot has a significant size difference from the old binding, you can fix this by remounting the binding. Because of how critical it is to get this right for your safety, it's best to have your local ski shop do so.
Are Ski Bindings Unisex?
As you're researching ski bindings, you may be confused by the marketing you've seen—some companies have ski bindings geared towards a specific gender (usually women), while others are seemingly universal.
Although marketing would like you to believe differently, most ski bindings are unisex. When it comes down to it, making sure your binding fits properly to both your ski and boot is the most important; everything else is just for looks.
Tips for Adjusting Your Ski Bindings
Although it's best to seek professional help for adjusting your ski bindings to ensure you get it right, if you'd like to give it ago on your own, below are some tips to help you out.
Determine the length of your boot ski sole in millimeters. You should be able to find this number engraved on your boot's heel.
Make sure to assess your ski's width. The wider the ski, the wider the binding break needs to be.
Always work with your skis on a flat surface. That way, the brakes will loosen.
If you have an older ski binding model, you'll need to have a screwdriver on hand. Newer models use an easy locking device system that doesn't require extra tools.
If you're having trouble fitting the toe of your boot into the ski binding, you'll need to adjust the bindings' width as well as their length.
Jot down the series of numbers that you'll see on the toe and heel of your boots. You'll need this to set your DIN, which we'll talk about more shortly.
How Much Does It Cost to Adjust Ski Bindings?
Because the proper use of ski bindings is crucial for your safety, I strongly recommend that you hire a professional to adjust your bindings.
The amount of money you spend to get your ski bindings adjusted will vary depending on your location and whether you visit a large or small ski shop (smaller shops tend to run less expensive).
In either case, you can expect to spend less than $100 to adjust your ski bindings.
Considering how much money surgery could cost from a ski binding-related injury as a result of you trying to make the adjustment yourself, I'd say it's worth it. Wouldn't you?
What is DIN, and How Is It Calculated?
DIN stands for a German phrase that translates to the "German Institute for Standardization." It's a measurement that the skiing world adopted for determining the release force settings on ski bindings.
You can use a DIN calculator to determine the approximate measurements for your situation.
The details you'll need to provide include:
Age
Weight
Height
Sole boot length
Whether you're a beginner, intermediate, or advanced skier
Getting the DIN setting on your ski binding right is crucial for your safety. For this reason, if you've never worked with DIN settings before, it's a good idea to have a certified ski binding technician from your local ski shop help you out.
The higher the DIN number is, the more force it will take to release your ski boot from your binding. Most commonly, advanced skiers and heavier set people are those who have high DIN settings.
Ready to Hit the Slopes?
The next time you're hanging out at your local ski lodge and hear someone ask, "Are ski bindings universal?" you'll know how to answer them.
Spending a little time upfront to choose the correct ski bindings will make all the difference for your skiing comfort and safety.
Related Articles
If you found this article helpful, then make sure to take a look at some of my other related articles linked below!