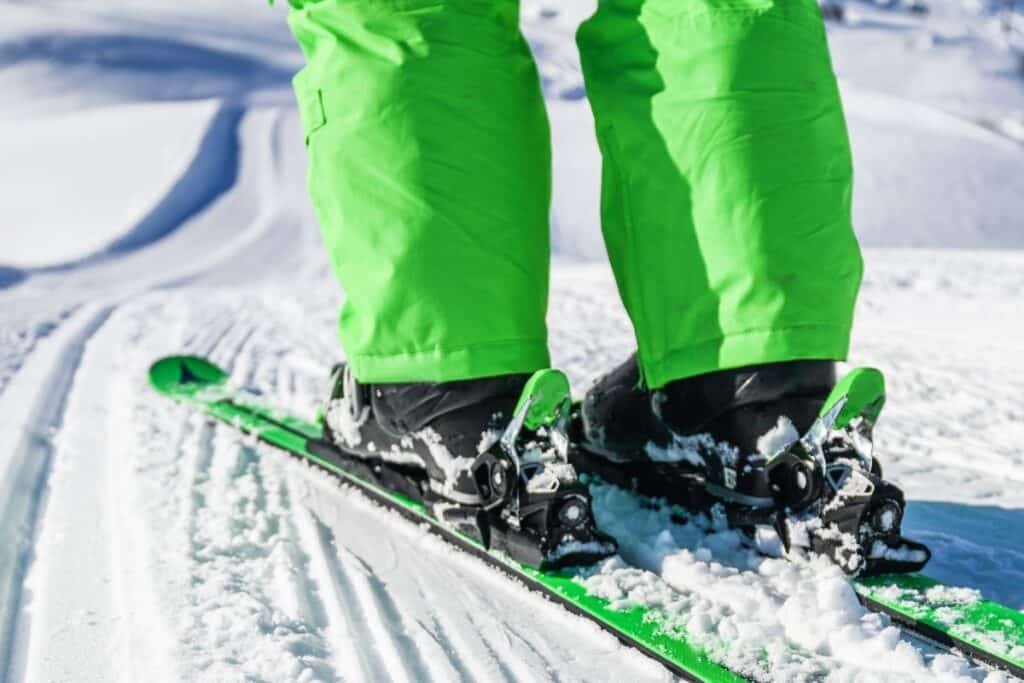 If you're on the market for new ski bindings and are shocked at the prices, you're not the only one. And that's before the additional charge to mount them on the skis!
When it comes to ski bindings, we don't really have the option not to include them in our gear. They are an essential part of our equipment that can do more harm than good if we don't bite the bullet and pay the high prices.
Is that why ski bindings are so expensive? Because we don't have a choice? We can't ski without them. Actually, we can, but that may be the last time… Supply and demand may be one reason, but there are several others.
Ski Binding Cost Factors
It turns out that ski bindings do a lot more than attach our boots to the skis. If that was the case, they wouldn't be as essential as they are.
Factor #1 Technology and Design
Ski bindings are more sophisticated than just a clamp to hold your boots to your skis, and you're paying for all of that research, innovation, and technology!
They are designed to allow your heels to lift and flex when going uphill and firm enough to hold in your foot when you're flying downhill and making turns.
More importantly, though, they will detach from the skis in dangerous situations for your protection. Ski bindings are not just a practical tool but an essential and well-designed safety device. 
The bindings have DIN settings that determine the tension point at which they will release your boots.
They have an advanced design to release your boots. The toe house will release sideways if your foot twists. The heel piece will release the boot vertically, upwards, if there's a significant force on the front of the foot.
An AFD (Anti-Friction Device) on the bindings minimizes friction between the bindings and your boots.
The brakes on the binding will stop the skis when there are no boots in them.
The heel housing can slide and adjust when the skis bend to keep its hold on the boots secure and consistent.
Rubber padding or shock systems will absorb vibrations from bumpy trails and fast speeds.
Even with all of the design detail involved, there is a wide range of binding prices, depending on your needs.
Factor #2 DIN Settings
The DIN (short for Deutsches Institut Fur Normung, the German Institute of Standardization) is the point at which the binding will release your boots from the skis.
Bindings have different DIN ranges. The din range you want depends on your height, weight, age, and skiing ability. A tall, aggressive skier will need a higher DIN than a lightweight novice.
Ski bindings with a higher DIN usually cost more than those with a lower one. If you don't need a high DIN, you can choose a lower range binding and save some money. 
The recommended DIN ranges are:
.75 – 4.5: Children under 109 lbs
2 – 7.5: Children and teens or beginner adult skiers under 140 lbs
2 – 10: Teens and moderate adults under 150 lbs
4-12: Moderate and advanced adults skiers under 200lbs
6-14: Advanced, expert, and racers from 150-210 lbs
9-16: Advanced and expert skiers over 190lbs
Factor #3 Insurance 
Since the bindings are a safety item, the manufacturers have a huge liability if the gear fails or causes injury to a skier.
They have a lot of insurance coverage, and they factor in some of those costs with the bindings' price.
This is similar to what many physicians experience with high insurance premiums, that are unfortunately in turn passed down to the consumer.
Factor #4 Binding Types
There are various types of bindings, each specific to different skiing categories, which also may play a role in the price.
Alpine bindings, for example, are usually cheaper than AT bindings. Tech AT bindings are usually more expensive than Frame AT bindings.
Alpine bindings are ideal for traditional downhill skiers. You can't go uphill or backcountry with these.
Frame Alpine Touring bindings are best for strong backcountry skiers but are suitable for short-distance uphill too. One downside is that they are heavier than Tech AT bindings.
Tech bindings are great for long-distant skiing. These are more lighter-weight than Alpine bindings and have two pins instead of the standard toe piece. Your boots must be compatible with tech bindings, as not all are. These bindings are significantly more expensive than Frame bindings.
Telemark bindings leave the heel of the boot free and are flexible under the front of the foot. These are used specifically with telemark boots.
Factor #5 Material
Some bindings are made out of plastic and others from metal.
The ones made from metal are stronger, more durable, known to break less easily but most likely also cost more.
As with any product, there is always a tradeoff between price and performance that needs to be considered.
Factor #6 Warranty
Good bindings come with extended or even lifetime warranties. If your bindings break or don't wear well, you may be able to get a new set for free.
That's like getting two for the price of one!
Factor #7 Boot Compatibility 
Your ski bindings must be compatible with your ski boots. Not all bindings will fit all boots. Don't focus only on the price, but make sure the binding will work with your ski boots to ensure safety.
Alpine Touring boots, for example, are usually not compatible with Alpine bindings. Junior ski boots will not fit in an adult ski binding.
Factor #8 Brand
Let's face it – sometimes, you're just paying for the brand name!
While well-known companies often are better quality products, that is not always the case or the justification for such a big price jump.
In many cases, there are smaller companies that produce fantastic products and sell them at lower costs. The ability to find some of these in-store isn't always as easy, but if you're comfortable with buying online then this is a fantastic option.
Cheap vs. Expensive Bindings
There are different factors that affect the cost of ski bindings, and sometimes their quality too.
The more expensive models are usually the ones with a higher DIN range. Bindings with higher DINS are tougher and stronger as the manufacturers have built them for faster speeds and more aggressive trails.
If you are a beginner or intermediate skier, lighter weight, and don't need a high DIN, cheaper bindings may work well for you. They also tend to weigh less which makes them easier to carry. The average skier won't recognize the difference in quality between the two bindings.
Advanced skiers may opt for more expensive bindings, not only for the higher DIN but for additional features that some of the pricier models have, including wider bindings, travel before release, and longer retention.
If you're doing backcountry jumps or going off cliffs, you'll probably need to go for a stronger and tougher binding with all of the wear and tear you'll be encountering.
Keep in mind that some of the more expensive and tougher bindings are also heavier.
Are Expensive Bindings Worth It?
Considering all these factors, is there a difference between a cheap and expensive binding? If you're comparing the bindings solely on price, then the short answer is no.
You do not need to pay more money for a specific brand.
However, there is a difference in the quality of bindings that do not necessarily equal a higher price.
As a general rule, bindings with a higher DIN are stronger as they are made for advanced skiers and for those who are taller and heavier. They can accommodate tougher forces, steeper terrain, and faster speeds.
Additionally, the weight of your binding can be an essential factor. Heavier bindings are usually associated with being stronger and more durable, which is what we are looking for in alpine skiing. However, new technologies enable lighter but tough bindings, which will make them easier to carry around.
For backcountry skiing, you want to look for lightweight tech binding because they are easier for uphill hiking.
Don't choose your ski bindings based on price. Choose one that accommodates your ideal DIN, boots, and ski style.
Money-Saving Tips
There are a few ways you can save money when shopping for ski bindings.
You can find a good deal on a ski and bindings combo set. The quality isn't the best, so if you're an advanced skier, this might not be a good option. However, if you're a beginner or occasional skier, you can save some money on these sets.
Shop during off-seasons, March through September, when the gear is often discounted, and you can get the previous season's inventory for cheaper.
If you can find a retailer who will mount the bindings on your skis for you, they might charge less than having it done at the ski resort. Always have a professional adjust your bindings. Ask them their rates.
Not sure of the best bindings for you? Before taking an expensive chance, rent your bindings and try them out first.
In Conclusion
It seems like buying ski bindings does not have to be as costly as that water bottle in the desert. The most important factor is to make sure that the bindings are compatible with your boots and are the right DIN.
If you're a beginner or intermediate skier, you do not need to pay extra for a name brand, high-tech materials, and extra trappings.
However, if you're an advanced or aggressive skier, you may need to pay more for a stronger and better-built binding with a higher DIN range. It's your legs – and possibly life – on the line! 
Related Articles
If you found this article helpful, then make sure to take a look at some of my other related articles linked below!