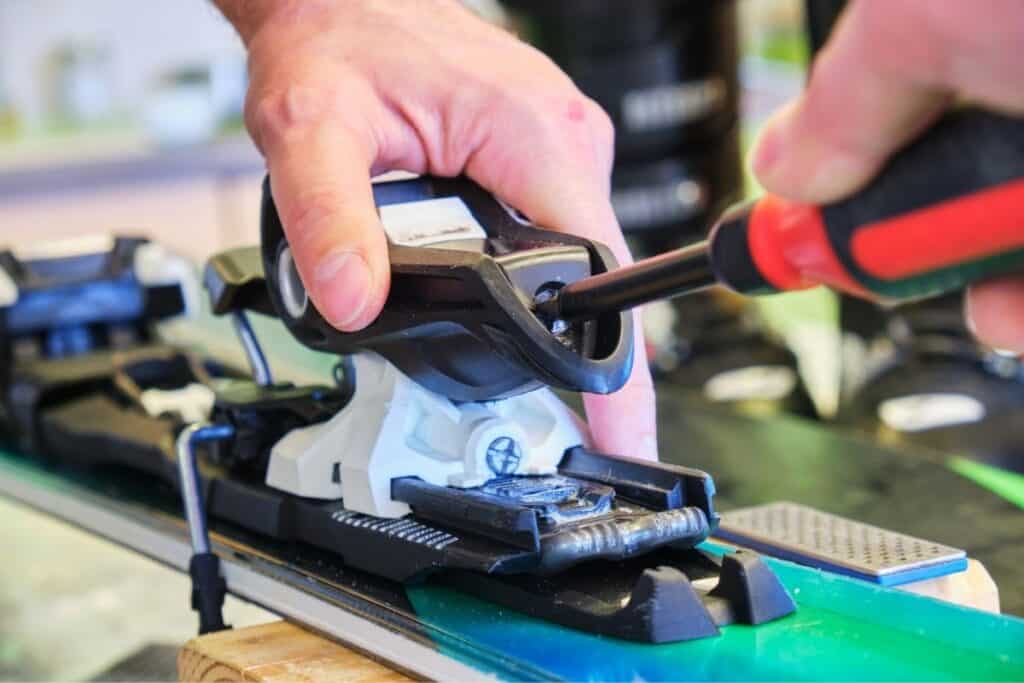 If you're wondering, "Can I adjust my own ski binding?" The short answer is yes, but you will need knowledge about how to properly adjust your ski binding.
You will need to understand three key points to make sure you adjust it correctly. These include how a ski binding works, why you need to adjust the binding every year, and how to go about adjusting the binding properly.
How does the binding work? Your ski binding serves two very important purposes. The first is to keep your boot attached to your ski, therefore attaching you to the ski as well.
The second function is to release under force or release when you fall. This mechanism will separate your boot from your ski in time to avoid injury.
Finding the right ski binding is truly unique to each individual. In addition to the three key pieces of information that you need from above, it is also imperative to use some further information to ensure you are adjusting your ski bindings properly.
To find the right DIN setting for you, you will need to account for your body weight, gender, age, skiing ability, boot sole length, and release force setting (DIN). All of these factors determine when the binding releases.
If you feel comfortable assessing all of the above information to adjust your ski binding, go for it!
However, because there is so much information that you need to calculate accurately, you may feel a little hesitant. If you do not feel confident, it is best to have your adjustment done by a professional for your own peace of mind.
Why Should I Have My Ski Bindings Professionally Adjusted?
You should consider adjusting your ski bindings as a safety precaution that must be taken care of each season.
While you can adjust them yourself, ski shops have the equipment to make sure they're working correctly. Also, trained ski-industry professionals or employees in the ski shop will ensure that your bindings will release in the appropriate amount of time to prevent injury.
If you typically feel comfortable adjusting your bindings, but something in the factors listed above, like your weight, has changed, you will want a professional to reevaluate your bindings.
Remember that bindings can fail at both fast and slow speeds, so do not avoid adjusting just because you're hitting the slower, or more manageable slopes.
Tips for Adjusting Your Ski Bindings Properly
If you have concluded that you are comfortable adjusting your bindings yourself, make sure to follow the steps below to ensure proper mounting. All you need is knowledge about the skier (you) and a screwdriver!
If you have newer model bindings, you may not need the screwdriver because most have a particular locking device to hold the bindings in place.
You will need to take note of the sole boot length. This is usually located on the side or bottom of the boot. Ask a professional for help if you can't find yours.
Now let's get to the actual adjusting by following these three steps.
Step 1 – Adjusting the Toe Piece
Find the length of the sole near the heel of the boot, usually in millimeter measurements.
Place on a flat surface, so the brakes are free
Brakes are usually on either side of your binding and can be hard plastic or rubber.
Open the binding by holding down the two levers.
Slide the toe of one boot into the bindings front piece and press down on the heel
Listen for the click to make sure it's in place.
If this is difficult, adjust more tightly or loosely to fit the boot
Use a screwdriver to adjust the toe piece: clockwise to tighten or counterclockwise to loosen.
Stop when the toe piece is slightly wider than the boot sole length; try to fit it in again.
Newer model? A built-in mechanism should allow you to adjust your binding to the appropriate boot sole size.
Step 2 – Adjusting the Heel Length
Loosen the screw at the back of the binding.
Carefully move the binding by lifting to meet the length of the boot, either forwards or backward.
Happy with the position? Then you will tighten the screw.
Check that the boot fits securely in the binding.
If it's still loose, further adjustment is needed.
Repeat this process on the other side.
Step 3 – Adjusting the DIN Release Setting
Look at your bindings to find the series of numbers on the toe and heel pieces.
This is the DIN setting which determines the amount of pressure and force needed for your bindings to release to prevent ankle or leg injuries.
Remember that this differs for each person as it is based on ability, weight, and size.
What Exactly is the DIN Setting and How Is It Calculated?
If you're scratching your head reading the third step from above, let us explain.
What is a DIN Setting?
DIN stands for Deutsches Institut für Normung, which means German Institute for Standardization. As mentioned previously, the DIN setting is the release force setting of a ski binding. The DIN setting determines the amount of force effect necessary for your binding to release to prevent injury.
There are two methods to find your DIN setting. The first is the tibia method which measures the width of the tibia plateau at your knee.
The second is the method based on body weight, which takes a scientific approach by analyzing previous skiing accidents.
Of course, you will need the following information: skiing ability, age, boot sole length, and bodyweight. Using the above information, you will need to follow five steps to find your DIN setting.
How to Find Your DIN Setting
Find your bodyweight on the table.
Find the DIN setting for your sole length on the right of your bodyweight.
Determine your ability level
Beginner/cautious skier: Skis on mainly even slopes at slow to medium speed
Intermediate: Skis on relatively even to relatively steep slopes at a higher speed
Experienced: Skis on relatively steep to steep slopes more aggressively and with high speed and pressure
4. With your ability above, determine your DIN setting
Beginner: Select the base setting
Intermediate: Select the DIN setting one line below the base setting
Experienced: Select the DIN setting two lines below the base setting
5. Now, adjust based on age. For ages under 10 or over 50, move one line up to get your correct ski binding settings.
If using the table is too much for you, several DIN calculators are available online to help you by simply plugging in numbers. It is imperative to have accurate information so that you stay safe.
Cost of Professional Adjustment of Bindings
Say you don't want to do the work yourself, or are unsure of how to calculate all of the information above properly. You still have the option to have your bindings professionally adjusted.
So what can you expect the cost to be?
You will want to do this each season, as some of your statistics could change. Make sure to find a ski shop you trust to provide this maintenance.
Often, smaller shops have employees who have been around for longer. The actual cost can vary but look at about $20.00 to have your bindings adjusted.
Be aware that a binding adjustment is different from mounting the binding. Also, this service is the actual mounting of the bindings on your skis and is more expensive than the standard service of binding adjustment.
Related Articles
If you found this article helpful, then make sure to take a look at some of my other related articles linked below!