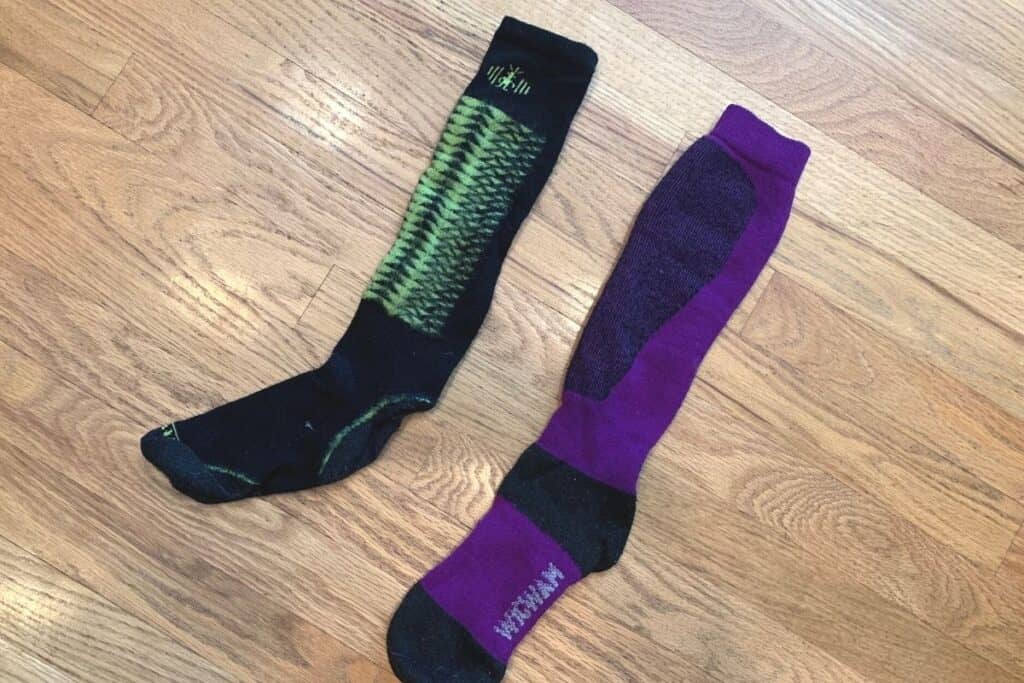 Heading to the slopes? If you're planning the perfect outfit for warmth and comfort, you might want to start with your socks. Many people underestimate the role your feet play in keeping you warm — until their feet get wet.
The right pair of ski socks will be your best friend in cold winter weather. We've put together this detailed guide to help you select your next pair.
Just read on for the answers to 10 common questions about ski socks!
1. What are Ski Socks?
Ski socks provide more comfort, necessary warmth, and protection against the cold, wind, and snow on the slopes.
Unlike regular socks, ski socks have unique design elements to make you more comfortable on the slopes.
Those elements include:
Flexible, defined heels and toes provide breathability without sacrificing a secure fit.
Extra cushioning built in around the toe and along the shin offsets the pressure from your boots.
Contoured areas fit your foot and hold the socks in place instead of bunching up in your boots.
Thinner material over the top of your foot increases blood flow and keeps you warmer.
Reinforced heels help lock your foot in your boot to avoid sliding and unnecessary rubbing that could irritate your skin.
Some styles feature special support around the arches to keep the socks snug against your foot.
Many ski socks feature flat seams, so they don't irritate your toes.
Ski sock manufacturers use special materials to insulate your foot. Synthetics and double-spun merino wool remain popular options because they pull moisture away from your body to keep you comfortable.
Ski socks for men, women, and children feature slightly different designs to ensure snug fits for different body types. For example, women's socks may be shorter with a wider cuff.
2. Are Ski Socks Necessary?
It may be tempting to pull on the thickest socks you can find, or just layer up, but that could mean a shorter day on the slopes.
Ski socks solve the problems created by other sock types that just can't keep you warm and comfortable all day.
Here are a few of the main benefits that come with choosing ski socks over a normal pair:
#1 Beat the Bunch!
Have you ever piled on the layers and headed out in the cold only to have your socks fall and bunch up in your boots? It's miserably uncomfortable and makes you cold so much faster.
The contoured designs and unique elasticized areas prevent ski socks from bunching up and causing discomfort.
#2 Boost Blood Flow
Ski socks provide compression to increase blood flow. Note that there's a difference between snug and tight because you don't want to restrict blood flow. Ski socks should fit snugly around your foot and lower leg so that they improve circulation to keep you more comfortable.
By promoting better circulation in your feet and legs, ski socks also keep you warmer than two or three layers of regular socks.
#3 Made for Ski Boots
Half of the design elements listed above demonstrate how much better ski socks work with ski boots. A pair of plain tube socks won't prevent that annoying rub across your shin from the boot tops.
On the other hand, the best ski socks have that added cushion in just the right spot!
A poor choice in socks can certainly be the cause of sore feet from your ski boots.
3. Are Ski Socks Warm?
Did you know that choosing the right socks is one of the most important ways to keep warm? Wearing the wrong socks or multiple layers can put an abrupt end to your day on the slopes.
Consider these common sock missteps and how a pair of ski socks could solve them!
The Trouble with Cotton
Cotton is a wonderful material, soft and versatile, except for socks in winter. Unfortunately, cotton is a terrible choice for cold weather because it holds moisture against your skin, which can cause blisters.
Ouch!
Ski socks use moisture-wicking materials to pull the sweat away from your feet. That's right, sweat. No matter how cold it is, your feet still perspire on the slopes!
Layering Socks is a Problem
Who needs to buy a special pair of socks when you can just throw on a few pairs to keep warm. Sadly, that's not how it works.
Layering socks limits breathability and increases sweat, not to mention that bunching issue.
Socks may be the only thing you don't want to layer in the cold. Opting for one pair of breathable ski socks keeps your blood flowing, your feet dry, and your body warm.
4. Are Ski Socks Thick or Thin?
This question may be one of the most contested issues in cold weather clothing. Here's the short answer: you can find thick and thin ski socks depending on your personal preference.
Of course, there's a longer answer that takes some explanation. First, it's important to note that wearing extremely thick socks could cause problems when skiing.
You may be tempted to pile on the thickest socks you have in the name of warmth, but when you cram your foot inside a boot you reduce air circulation and could restrict blood flow.
The truth is that modern technology changed fabrics so that thicker doesn't necessarily equate to warmer. Even the thickest ski socks tend to be thinner than some other socks, making them superior choices for promoting blood flow and air circulation.
Only you can decide how thick or thin to go with your ski socks. It's a matter of personal preference. You may want to consider some other features, like how the socks fit in your boots, where you need extra cushioning, and how you feel about seams.
5. Do You Wear Socks Under Ski Socks?
As noted above, one pair of proper ski socks should be sufficient to keep you warm and comfortable. Wearing too many socks can lead to several issues, including bunched-up socks, excessive sweat pooling against your skin, blisters, and cold.
That said, some people choose to wear thin liner socks under their ski socks. Sock liners are thinner than regular socks and won't interfere with air circulation or restrict blood flow. They hug your foot, pull moisture away from your skin and into the outer sock.
Sock liners can prevent blisters, keep your feet warmer, and offer extra support. They remain a popular layer for hikers and anglers but could improve your comfort on the slopes.
If you choose to use a sock liner, you may want to opt for a thinner pair of ski socks to prevent overstuffing your boots.
Whatever you do, it's best not to layer too many pairs of socks in your boots. Your feet need room for air to circulate to keep you warm and comfortable.
6. Are Ski Socks Waterproof?
If you plan to spend time in the snow it's only natural to consider waterproof socks. Like most cold-weather clothing, some ski socks are waterproof, but not all.
Waterproof socks use two to three layers to keep your feet dry. The external layer keeps water out while the inner layer or layers insulate. Usually, the innermost layer doubles as a moisture-wicking layer, making waterproof socks an excellent option for cold, wet weather.
On the other hand, you may not require waterproof socks to stay dry. Any ski socks with moisture-wicking technology coupled with waterproof boots could keep your feet sufficiently warm and dry on the slopes.
Though most waterproof socks aren't overly thick, they can be thicker than a thinner pair of moisture-wicking ski socks. If you opt for the waterproof socks, make sure you have enough room in your boots to accommodate the thicker socks.
7. Do Heated Ski Socks Work?
Heated ski socks may be the ultimate choice for some skiers, especially those with certain medical conditions, like diabetes or Raynaud's Syndrome.
The best part is that you can use them anywhere your feet get cold!
Here's what you need to know about heated ski socks:
How Do Heated Ski Socks Work?
Heated socks use unique warming technology that includes small battery packs set in pouches along the sides of the socks.
Don't worry, the battery sits above your boot-line, so it doesn't create friction!
Pros and Cons of Using Heated Ski Socks
Obviously, heated ski socks can be a game-changer for people struggling with cold feet. You remove the battery packs to wash the socks. If you don't want to wear the same socks for a weekend ski trip, you can pick up a few extra pairs, but you only need one battery pack.
Though heated socks may be slightly thicker to accommodate the heating technology, the difference is negligible. Further, you shouldn't notice any discomfort or rub from the heating technology, just the extra warmth in your toes!
Perhaps the best perk for wearing heat ski socks is the remote control. You have complete control over how warm your socks get.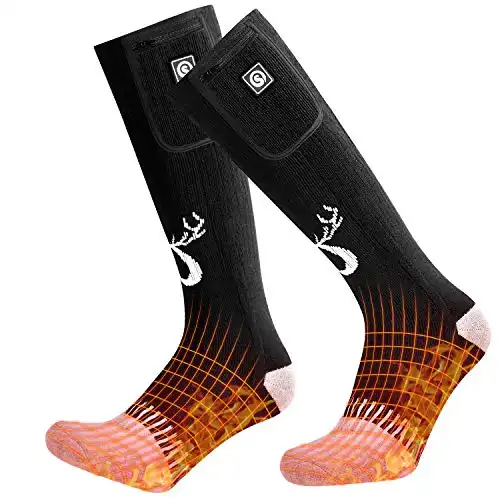 Snow Deer Electric Heated Ski Socks
These socks are heated by a rechargeable lithium battery that provides between 2.5 - 6 hours of heating depending on the heat setting used. Their COOLMAX tri-blend construction resists odors and the moisture-wicking high-stretch fabric pulls sweat away from the skin.
Check Current Price
Of course, no product is perfect. Since heated socks run on batteries you remember to pack extras. Additionally, some people may not appreciate the battery pack's added bulk.
8. Are Ski Socks Worth It?
What a tough question to answer! If you asked a hundred people for their opinion, you'd probably get a split response.
At the end of the day, only you can decide if ski socks are worthwhile. You may want to weigh the benefits with the costs.
Don't forget to consider the unique features and how they could impact your experience.
Lightweight to support air circulation to keep you warmer without weighing you down.
Elasticized in the right places to prevent slipping and bunching.
Reinforced and cushioned in sections that see the most wear and tear from your boots.
Moisture-wicking fabric pulls sweat away from your skin to keep you comfortable.
Compression styles enhance blood flow.
I've used Smartwool products for years and loved them – and their ski socks definitely do NOT disappoint either!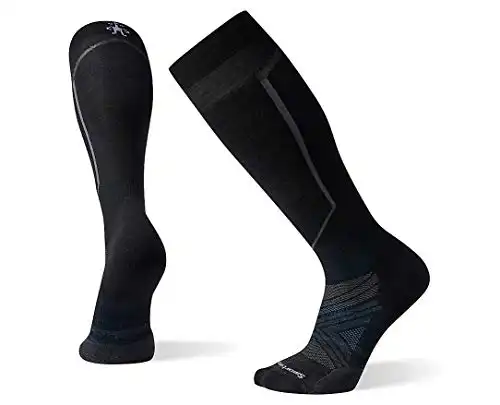 Smartwool PhD Ski Light Sock
Everything about this ski sock was created to work seamlessly with a high-performance boot: strategically placed cushioning on the heel and toe, light shin cushion, and all the benefits of responsibly sourced ZQ Merino to help keep you warm and dry.
Check Current Price
Of course, each style has unique elements and features. Some may function better for one person than another, but overall, ski socks offer customized support for skiers and other cold-weather activities.
On top of that, it's tough to ignore how ski socks look and feel. They come in various colors with chic designs, fun stripes, or plain solids.
Plus, both the wool and synthetic fabrics feel soft on your skin for added comfort.
9. Are Ski Socks Good for Hiking?
Speaking of other cold-weather activities, hiking is a popular pastime year-round. There's something beautiful and serene about a trek through snow-covered trees.
Having warm, dry feet is a must — so why not use ski socks?
In truth, ski socks work better than many alternatives, because of the moisture-wicking technology and warmth, but they may not be the best option for hiking.
While there is some overlap between the hiking socks and ski socks, they may not be as interchangeable as you'd like.
For example:
Ski socks tend to be thinner than hiking socks, so your boots may fit differently.
Since ski socks are taller, there's a good chance they look and feel strange against the much shorter hiking boot.
The padded and cushioned areas on ski socks don't necessarily match with hiking boots. For hiking, you may want extra padding at your sole to help prevent blisters.
If ski socks are your best available option, they could work for a short hike or a temporary fix. However, if you love hiking then you probably want to invest in some hiking socks sooner or later.
10. Are Bombas Socks Good for Skiing?
Bombas made a splash with their socks, but only partially because of the product design.
For every pair sold, the company donates another pair. To date, the company has donated more than 40 million pairs of socks to people struggling with homelessness!
Great, that's cool and all, but can you wear Bombas socks for skiing?
The company actually introduced a line dedicated to skiers.
Bombas reports that their ski socks feature three primary features:
Merino wool makes them naturally moisture-wicking, comfortable, and warm.
Unique temperature regulating vents improve air circulation to maintain a comfortable temperature.
Unlike the base athletic sock, Bombas chose a thinner foot and leg with strategically placed cushioning to prevent rubbing and blisters.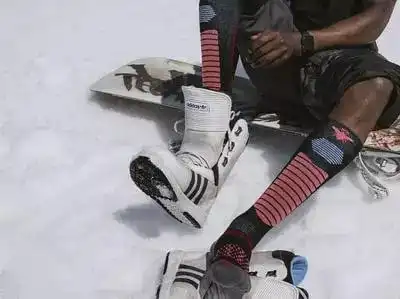 Bombas Ski Socks
The natural moisture-wicking properties of soft, itch-free Merino Wool keep you comfortable, dry, and warm, even after intense physical activity. Cushioning only where you need it most, with a thinner leg and foot than the full cushion version.
Check Current Price
Of note, at this time, you can only buy adult sizes in limited colors. However, as the kids' selection expands, it would seem likely that there would soon be smaller ski socks.
Additionally, like other Bombas socks, every pair of ski socks purchased translates to another pair donated.
Final Thoughts
When you need to stay warm, start with your feet! The right pair of ski socks will make a huge difference in your day on the slopes.
Now that you've had your ski sock questions answered, you're ready to find the perfect pair (or pairs) to keep your feet dry and warm all winter long.
Related Articles
If you found this article helpful, then make sure to take a look at some of my other related articles linked below!