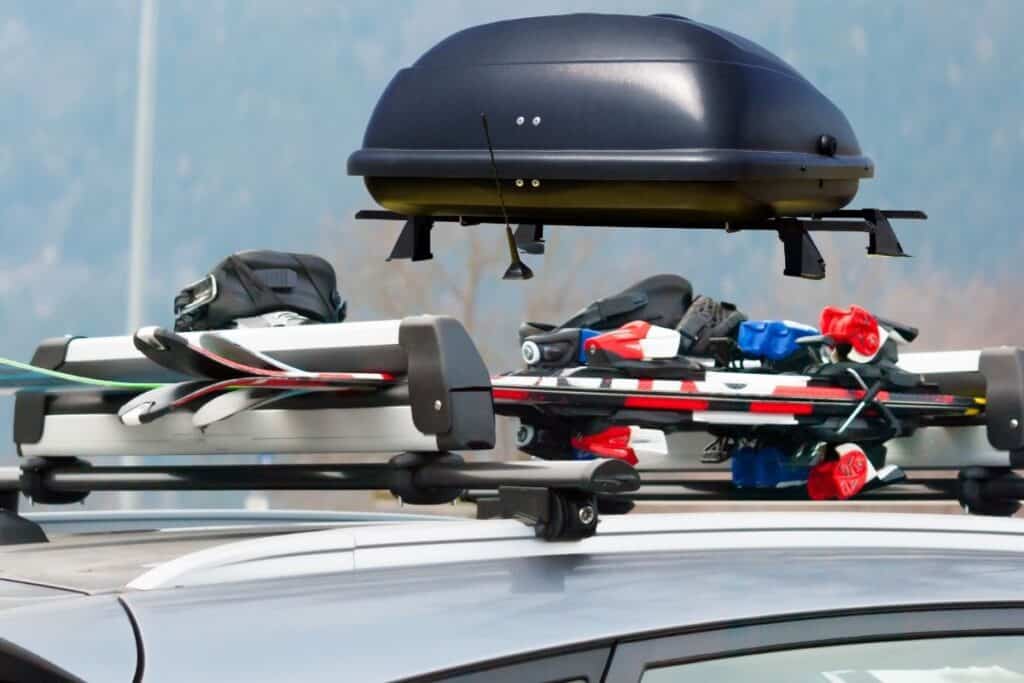 Before you head to the slopes you have to figure out how to get your gear there. Unless you plan to have your skis ride shotgun, you probably need storage. The best options are ski racks or cargo boxes, but how do you know which is better?
Read on to learn everything you need to know about both the ski rack vs cargo box showdown, and how to choose the best one for you!
Everything You Need to Know About Ski Racks
Ski racks remain a popular option for skiers and snowboarders. You can mount the ski rack to your existing crossbars. The process is generally quick and painless, especially with the modern sets that use universal mounting hardware.
Most ski racks use padded clamp arms attached by hinges. The clamps hold your skis and poles or snowboards in place.
Keep in mind that the clamp arms sandwich your skis together to keep them safe during transport. Also, be sure to load skis so that the tails face the car's front to prevent wind from stressing the skis.
Most ski racks come in one of two basic sizes, small or large. The small ski racks manage up to four pairs of skis, while the large can hold up to six pairs. If you prefer snowboarding, the small accommodates two boards, and the large handles four.
Ski Rack Pros
Perhaps the biggest thing that makes ski racks popular is the pricing. You can find decent ski racks for reasonable prices and might even luck into a great bargain for used racks.
Pricing isn't the only perk ski racks have to offer!
Ski racks are fast and easy to install or remove.
Most racks work on nearly any car model without impacting visibility from the front window.
Choose from two basic sizes depending on your needs.
Convenient and quick loading and unloading so you don't waste time.
Ski Rack Cons
Of course, there are a few downsides to using ski racks. One common issue is an inability to close the bindings because of the way they line up with the mounts.
You may have to adjust crossbars or shift your skis forward until you can close the bindings.
The ski racks are open, so your skis remain exposed to the elements during transport. Salt, mud, and debris mean your skis could be filthy before you even reach the slopes!
It's easier to steal skis.
Not every ski rack accommodates ski poles, so you may have to find an alternate option for stowing them.
You can't carry anything else, like other gear or spare clothes.
What To Know About Cargo Boxes
Cargo boxes provide an alternate option for skiers and snowboarders. Though ski racks may be the more popular option, cargo boxes usually make the best solution.
Much as it sounds, a cargo box is a large, hard container that you secure to your vehicle's roof. Most boxes include universal hardware that connects to almost any vehicle, though they may work better with larger vehicles because of the size.
Since cargo boxes weren't expressly designed for skis and snowboards, you have a larger size selection available. However, some newer cargo box lines include low-profile designs with shorter heights and longer lengths for skis and snowboards.
You can easily fit up to six ski sets or a few snowboards in most cargo boxes. However, it's also possible to pack additional gear around your skis or boards.
Cargo Box Pros
The big draw for cargo boxes is the protection they offer. Snow, sleet, mud, and flying debris can't reach your skis or snowboards in the safety of the box. It keeps your gear dry, clean, and undamaged in transit.
Protection isn't the only reason to consider a cargo box though, there are a few other benefits.
You can carry additional gear, like heavy clothes, poles, and spare shoes.
At the end of the day, you stow any wet gear in the cargo box to keep it out of your vehicle.
It's much more challenging to steal your skis.
Cargo boxes are versatile, so you can use them for more than ski trips!
Cargo Box Cons
There are two primary drawbacks to using cargo boxes – size and cost.
You have plenty of room for your gear, but it adds some height to your vehicle, which could be a problem for some garages. Don't forget that you have to find a place to store it when you're not using it!
The other significant con for cargo boxes is the price. You can expect to pay at least twice as much as you would for a ski rack. Additionally, the added size and weight could impact your fuel efficiency.
How to Choose: Ski Rack vs Cargo Box
It may not be easy to choose with so many ski racks and cargo boxes available. There are benefits to both, depending on your situation and how you want to use it.
Maybe you already have a clear winner based on the pros and cons, but if you aren't sure which one is right for you, keep reading!
What Do You Drive?
Ski racks work on nearly any vehicle because they are compact and lightweight, but the same isn't true for cargo boxes. A massive cargo box on top of an Austin Mini or a VW Beetle won't work as well as it would on an SUV.
Don't forget to look at your crossbars. Remember that ski racks may require some adjustments if you can't close and lock the binding.
Similarly, with a cargo box, you should consider weight distribution so that most of the weight sits between the crossbars. It helps if they are movable or adjustable, but if not, you may have to adjust your attachments.
Note that cargo boxes can prevent rear doors from opening all the way. You may want to pay attention to the box length compared to how much room your back hatch needs to open fully.
How Much Room Do You Need?
Again, choosing a ski rack is based on how many pairs of skis or snowboards you have. Choose small or large, and you're done. However, with cargo boxes, it's a completely different story.
To choose a cargo box, you may want to consider the following:
What do you plan to carry? It has to be long enough to accommodate your skis.
Where will you store it when not in use? Make sure you have the room.
How heavy is the gear you want to pack?
Do you want to use it for anything else, like camping or travel?
You should also double-check the maximum load for your vehicle's roof.
Cargo boxes can be fifty pounds or more, so you need to subtract that from your max load to decide how much you can safely support.
The Aerodynamics of a Ski Rack vs a Cargo Box
One of the hottest points of contention between ski rack lovers and cargo box die-hards is the issue of aerodynamics. The aerodynamics impact road noise and fuel efficiency, so it's a discussion to have before choosing for yourself.
Some manufacturers advertise the aerodynamics and limited wind resistance you get with ski racks. However, multiple forums across the internet feature discussions about the opposite effect.
Theoretically, ski racks are low profile compared to cargo boxes so they should be more aerodynamic. However, newer cargo boxes feature low-profile designs intended to reduce wind resistance, so it may not be as much of an issue as it once was.
You Might Want a Ski Rack If…
You may want to consider a ski rack if you have a budget. It's also a great option for people who only need room for skis or snowboards, like those who go for a few hours or a day instead of a weekend.
It's important to note that a ski rack may not be the cheaper option if somebody steals your skis.
Unless you have cheap skis or no reason to worry about somebody stealing them, then you run the risk of having to invest in replacements.
A Cargo Box Might Be Better When…
Cargo boxes tend to be the best option for most people because they offer more security and versatility.
Nobody can see what's inside your cargo box, so you can conceal your belongings better, making it ideal for long or multi-day trips.
Though they can be cumbersome, you can fit a lot of cargo inside and free up more space in your vehicle. If you want additional storage for other purposes, like travel, a cargo box could be your best option.
The Verdict: Ski Rack vs Cargo Box
It's unlikely that the debate between ski racks and cargo boxes will end any time soon. Both options have pros and cons, and everybody has unique needs.
Cargo boxes may be the most versatile option, and they provide more security for your gear. However, if you're a day-tripper who doesn't have to worry about theft, a ski rack is a more affordable alternative.
Whatever you choose, it's sure to make for a more enjoyable ski trip!
Related Articles
If you found this article helpful, then make sure to take a look at some of my other related articles linked below!