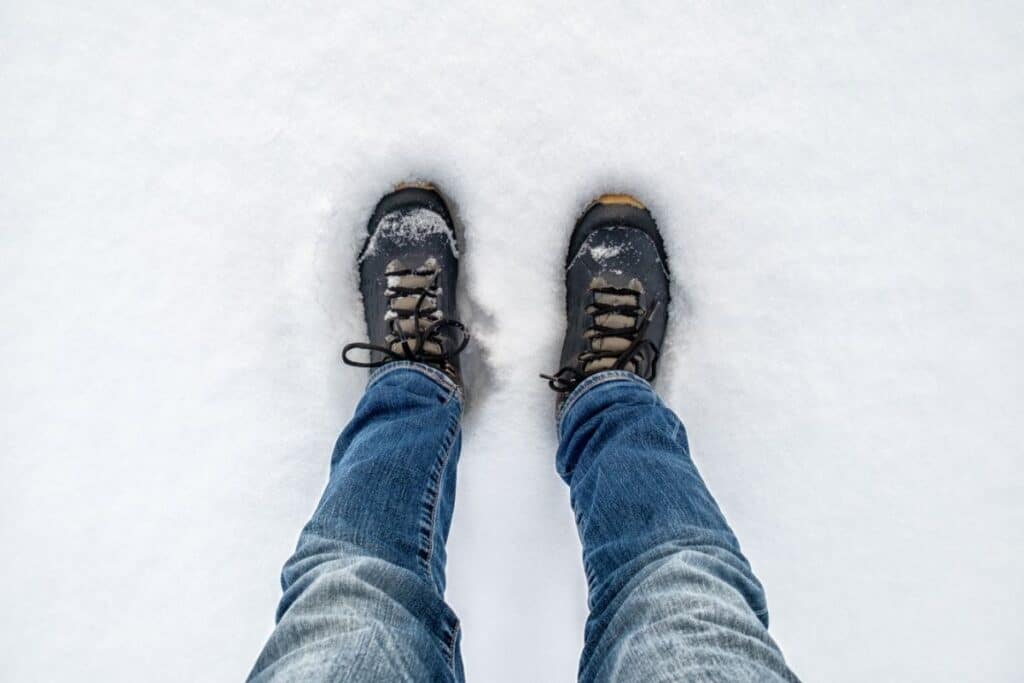 Have you ever slipped walking around in the winter and wondered if hiking boots are good for snow? They're great for traction on the trail, but snow and ice is a different beast!
Hiking boots are not the best choice of footwear for extended snow exposure due to having minimal insulation, low ankle coverage to prevent snow from falling in, and inferior waterproofing compared to dedicated winter hiking boots.
Unless you're someone like Wim Hof "The Iceman" then you're probably going to want to look further into this question before making a final decision!
Are Hiking Boots Good For Snow and Ice?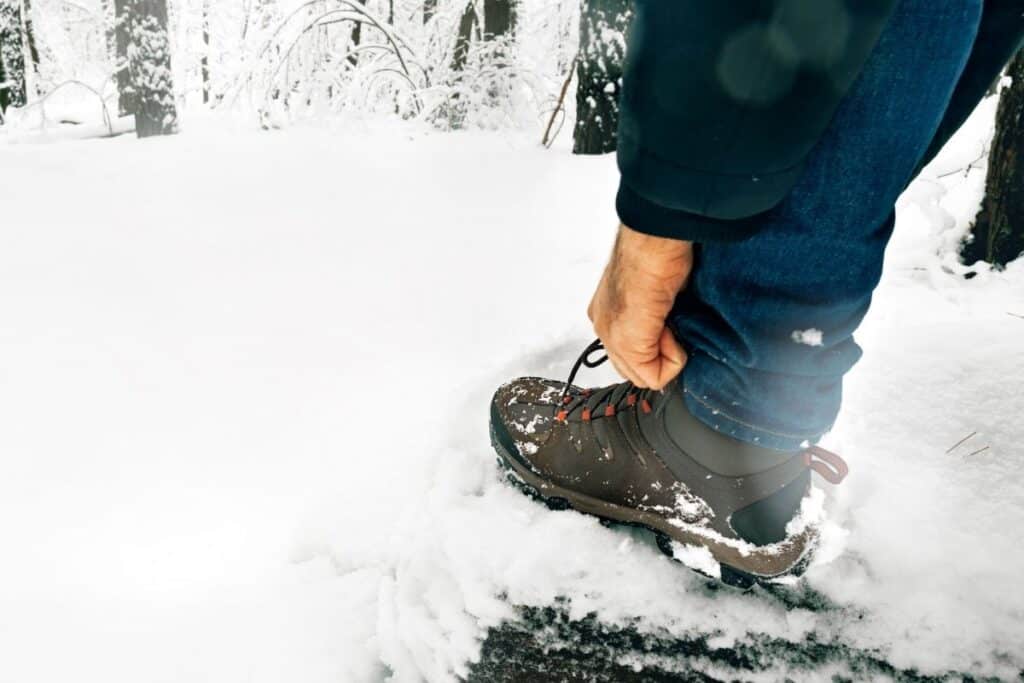 The best way to evaluate the suitability of whatever happens to be on your feet is to first understand what your feet are up against. This can vary significantly, and I'll be sure to cover everything, but one thing we can safely assume is that wherever there is snow, there is cold air!
It may seem obvious, but don't overlook it! especially if you're among the majority of the world's population which doesn't live where snow regularly falls.
It can be easy to forget how biting even 40 degrees Fahrenheit (4 degrees Celsius) truly is unless you're around it often. And this says nothing of dealing with freezing condidtions!
Arguably, the most important factor of any shoe when it comes to snow and ice is simply how warm it keeps your foot.
Are the boots well insulated?
Do they have waterproof treatments?
How far up your ankle / leg do they go?
It should come as no surprise that thicker material which is both tighter and further up the ankle means better insulation and more warmth. Hiking boots can vary quite dramatically on these critical factors, so make sure to take a careful look before deciding anything else.
For example, a pair of vented hiking shoes like Merrel Moab Ventilator's may be great in hot weather – but they would be miserable for any extended period in snow or ice. They simply don't provide enough insulation or protection from the cold elements.
While certain hiking boots have more insulation than others, most will not have enough to handle extremely cold temperatures for extended periods of time.
Another obstacle which your feet may or may not have to overcome is that of deep snow.
Snow that's more than a few inches deep will not only chill your toes and the rest of foot, but can also start falling down inside of your shoes. While some hiking boots do have higher ankles, it likely still won't be enough to stop snow from falling inside if it's more than a couple inches deep.
The good news is that you can make use of snow gaiters (great pair here) as one way to help prevent snow from falling inside. However, this won't solve the issue of cold toes as they don't fully cover your feet.
Last but not least, another critical factor to consider is whether or not your hiking boots are waterproof. After all, snow is just frozen water!
If you can't wear your hiking boots from one end of a shallow creek to another without your socks getting wet, you probably don't want to wear your hiking boots through deep snow for long periods.
Spend enough time in wet and frozen boots and you may run the risk of frostbite. This is an extremely serious condition that can result in permanent damage, so it's not something to take lightly.
Most boots on the market proudly advertise if they are considered waterproof, so a quick internet search can usually assuage the need for testing things the hard way.
That being said, even so-called "waterproof" hiking boots are usually not 100% waterproof and won't protect your feet indefinitely when fully immersed for extended time.
For this reason, if you expect to be trudging through thick layers of snow for more than just a few minutes at a time, it is probably time to invest in a dedicated set of boots.
If you're looking for an all-around fantastic boot that doesn't feel bulky, then you'll want to consider the Solomon X Ultra Winter Waterproof 2. It has all of the advantages that you'll want in a cold-weather boot, while still letting you feel nimble on the trail.
Best Overall Boot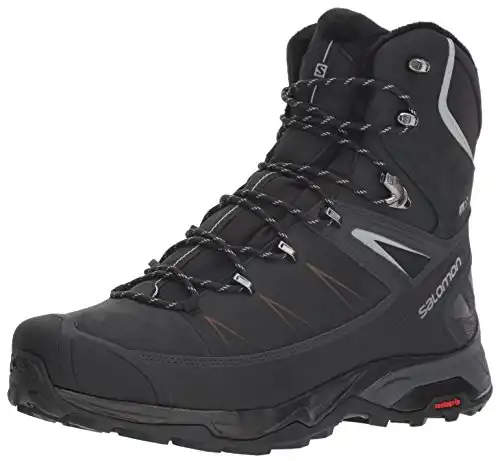 If you don't mind a little bit of bulk and want to save a few dollars, then a great option to consider is the Kamik Nationplus Boot. Having had a pair of these boots myself for the last five years, I can tell you that they're extremely comfortable and warm!
Best Budget Boot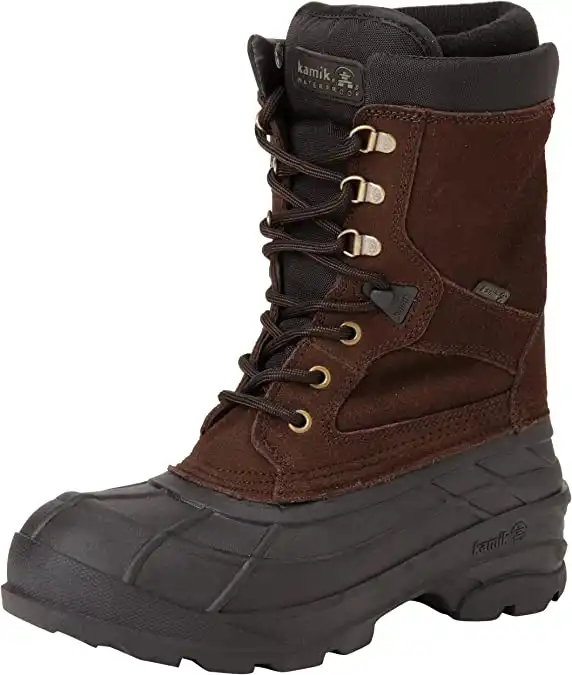 Are Hiking Boots and Snow Boots the Same?
If you're convinced that your want a proper set of hiking boots for snow, then you may also find yourself wondering how snow boots are different.
Skeptical buyers could be forgiven for suspecting snow boots to be little more than hiking boots with a cosmetic makeover. However, what might appear as superfluous differences in appearance are often meticulous adjustments in design based on years of outdoor experience.
At the most fundamental level, earth with snow on top is simply a different surface than earth without, and for us precariously bipedal primates, subtle adjustments can make drastic differences. It's important to be aware of what these differences are when deciding whether or not hiking boots will meet your particular needs.
One of the most important differences between your current hiking boots and a new pair of snow boots is one that may not even be visibly apparent: stiffness.
Snow boots are typically built to be less flexible than other boot varieties and have a firmer grasp around the ankle.
This has to do with the physical nature of walking on snowy ground. Dirt, gravel, grass, and similar terrain are firmer and more predictable than layers of frozen flakes.
Ankle support is important in the snow, and you're more likely to find more of it from a specially designed snow boot.
This added stiffness is also useful when it comes to strapping into a pair of snowshoes or crampons.
Another important difference is in waterproofing. Yes, some hiking boots are technically waterproof, and as long as you are only wading through deep snow sporadically, your toes may pass through unscathed.
They also may not – so why risk it? Snow boots are often made of thick rubber sealed all around your feet and ankles, creating a truly impenetrable fortress of dry warmth.
A proper pair will allow you to virtually throw caution to the wind and power through big piles of freezing powder without a single flake coming near your skin. This sense of freedom can go a long way in alleviating some of the inherent arduousness of hiking in the snow.
Specially designed snow boots may also include other particular features that might otherwise not even occur to the average hiker.
For instance, stronger and wider toe caps are a staple feature of snow boots that protect from unanticipated debris on your path that may be disguised under lush white coating.
If you think stubbing your toe hurts like hell on a normal hike, you'll definitely want to avoid stubbing your toe when the ground and its various contents are frozen solid. Snow boots with snow-ready toe caps are an easy solution to this threat.
While it is possible to wear regular hiking boots in mild snow conditions, there are a number of key differences snow boots tend to offer, and these differences add up to one ultimate difference that is arguably most important: peace of mind.
We can delve into the particulars as much as we want, but at the end of the day, there is undeniable value in expertise.
For most people most of the time, snow constitutes an atypical environment. Embracing industry standards and equipping yourself with approval-stamped snow gear is really never a bad idea.
That being said, sometimes convenience and simplicity constitute the more desirable route. With the proper information, you can ultimately decide for yourself whether regular hiking boots are up to the job or specialized snow boots are a necessity.
Related Articles
Make sure to take a look at these other related resources before you go!