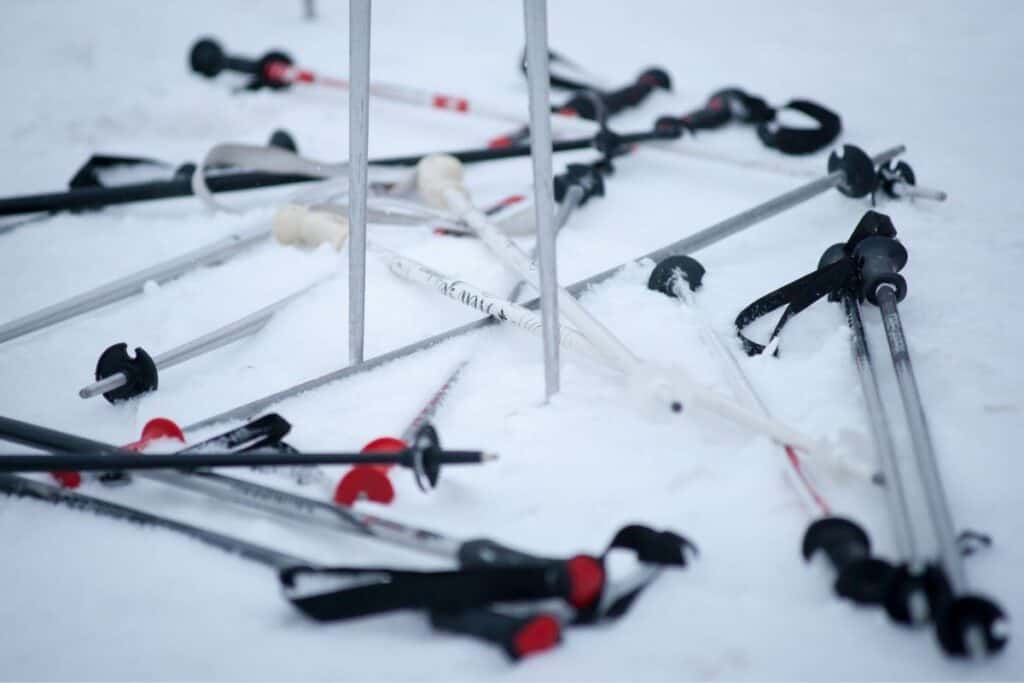 Many beginner skiers may not start learning with ski poles, but poles can provide excellent stability. However, it is crucial to choose the right size for you, or else it may affect your ability to turn and hurt your performance.
There are different ski poles for various terrains, and more advanced skiers know how important the right pole is for certain environments and snow conditions.
Ski poles provide skiers with several benefits included added balance, assistance for maneuvering in tight spaces or flat areas, and help during alpine ascents. Beginner skiers, or those looking to improve, will often forgo ski poles for a period of time to improve their technique.
There are several reasons why ski poles can be beneficial, but they may not be for everyone.
Benefits of Using Ski Poles
So, do ski poles matter? There are many benefits to using ski poles, such as enhancing your timing, balance, and rhythm.
Whether you are traveling long distances or speeding down a mountain, different poles can amplify your experience!
Benefit #1 – Balance
Skiers use poles to glide down mountains and time downhill turns accurately. By planting the ground using your poles, you can take some of the pressure off your knees and gain some balance on turns.
When timed correctly, poles can help you turn much easier and support your balance. They can also help you get back up after you fall or even help prevent you from falling.
Benefit #2 – Momentum & Maneuvering
Shorter poles are useful for powder and backcountry skiers as well. The poles allow for more accurate maneuvering without bumping into trees or rocks.
You can also push yourself forward on even pathways and maintain your momentum.
For skiers who want to go up halfpipe walls, they will want to easily maneuver using shorter poles that won't catch on to obstacles.
Benefit #3 – Versatility
Longer alpine poles are useful for skiers who need more versatility on the mountain.
They make it easier to ascend quickly without needing to remove your skis. And when your boots collect too much snow, you can dust them off using your poles 😉
Why Doesn't Everyone Use Ski Poles?
However, despite the benefits, ski poles are not used by everyone. Some find it an inconvenient and bulky burden to carry around with them.
You can not only lose them but find it a potential hazard as well.
Reason #1 – Risk of Injury
Possible injuries are always a factor in skiing with or without poles, but using ski poles can potentially injure your fingers or wrists by jarring them. You could also accidentally hit other people while getting on and off the ski lift.
Self-impalement or accidentally hitting other people's skis while descending a slope is possible as well, which is why many parents have their children learn skiing initially without poles.
Reason #2 – Cost
Ski poles are also an extra cost, of which some may not see the benefit.
Several factors affect the pole's cost, such as the type of material used for the shaft and the grip. Poles can range from $20 to hundreds for high-end models.
Reason #3 – Skill Progression
New skiers or those looking to improve their technique will often intentionally not use ski poles for periods of time.
Without the aid of poles, they are forced to hone their skills and not rely on external help or balance from the poles.
This forces them to focus on finding their center of balance and properly controlling their body.
You can learn more about how to use ski poles in this dedicated article!
Types of Ski Poles
There are several different types of ski poles for different terrains and conditions. To avoid the risk of injury and enhance your performance, you want to choose the right pole for your ski environment.
Alpine
The most popular type, alpine ski poles, are all-purpose and can be used by skiers of all abilities and ages. They have a comfortable grip, feature a standard hard snow basket, and contain a straight shaft.
Alpine ski poles are perfect for cruising down the mountain at a good pace. For general skiing, they are durable poles that can be used by all skill levels.
Race
If you want to fly down a mountain, racing ski poles are built for high speeds with aerodynamic efficiency. They usually feature the most durable and lightweight construction to last under harsh conditions.
Racing poles have small, cone-shaped baskets that don't catch onto gates on the race track. They are also often curved at the top or bottom for greater control and durability. However, these types are often the most expensive because of their unique design.
Freestyle
These shorter ski poles have greater maneuverability. They have smaller grips to give you more control. With freestyle poles, you can switch up your skiing style without needing to compromise comfort or balance.
Since freestyle skiing is more flexible, you have a broader range of pole sizes to choose from when looking for the right ones for you.
Nordic Poles
Nordic poles, also known as cross-country ski poles, are great for trekking, hiking, and cross-country skiing. They are longer in design to help you push forward and move around easier while you ascend a mountain or trek on even trails.
The shaft of Nordic poles are often lightweight and narrow so you don't feel burdened carrying them with you on a longer hike. There are several ski basket sizes to match the type of terrain on which you expect to be traveling.
Backcountry & Side Country
For those wondering do ski poles matter when trekking off the beaten path, backcountry ski poles are flexible and very convenient for traveling.
They usually have a larger snow basket, so your poles don't get stuck in deeper snow.
Backcountry poles have an ice ax, or inclinometer, to measure the angles or tilt of a slope. They can be adjusted to match the type of conditions you face while traveling.
Types of Ski Pole Baskets
The size of your ski basket greatly affects your ski pole's performance. Baskets are all designed to prevent your pole from getting stuck in the snow. However, certain sizes are better for specific terrains or conditions.
Powder Baskets
Powder baskets have a larger diameter. They may be a little bulkier, but they prevent the poles from sinking deep into fresh snow.
These baskets are often sought after by backcountry, cross-country, and powder skiers who may come into contact with deeper snow conditions and want to avoid having their poles sink every time they want to move forward.
Standard Baskets
Standard baskets have a smaller diameter. They are made to be light so skiers can maneuver easily or go downhill at faster speeds without worrying about the basket getting caught.
The standard basket's design still limits how far the pole can sink into the snow. Racers and alpine skiers often want smaller baskets for their poles to achieve peak aerodynamics.
Are Expensive Ski Poles Worth It?
For the average downhill skier, there is no significant difference between regular and more expensive ski poles.
Most recreational skiers should stick with cheaper poles that will work just as well as expensive ones. However, for expert skiers or those who ski competitively, a more expensive pole might be worth the money.
Higher-priced ski poles are designed for more specific uses. For example, nordic skiers will profit from carbon poles because of their lighter weight and durable stiffness.
Though carbon fiber generally costs more, it can significantly benefit these types of skiers in the long run.
More expensive poles will often have an improved grip as well. Grips are usually made of rubber, cork, or plastic. As the price goes up, the quality of the grip material improves, which will offer skiers better control.
Final Thoughts
Do ski poles matter? Depending on the skiing you do, ski poles can be a huge benefit.
There are several factors to consider when choosing the right pair for you: the type of material, its design, and the size of the pole and pole basket. You also want to make sure your poles come with adjustable wrist straps and have a good grip.
However, ski poles are not necessary for everyone. If you find them too heavy or bulky to carry around as a recreational skier, you can still skate down the mountain without them.
Happy skiing!
Related Articles
If you found this article helpful, then make sure to take a look at some of my other related articles linked below!