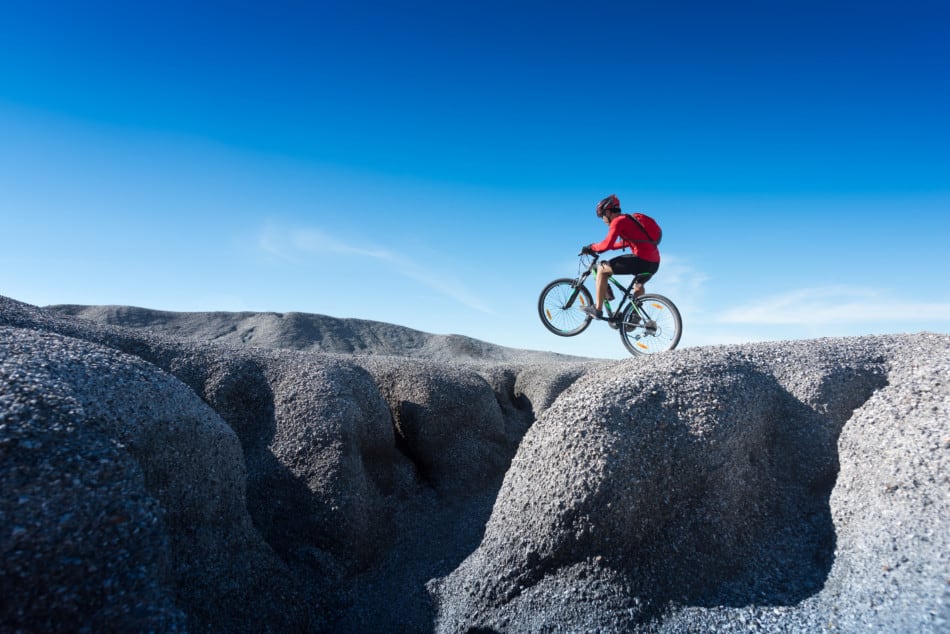 If you are new to mountain biking, you're probably wondering how much of a difference the various choices in mountain bike pedals make. Depending on your experience level and the type of riding you'll be doing, you will want to consider different kinds of mountain bike pedals.
Do mountain bike pedals really make a difference? Regardless of whether you ride flat or clipless, a good set of pedals will allow a mountain biker of any skill level to ride more efficiently. This is especially important for those who wish to get involved in downhill or cross country racing.
Since there isn't a lot of clear information available on the Internet today about mountain bike pedals, I created this guide to help you assess how mountain bike pedals will make a difference. I'll cover everything you'll ever need to know about mountain bike pedals below so that you can make your decision about the type of pedals that's right for you.
Mountain Bike Pedals and Riding
When you're trying to decide the type of mountain bike pedals you'll want, you'll need to consider the riding you plan on undertaking.
Are you always going to be on the trails with your bike, or will you be on the roads from time to time?
Do you need the pedaling power provided by clipless pedals and want to have your feet clipped to the pedals?
Do you want more maneuverability with flat platform pedals? Or a little bit of both?
If you opt to try clipless pedals, you'll need to make sure that your cleats, shoes, and pedals all work together in unison. It's a wise idea to look around for the shoes or pedals first, and keep the fact that the items will need to be compatible and work together as you make your decision.
Sometimes, cleats are sold with pedals. Other times, cleats are sold separately.
As you read through this guide, I ask you to consider the following:
You'll need to figure out if you want clipless or flat pedals for your mountain bike. While clipless pedals offer more control, your shoes will be connected to the pedals. People that like to get off of their bikes and hike might not like this style. However, they tend to work well for beginners. If you want to be able to remove your feet easily from your bike, go with flat pedals. We'll cover your options in more detail below.


Think about the riding you do. If you occasionally hit the road, you might want clipless petals. If you're thinking about taking more recreational trips and hiking, then flat pedals might be your better option.


You'll also need to figure out the type of shoes that you want. On occasion, the kind of shoe you want to purchase might wind up dictating your pedal choice. If you're going to commute on your bike and wear your shoes off your bike as well, then flat pedals are the right choice.
Now that we've got you thinking about your pedal choices, we'll cover some information about clipless pedals and flat pedals to help you make your decision.
Common Pedal Types
One of the first things you'll need to consider before you purchase your mountain bike pedals is the amount of freedom you think you'll need for your feet.
Do you want to be securely clipped into your pedals, or do you feel more comfortable with your feet free?
In the cycling world, you'll find that the most common types of pedals are clipless pedals and flat pedals. How you decide on the kind of pedals you'll be using should depend on how you ride, where you ride, and your preferences.
Clipless Pedals
Clipless pedals give us a somewhat confusing moniker because you won't be riding "clipless." Instead, your cleats will "clip in" to the pedals, similar to a ski binding. So, why are they called "clipless" pedals, anyway? Decades ago, these pedals were named "clipless" to make them distinguishable from a different type of pedals, known as "toe clips."
Now that you understand that clipless pedals aren't actually clipless at all, we'll break down quickly how they work. Small plastic or metal cleat is mounted on your shoe's sole. That sole will snap into the top of the pedals, which have spring-loaded clips to connect the brace and shoe.
If you opt for clipless pedals, you'll wind up with cleats that have either a 3-hole or 2-hole design.
People that opt for clipless pedals tend to enjoy the amount of control they receive while going fast or executing moves like jumping over a branch. With clipless pedals, your feet will never fly off the pedals while you increase power or go over bumps or obstacles.
It takes time to get used to getting in and out of clipless pedals. However, after you've used them for some time, you'll feel comfortable getting in and out of them.
Platform (Flat) Pedals
When thinking about platform pedals, think back to when you learned how to ride a bike as a child. You probably had platform pedals on your first bike back when you were a kid. Platform pedals give riders a full surface to support their feet.
With platform pedals, you can ride with any type of shoe other than a clipless shoe. So, platform pedals give you a more extensive range of choices when it comes to the kinds of shoes you can wear while riding.
Flat pedals are very popular among downhill mountain bikers. Several downhill mountain bikers like to use platform pedals with a specially designed shoe that has a tread that grips well. Using shoes with a grippy tread means it's easy to get on and off your bike if you have an accident.
Also, some people prefer platform pedals because they feel these types of pedals help them avoid accidents.
If you're more of a recreational cyclist or a commuter, or you want to get on and off your bike quickly, you might want to opt for platform pedals. That way, you'll be able to wear comfortable shoes whenever you want to get on and off your bike.
If you opt for platform pedals, you can purchase toe clips to help you, as well. Toe clips work like frames that go on the front of the platform pedal and encompass your toes while you ride. While this is more common for commuters, it's not often that you'll see a bike with a set of toe clips out on the trail!
Platform Vs. Clipless Pedals
Now that we've gone over what platform and clipless pedals have to offer, we'll cover the benefits of each type of pedal option.
Regardless of which option you start with, know that it's always something that you can swap down the road if you change your mind.
Platform Pedal Benefits
When you're selecting what type of mountain bike pedal you want to use, you'll discover that, if you are a newbie, most entry-level mountain bikes use platform pedals. However, that doesn't mean all beginners are comfortable with platform pedals.
If you're considering riding with platform pedals, you'll need to know what the benefits are when you use them.
Using platform pedals offers riders the following benefits:
Using platform pedals means you won't need to buy any unique shoes before you hit the trails. You can use any good pair of shoes with a flat sole while you ride. You can also ride with a comfortable pair of walking shoes if you plan on hiking or walking during your bike trips.
Bike dismounts are quicker with platform pedals. Many beginners feel more comfortable with platform pedals because most bikes they rode as children had those types of pedals, and they can also bail to avoid an accident.
Also, if you are shopping on a budget, you'll find that entry-level platform pedals cost much less when compared to entry-level clipless pedals.
The technology boom over the last few decades has improved the quality of platform pedals over the years. Nowadays, you'll find that platform pedals are more lightweight, sleek, and grip better than what you rode with as a child.
You'll also be able to find shoes that are designed for platform pedals to make your riding even more comfortable. However, some riders feel platform pedals don't feel as stable as clipless pedals.
We've seen a lot of improvements in the shape of flat pedals as well as the pins used to make the pedals. Plus, technology has also influenced the developments in shoes that are made for platform pedal bike riding.
If you think you might need a more stable option than platform pedals, then I'd suggest giving clipless pedals a try. Which brings us to the benefits of clipless pedals!
Clipless Pedal Benefits
Clipless pedal systems work differently than platform pedal mountain bikes. If you opt for a clipless pedal system, you'll wind up with a special cleat that you'll combine to a shoe that's made for the fastener, connecting your foot to the pedal.
With clipless pedals, you'll clip in by stepping down into the pedal. The pedal releases when you twist your heel sideways. There is a learning curve with clipless pedals, especially if you are a beginner. However, over time it will become second nature to you.
If you're considering clipless pedals, then you'll want to know what the advantages of clipless pedals are.
The benefits of clipless pedals include:
More efficiency with your pedals since you can transfer your energy easier with your pedal strokes.
Better handling on more challenging terrain. Since your feet are attached to your bike with clipless pedals, bumpy downhill rides will be more accessible since you can hop with ease.
Smaller sized pedals. Clipless pedals run much more modest than platform pedals, making it much easier to clear steep terrain. Also, you'll wind up with a pedal that's more lightweight, so your bike isn't weighed down.
Many clipless pedal manufacturers have competing ideals, so cleats won't always be compatible with one type of clipless pedal to another. The largest manufacturers around today that make clipless pedals include Time, CrankBrothers, and SPD. SPD is the most widely used of the three, so if you pick their brand, you'll have more options in cleats.
If you need to share bikes or outfit a few different bicycles, then you might want to go with a brand that is more standard, like SPD. If not, then you probably won't need to worry about this factor.
Consider Your Riding Style
When you are trying to decide between clipless and platform pedals, you should consider your riding style and where you will be riding.
Will you always be hitting the trails with your mountain bike? Or, will you be hitting the streets now and then?
Do You Ride on the Road?
If you often ride on the road, then you might want to use clipless pedals. Many road cyclists like the secure connection offered by clipless pedals because of the amount of power and efficiency provided by the pedals. If you'll be hitting the road from time to time and you're thinking about clipless pedals, you'll probably want cleats with a 3-hole design.
Cleats with a 3-hole design are called a "Look" type cleat. The name "Look" was taken from the company that pioneered this type of braces. You could also use an SPD-SL system cleat if you want something more substantial and made out of plastic. 3-hole cleats tend to protrude farther out from the shoes' bottom compared to 2-hole braces.
3-hole cleats do tend to be larger than 2-hole cleats. However, you'll get a few advantages with that larger cleat. A larger cleat can use the force more evenly over a full area. That means you won't experience as much pressure around your connection points. So, your body will experience less stress overall while you are riding.
Do You Hit the Trails More Often?
If you know you're more likely to spend most of your time on the trails, then we'd suggest considering clipless pedals with a 2-hole design. These types of clipless pedals recess into the sole, making it easier for you to walk in the shoes. 2-hole clipless pedals have screws through the two holes that connect the cleat to two slots on a shoe that works with the system.
With this type of system, you can slide your cleat back and forth slightly and get the angle that you want. That will allow you to stay comfortable and find the best engagement level for your riding style.
Plus, clipless pedals will give you more efficiency and better overall control of your bike. If you want to feel that you have more power when you are going uphill, or you don't want to worry about your feet sliding off the pedals, then you might want to purchase clipless pedals.
However, if you want to be able to take your feet off of the pedals freely or aren't comfortable with clipless pedals, you can consider platform pedals.
Are You a Recreational Biker?
If you tend to ride your bike only recreationally, then you may want to use flat pedals. If you'd prefer clipless pedals, then I'd recommend using a 2-hole cleat system.
2-hole cleats are more comfortable to walk around in, and also make it easier for you to get on and off your bike.
If your knees bother you from time to time, you should also take a look at my article on the best pedals for bad knees.
Are You a Bike Commuter?
If you use your bike to commute to work or you tend to ride long distances often, then you might want to consider clipless pedals. Since clipless pedals make it easier for bike riders to go longer distances because of their efficiency, they'll make things easier for you over the time you're riding.
However, if you need to walk around and you don't want to have to change your shoes or bring an extra pair on your commute, then flat pedals will be the way to go. That way, you'll be able to commute and walk more comfortably at work.
What About Hybrid Bike Pedals?
Another type of bike pedal you can consider, although they aren't as popular as clipless pedals or platform pedals, is a hybrid bike pedal. If you want the flexibility of platform pedals and something that's still efficient, you'll get the best of both worlds with a hybrid bike pedal.
Hybrid bike pedals also work well for people that are trying to transition between the platform and clipless pedals. While many riders decide to leap without transitioning, some people feel more comfortable purchasing hybrid pedals to transition.
The choice is up to you!
However, to give you a better idea of what you can expect with hybrid pedals, we'll cover them in more detail below.
Hybrid Pedals
People that opt for hybrid pedals enjoy the fact that they get the combination of both pedal types and their advantages. If you choose for a hybrid pedal, you'll get both a full platform plus a clipping cleat that will hold your feet in your pedals.
Hybrid pedals come in two different styles. The first type of hybrid pedal has a clip on one side and a platform on the other side of the pedal. The second type of hybrid pedal has a clip built into the platform on each side of the pedal. That means you can access both features simultaneously.
While a hybrid pedal might sound like a great idea right now, you will experience some drawbacks with this pedal type that you wouldn't experience with straight clipless or platform pedals.
Some of the disadvantages of hybrid pedals include:
Hybrid pedals are much larger than clipless or platform pedals. That means you'll be slightly weighing down your bike if you opt for these pedals.
The clips on hybrid pedals tend to be harder to work with than when you use a clipless-only pedal.
Since you'll only have a clip on one side of your hybrid pedals, the clips tend to rotate and point towards the ground. Because the clips turn, it can be more challenging to get clipped into a hybrid pedal when compared to a clipless pedal.
However, hybrid pedals still serve several great purposes. As I mentioned above, hybrid pedals work great for people trying to transition between pedal types. Also, if you are using your bike for a bevy of things and you don't always want to be clipped in, then hybrid pedals might work great for you.
Other Pedal Factors to Consider
While we've covered in detail the most important factors to consider, like the type of rider you are and where you'll be riding, you'll also have a few other things you'll want to think about before you purchase your pedals. So, here are a few additional items you'll want to factor into your decision:
Pedal weight is something to think about when riding. While most bike riders wish to pedals that are more lightweight, more large pedals are more durable. You'll need to consider if a larger pedal, like a hybrid pedal, will slow you down or make things more difficult. However, if you do need a hybrid pedal, then weight might not be a significant issue for you.


Mud and snow shedding is another factor you'll want to consider. When you are selecting your pedals, make sure you find open spaces in the pedals. Those large spaces are there to help shed mud or snow when you put your feet against the pedals.


You may need more adjustability, as well. If you are thinking about clipless pedals, then you'll need to investigate their adjustable features. You'll need to look into things like pedal tension settings, so you know what you'll need to do to both clip in and unclip from your pedals.
Float is also essential because you'll need to know how far you'll have to rotate your foot once you are clipped in. If you're opting for platform pedals, you may need to think about things like swapping out spike pins or getting different colors. Typically with any bike pedal, the more adjustability, the better.
Durability is also essential because you want a pedal that's built to last. If you find a robust pedal with reliable bearings, you won't need to do much to maintain those pedals. Sturdy mountain bike pedals can stand up to a lot of abuse for many years. 


Maintenance is another thing to think about because some pedals are more natural to rebuilt and replace parts on than others. Some pedals that break make you buy a brand new pedal to replace it instead of just a part. 
How to Use Clipless Pedals
If you're thinking about purchasing clipless pedals, then you'll need to know how to use them. If you aren't aware of how to use clipless pedals, they might seem intimidating. However, once you get over the learning curve, you'll be glad that you learned how to use clipless pedals.
When you first start with your clipless pedals, try to find a grassy, open field, you can practice around with your bike. You might wind up falling a few times while you are learning, so you'll want that soft ground to avoid any injury. While it will take some trial and error, as long as you stick with it, you'll learn.
How to Clip In
First, you apply your front brake to keep your foot from moving as you start clipping in to ride.
As you clip the first shoe, roll your foot forward. After you've got your balance and are slowly moving, clip in the other pedal.
Most riders feel it's simpler to clip in while riding on a flat area or to go slightly downhill. Learning how to clip in while going uphill is tough when you first get started.
How to Unclip
Before you reach a stopping point, as you are slowing down, put your heel out and prepare before you unclip. You'll need to be unclipped before you come to a complete stop. If you are only briefly stopping, I'd recommend only unclipping from a single pedal.
It's best to unclip using your dominant foot, but eventually, you'll need to learn how to unclip from both.
When you are ready to unclip, you'll twist your heel to the outside of the bike. Then, you should hear a click, and you'll be released from the pedal.
Final Thoughts
When deciding between clipless and platform pedals, you'll need to consider a few things. You'll need to first think about where you'll be riding and your comfort level and experience. Many new riders feel clip-in pedals are intimidating and opt for flat pedals. Others prefer to ride for extended distances and feel that clip-in pedals work better for them.
Ultimately, the decision between clipless and platform pedals is up to you. It's important to note that you do have another, less popular option in hybrid pedals as well. Hybrid pedals tend to be heavier, which does create a significant disadvantage when you are riding.
However, many people use hybrid pedals temporarily to transition from platform pedals to clip-ins. Other people use hybrid pedals because they like having more variety with how they use their bike, or they are sharing bikes.
Depending on where you like riding and your riding style, you should be able to factor in the pointers we've given you and make the best-educated decision for your riding skills.