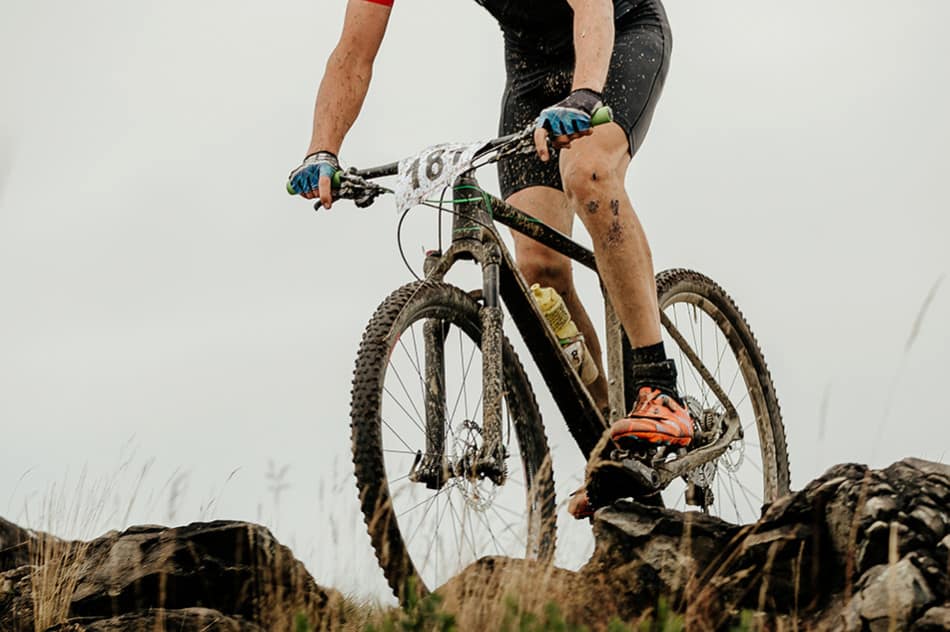 Are you suffering from bad knees? Do you have a love for mountain biking but limited to do so? Do you need help having your favorite sport back? This article is for you as I bring to you the best mountain bike pedals good for your condition.
What are the 10 best mountain bike pedals for bad knees?
| | | |
| --- | --- | --- |
| Mountain Bike Pedals | Riding Style | Best Feature |
| Shimano XTR PD-M9120 | Cross-Country & All-Mountain | Large contact area |
| Shimano DEORE XT PD-M8020 | Enduro | Adjustable settings |
| Time Special 8 | Enduro | Four adjustable spikes |
| Crankbrothers Eggbeater 3 | Muddy Racing | Lightweight body |
| Shimano Saint PD M820 | All-Mountain | Mud-shedding |
| Crankbrothers Mallet E | Enduro & Muddy Racing | Secure foothold |
| Crankbrothers Stamp 3 | Downhill | Adjustable pins for grip |
| HT Components T1 | All-Mountain | Large pedal |
| Xpedo Spry | Downhill | Light body |
| OneUp Components Composite Flat | Enduro | Wide design |
Everyone hates being limited from what they love doing most, and would rather go for alternatives to put them back on. This alternative for mountain bike pedals is effective and safe.
I have to put together 10 great bike pedals for you to choose from, and I hope you find one worth your money. Continue reading below to learn more about the pros of each.
Best 10 Mountain Bike Pedals Reviewed and Compared
Unarguably, every part of your body needs to be in good shape when mountain biking, so you can have a wonderful experience. However, if you are not in one, don't give up – just take care of yourself and get gears (like pedals, knee guards, helmets, etc.) that would help you through. Also, read on how to take care of your knees (Link to Web MD Knee Pain Article).
Let's compare the best types available based on some salient factors.
Shimano XTR PD-M9120
For over 3 decades, Shimano as a brand has been making outstanding products like off-road pedals and the Shimano SPD is one of the best ever made. With the XTR Pedals, a lot can be achieved – this is why it is the next generation pedal.
One of the best models from this XTR Pedals is the Shimano XTR PD-M9120, known for its top-notch quality, efficiency, and performance.
This pedal takes into consideration people suffering from knee problems; hence, the pedal is light and durable at the same time. Also, it has an intuitive and seamless interface to make sure it is used to maximum satisfaction.
Indeed, it is an ideal choice for all-mountain and cross-country riding.
Features
Cylindrical contact area
2 axle length; 52 mm and 55 mm
3-year warranty
Strong aluminum pedal
Steel Chromoly spindle
8 mm hex wrench mount
Pros
The one perfect commuting option
Suitable to use on gravel, mud, sand, and snow
Lightweight body and great durability
Topnotch efficiency
You can find the Shimano XTR PD-M9120 here on Amazon.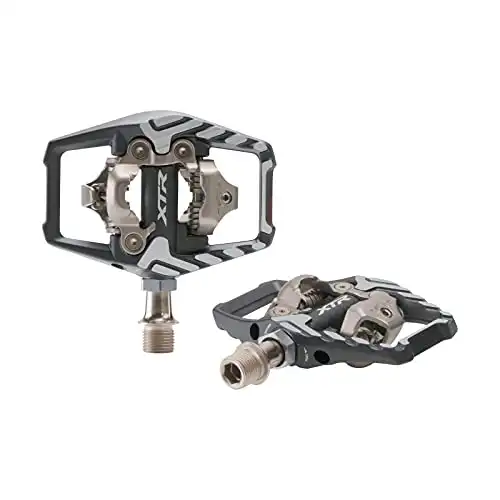 SHIMANO PD-M9120 XTR
When it's time to update the flagship XTR pedals; we look at every detail under a microscope. Off-road racing demands speed; focus; and control. And that's exactly what the PD-M9100 and PD-M9120 deliver. Increased drivetrain efficiency; an intuitive and seamless interface; and predictable steering and traction control are the benchmarks of the M9100 series pedals; the M9100 and M9120 are the weapon of choice for WC racers worldwide.
Buy from Amazon.com
Shimano DEORE XT PD-M8020
Another Shimano XTR pedal worth looking at is the Shimano DEORE XT PD-M8020 with all-new components that add to resistance and strength. This pedal ensures a seamless power transfer as well as a very responsive braking system suitable for mountain biking.
Due to its strong and durable structure, DEORE XT PD-M8020 offers maximum support for bad knees.
With 11-speed gear combinations, it is safe to rely on this pedal in tough situations (trails). In addition, the clipless style and lower platform height of this bike accessory enhance stability.
The tension settings which are adjustable for entry and release are outstanding too; what a good stainless pedal to consider!
Features
Robust retention claws
Mud-shedding design
Adjustable tension settings
8 mm hex wrench mount
Chrome-moly spindle
11-speed gear combinations
Pros
Offers an absolute performance
Responsive braking system and stability
Smooth engagement and release
Suitable to use in muddy conditions
Allows ride to gain control of the bike
You can find the Shimano XTR PD-M9120 here on Amazon.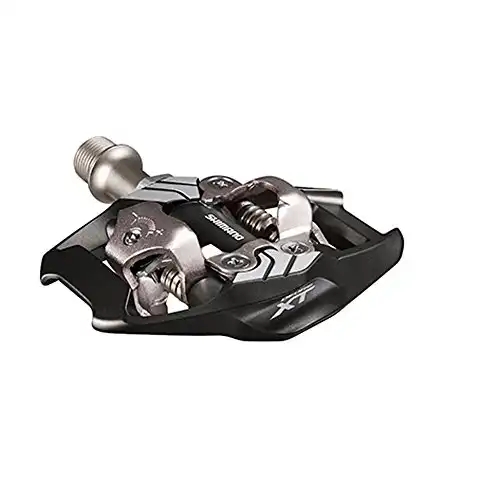 SHIMANO Deore XT M8020 SPD
The constant evolution of the Shimano XT trail pedal means that the bar is consistently being raised for the competition. Already regarded as a legendary and indestructible piece of kit, the platform has been widened by 3.3 mm and There is 11.7% more pedal-to-shoe contact than before. That may sound like negligible changes but the result is greater pedaling efficiency and stability.
Buy from Amazon.com
Time Speciale 8
The Speciale 8 is a product of a French company, Time known for all kinds of bike accessories like shoes, pedals, and so on. This pedal is one of the best on the market because of its performance and efficiency, particularly to people with knee conditions.
Having dedicated all their lives to bikes and its equipment, they have been able to win lots of people all over the world.
With this amazing product, Time Speciale 8, endure riding is made simple and easy. This is with respect to the numerous, interesting features that have been designed with it such as four adjustable spokes and an Auto Tension Adjustment Concept (ATAC) system.
This pedal is definitely going to worth your investment!
Features
Adjustment Concept System for easy clipping
Micro-adjustable clamping system for Tuning Spring Tension
Self-cleaning pedal design
Four adjustable spikes
8 mm Allen Pedal Wrench
Pros
Perfect for Enduro Riding
Made for the worst trails
Handles mud nicely
Made from one of the best bike brands
Quite expensive but worth the money
You can find the Time Speciale 8 here on Amazon.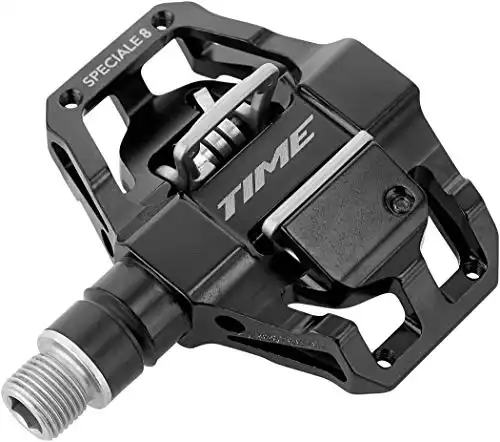 Time Speciale 8 Pedals
Inspired by Time's Speciale 12, the Speciale 8 is a slightly more compact version of its big sister. Constructed with aluminum, this pedal uses 4 adjustable spikes for great grip, even when not clipped in. It features Time's patented ATAC engagement system for easy insertion, predictable release, and it even self cleans. Designed for the most demanding riders and conditions, the Speciale 8 is a great upgrade for your bike.
Buy from Amazon.com
Crankbrothers Eggbeater 3
The most incredible thing about this pedal is that it is incredibly light and durable.
Crankbrothers has delivered an outstanding masterpiece, Eggbeater 3, that has float and release angles, which can be customized into people's preferences.
This is one of the things that interest most people who love biking.
This clipless pedal made out of stainless steel has a minimal profile, which makes it able to withstand stressful situations. Also, the four-sided design offers ample entry and release opportunities for people to gain control of their bike.
Finally, it has an automatic resistance to mud and any particle that accumulates on the pedals.
Features
2-hole cleat design
Hex alloy and caps
Double-seal system
Float and release angles
5-year warranty
Pros
Smooth rotation is enhanced by the seal system
The warranty period is awesome
Best lightweight pedal available
Durability is topnotch
Sheds off mud and particles easily
You can find the Crankbrothers Eggbeater 3 here on Amazon.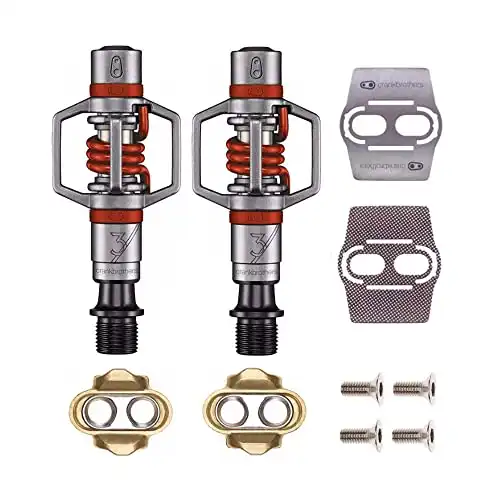 CRANKBROTHERs Eggbeater 3 Pedals
Boasting a minimal and lightweight construction, Crankbrothers Eggbeater 3 Pedals weigh just under 10 ounces combines. Made of cast stainless steel, these pedals employ 4-sided entry for superior mud shedding during trail and gravel mountain biking. Completing the design of each ultra low profile pedal is a customizable float and release angle and hex alloy encap. Ensuring reliable pedaling performance, premium bearings and a double seal system are integrated into the Crankbrothers Eggbeater 3's design.
Buy from Amazon.com
Shimano Saint PD M820
Shimano's Pedaling dynamics is an interesting one which is why they have managed to stay relevant in the business.
This Saint PD M820 is an evidence of the limitless possibilities bike riders can now have with pedals. The pedal is made with a high-intelligence and advanced technology which works when a rider is on and off the bike.
Due to its incredible performance, a rider can now have total control over his or her bike without difficulties, thus, easy to say that anyone can ride it.
The design of this bike accessory is state-of-the-art, as it can flush out mud and debris on the pedal. Indeed, it is a good choice to explore all styles of riding.
Features
Dual-sided pedal design
Shimano Pedaling Dynamics incorporated
Four adjustable pins on each side
State-of-the-art design
Pros
One of the most reliable pedals out there
Performance is outstanding
Easy clipping is facilitated
Enhanced grip
Stable and comfortable to use
Highly durable
You can find the Shimano Saint PD M820 here on Amazon.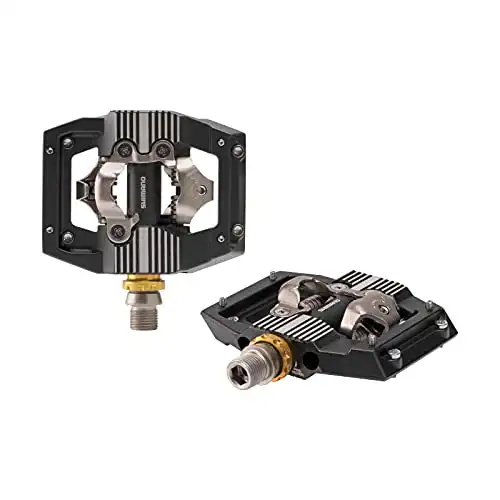 SHIMANO Saint PD-M820 SPD
Shimano pedaling dynamics - spd performs whether you're on or off the bike; makes pedaling more efficient with a wide variety of shoe and pedal styles, and the recessed cleat makes walking more comfortable.
Buy from Amazon.com
Crankbrothers Mallet E
Another amazing pedal from Crankbrothers is the Mallet E which is available in either clipless or platform style.
This pedal has been specifically designed to improve endure riding experience for both men and women. In fact, it has basic features to support downhill riding and this makes a good choice for beginners and experts.
Mallet E has a unique platform that is Concave in design and used for securing foothold. This technology enhances support and stability for the rider.
Also, it can be used in any terrain whatsoever, especially muddy areas. In summary, Crankbrothers Mallet E is worth a good value of money with respect to its structure and features.
Features
Concave platform
4-sided entry
Mud-resistance
12 adjustable pins
2-hole cleat design
Pros
Aluminum is a durable material; thus, the pedal is strong and durable
Easy entry and exit
An improved grip between shoe and platform
Mud-resistance platform helps to keep away dirt
Tight security for a foothold
You can find the Crankbrothers Mallet E here on Amazon.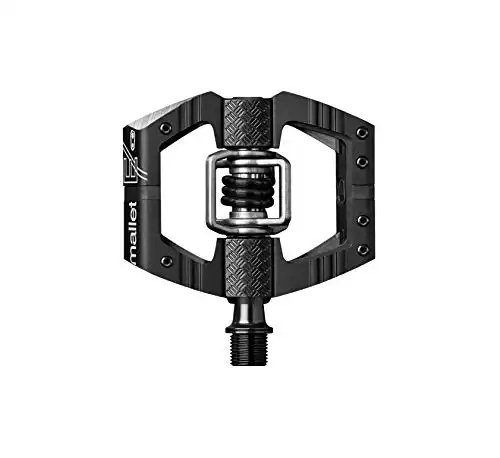 Mallet E Black
When you're bombing down hills, you need a wide, stable platform that can give you the control you need on the most demanding DH courses. The Crankbrothers Mallet DH/Race pedal is designed for the ultimate and control on the most technical courses in the world. By combining a wide, alloy platform pedal with Crankbrothers patent and much loved Egg Beater engagement system, the Mallet Race keeps you engaged with the bike, with unbelievable comfort and control.
Buy from Amazon.com
Crankbrothers Stamp 3
If there is a pedal different in size from every other made by Crankbrothers, it is definitely going to be Stamp 3. It is a large pedal specially designed for men with shoe sizes 10-15/43-49 (US and EU, respectively).
The large surface offers more coverage for the leg for all kinds of activities on a bike; hence, mountain biking is going to be an awesome experience.
Also, the strength of this pedal is second to none, meaning it is durable and reliable. With Stamp 3, one can enjoy downhill, enduro riding, and all-mountain riding.
As a professional who thinks he is limited by a knee injury, this pedal is the most suitable to use.
Features
Concave design platform
Aluminum and Chromoly steel body
20 Adjustable pins
Large surface area
Pros
Suitable to use by men with long legs
Can be used for all kinds of mountain biking riding
Strength is overwhelming
Durability is perfect
Double seal on the pedal for mud and debris blocking
You can find the Crankbrothers Stamp 3 here on Amazon.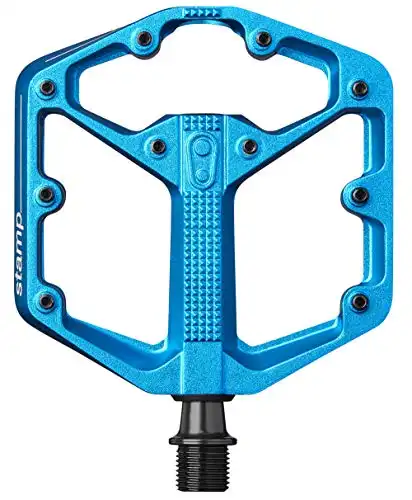 Crankbrothers Stamp 3
Crank Brothers Stamp pedals offer a size specific pro-level concave platform pedal which provides an optimal shoe/pedal interface. With 10 adjustable pins per side the rider is able to customize the the pedal for optimum feel & grip. The premium bearings & seal system ensure the pedals will hold up & perform for many years to come.
Buy from Amazon.com
HT Components T1
Talk about a pedal with sturdiness and durability, and HT Components T1 comes up. It is a platform-support pedal with a lot of potentials and benefits to whomever the rider is.
For instance, this pedal comes with a support cleat retention to make endure racing an interesting one.
An aluminum body but lightweight makes it even better for a lot of people to get the pedal of their dreams.
Part of the intriguing features it possesses is replaceable pins used to strengthen the platform as well as holding the rider in position.
Finally, this is the lightest pedal one will ever find in the HT Components collection; hence, it is a good pick.
Features
Adjustable cleat retention system
Large pedal surface area
4 Adjustable pins
Pros
Lightweight and durable
Pins are removable and adjustable
Holds rider tight in position
Very versatile in function
You can find the HT Components T1 here on Amazon.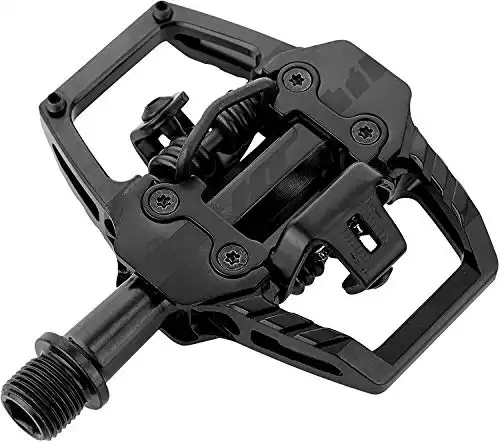 HT Components T1
The HT Components T1 Clipless Pedal blends a sturdy platform of support with the secure cleat retention required to rock a burly enduro course. A precise, CNC-machined aluminum body gives these pedals strength while keeping them light, with replaceable pins around the perimeter of the pedal to strengthen the platform and provide grip in the event of a missed clip-in. The T1 is the lightest of HT Components' clipless pedal offerings at just a claimed 368 grams, ensuring they won't weigh you down on the transitions.
Buy from Amazon.com
Xpedo Spry
A first look at this pedal and it wins the heart – it is sleek and high in performance. It is made of a magnesium material in a platform style following some relevant features.
Xpedo Spry supports all kinds of mountain biking activities, including; enduro racing, downhill, etc.
Xpedo Spry has a thin body design and a low profile, but this makes it great for trail clearance.
Technically, it is the lightest pedal in this guide on bike pedals. However, it is available in different colors or patterns for riders to choose from.
Features
Shallow Platform
Light/Thin body
Large surface area
14 Replaceable pins
Pros
Available in different colors and patterns
Supports all kinds of mountain activities
Thin body design allows trail clearance
You can find the Xpedo Spry here on Amazon.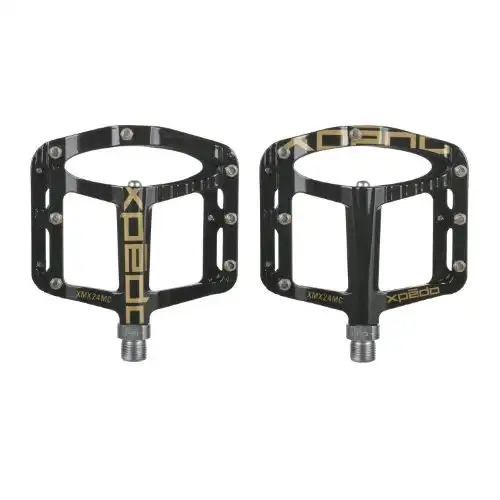 Xpedo Spry Pedal
Xpedo Spry Platform Pedal is an extremely high-performance magnesium platform pedal. Dual cartridge bearings with a machined CroMo spindle and replaceable traction pins make this the downhiller, enduro or urbanist's choice for extreme lightweight performance.
Buy from Amazon.com
OneUp Components Composite Flat
OneUp is one of the best companies located in one of the best places in the world to find materials for making pedals and other bike accessories. T
his company, located in Squamish, British Columbia has manufactured all kinds of products, and the OneUp Components Composite Flat is one of their best inventions.
The pedal is super in performance and quality is fantastic.
With a flat or platform style in a convex shape, it has ensured a proper fit for every rider's midfoot arch. Also, it has a low-profile design, which has made it successfully avoid obstacles while riding.
Most importantly, this bike pedal comes in several colors for buyers to choose from.
Features
Wide Platform design
Convex shape platform
10 Removable steel pins
Pros
Available in several colors
Stable and reliable to use
Deflects obstacles easily
Offers maximum grip
You can find the OneUp Components Composite Flat here on Amazon.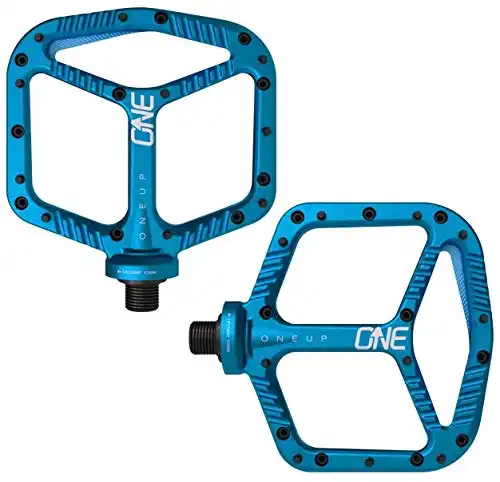 OneUp Components Aluminum Pedal
The OneUp Aluminum Pedals features a huge (115x105mm) super grippy platform with 10 rear-loading hexagonal steel pins per side to keep your feet planted on even the roughest of trails. Designed from stealth rubber down and shaped with a subtle convex profile to provide you with more grip thanks to the pedals sitting in the natural arch of your foot.
Buy from Amazon.com
Frequently Asked Questions
What is the best pedal for bad knees?
Bad knees vary depending on the type of injury such a person has. However, most people with severe ones would rather go for a platform or flat type of bike pedals than clipless ones.
The reason why flat pedals are better than clipless in this regard is that the latter slips off easily while flats are always in position; still, it isn't bad switching once in a while.
From the list of best pedals above, either of them is a good pick if you are suffering from knee problems. Preference should be based on the degree of pain (mild to severe) and the type of mountain or race.
Why do I need a pedal?
You need a pedal for many things if you are in biking and racing. The pedal acts as a support for the legs in order to keep it stable.
It is also the major part of the bike that propels or initiates the movement of the bike.
Pedals are great accessories and they are available in different forms i.e. clipless and flat. For more info on why pedals matter, take a look at my full article here.
Is Mountain biking bad for your knees?
No, mountain biking is never bad for the knees if the right pedals are in position. In fact, it is a way of exercising the knees.
Even if you have a knee injury and it becomes painful, it doesn't get that serious if you try mountain biking.
What is the cheapest pedal to get?
The prices of bike pedals are relative as it is determined by the brand and features it possesses. All the pedals reviewed above are inexpensive and worth a good value for money.
Therefore, you shouldn't be looking for the cheapest, but what will fit into what you need exactly.
Buying Guide: What Should You Know?
There are factors that should be considered before choosing and buying mountain bike pedals, especially for bad knees. They are:
Riding Capability
There are different riding capabilities depending on the nature of the pedal. For instance, some are enduro racing/riding, cross-country, all-mountain, downhill riding, etc.
These capabilities are as a result of the features present within these pedals – they enable them to perform different kinds of tasks.
Downhill riding, for example, has numerous adjustable pins that help to hold the pedal/bike in place when riding through a sloppy or hilly terrain.
These pins are great stability agents and they occur in a number of 8 to 14 depending on the bike.
In summary, you need to know what type of racing you want to do before choosing a bike on the basis of capability.
Pedal Type
Mainly, there are two types of pedals – Clipless and Platform (flats). Both types of pedals are great but it depends on how you want to use them.
Clipless pedals come with a cleat that is worn into shoes in order to ensure stability while Platform pedals are used normally without cleats.
Platform pedals are the most common type and they are great for people with any grade of a knee injury.
Shoe or Pedal Compatibility
When choosing a pedal, you must always put in mind the kind of shoes you will be putting on. For instance, platform pedals are great with regular sneakers, even though there are shoes designed for riding them.
On the other hand, clipless pedals are a little difficult since they come with cleats to be worn when riding.
In essence, check for shoe and pedal compatibility before you make a choice.
Price
Finally, the price in which the pedal is being offered is a determining factor in what to choose. Before you shop for pedals, ensure you make a budget and target a price; this will narrow down your choice.
Most pedals don't cost much, so you can make a good budget and get what you want.
Verdict
Don't let anything limit you from mountain biking – not even a bad knee!
Exercise those knees today with any of the 10 best mountain bike pedals for bad knees, and get a speedy recovery.
I hope this article has been helpful to you! Before you go, you may also want to consider taking a look at my article on the lightest mountain biking pedals.