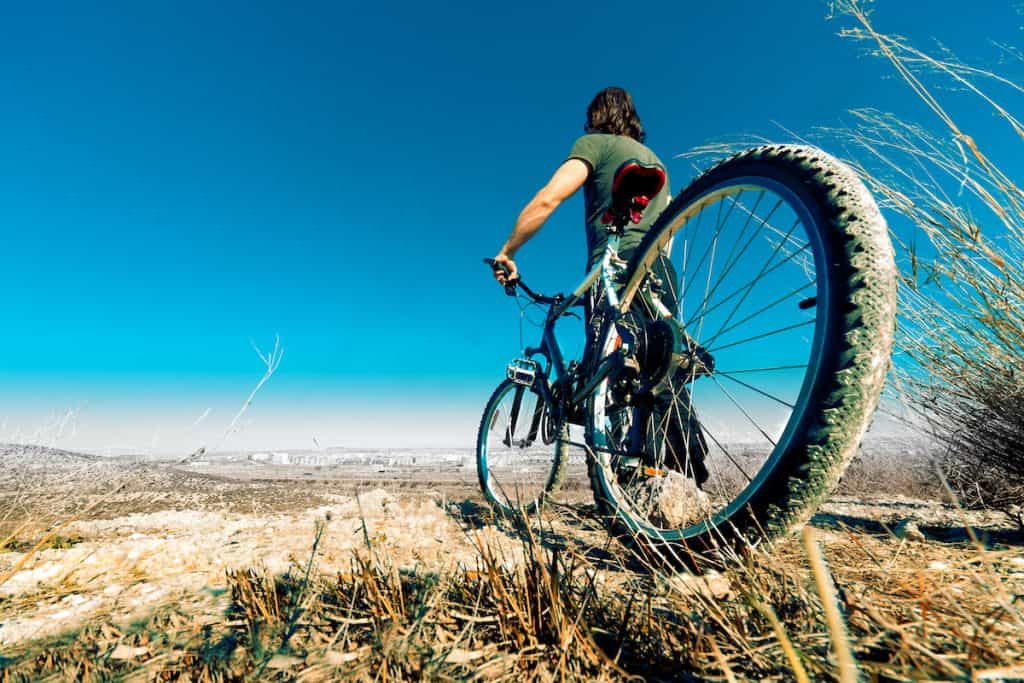 Once you start looking to purchase a bike, you may find yourself wondering if it's better to build or buy a mountain bike. Even with all of the available models and options, it can sometimes feel like it's tough to find exactly what you're looking for!
Advanced mountain bikers with the tools and knowledge can build a bike that is customized to them for around the cost of a factory standard bike. Those with less specialized needs or tools and knowledge will be better served by finding a bike whose factory specs closest matches their needs.
While it might seem like building a bike would be the better option, it's not always the case. Between the tools, knowledge, and time, even the cost of building a mountain bike can quickly add up.
The Buy vs Build Dilemma
Much like other sports and hobbies, the "build vs buy" question is certainly one that exists in mountain biking!
Finding just the right bike can be tricky when manufacturers offer a variety of differentiated option. Often times, you may find that the "perfect" bike you want exists between these offered editions.
Therefore, making you feel like you need to overspend to get a certain feature, or give up a prized one for a cheaper one.
Naturally, many riders start considering whether or not they should just build the bike from scratch to ensure that they get exactly what they want and are paying for!
While building a bike certainly sounds like the ideal option for creating your dream bike, it's not without its own pitfalls.
Aside from buying all of the parts, you'll also need to ensure that you have:
Tools and materials to get the job done
Space to work on the bike
Time for assembly
Knowledge!
Before investing in these areas, it's also worth considering how the bike will be used. Is this a backup bike or one for just cruising around town, or is it going to be your primary bike?
Clearly, your primary bike is worth investing time and money in. Assuming that you have skills of course 😉
But if it's a backup bike, then perhaps it's worth sticking to a factory model and making minor upgrades as (or if) needed.
Why should I build a bike from scratch?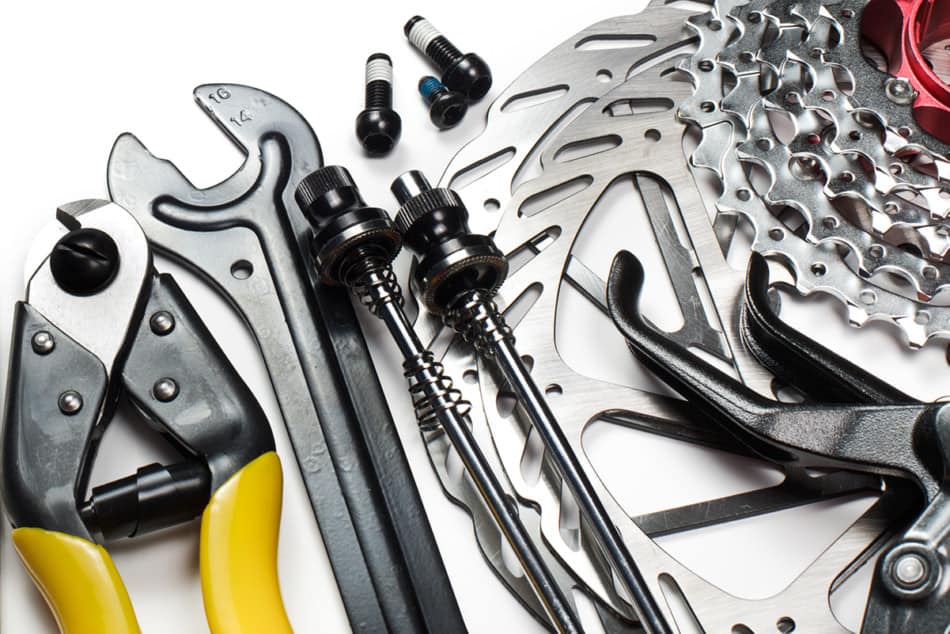 Through research, I have come to learn that many bike manufacturers construct their bikes in different ways. By building my bike, the parts that I invest in are the ones that I need.
The parts that come in a manufactured bike that I do not need, I save and invest the money on the parts I need.
It is easy to get cheaper used parts that are durable than buying a new bike that does not meet my standards. My purpose for the bike is unique, and getting a manufactured bike that has met all my needs is hard.
I will have to compromise in one way or another. After completing the building part, I get what I want, intimate parts that work for me, and a piece of art.
Before I decide to build or buy the mountain bike I need to know:
What am I using the bike for?
I can be building a bike for my normal commute to work. That would not be a good enough reason to go on eBay to source for parts.
Then again, I am into performing mountain bikes. Performing bikes need to have modified parts, and building one from scratch is a good reason.
Where am I riding the bike?
In an area that has very good terrain, a mountain bike will not help much.
Any bike can perform here but if I come from a place that has hills and mountains and I start building my bike, this is an area that needs a full-suspension mountain bike.
Where will I get the parts to build the bike?
Most people go on eBay or Amazon to get the parts.
These websites have thousands of sources for the parts. If I am ready to buy and incur the cost of shipment, then I can start building the bike I want.
Some of the parts are more expensive than buying from manufacturers so I should always compare prices. Getting second-hand parts is an option.
I can get a cheap frame that is in good condition at a throw-away price on eBay. Consider buying original manufacturer parts.
Do I have the time and money?
A good mountain bike goes for between $2000-$3000. The cost of building a good one is between $2,500- $4000 at least.
Building my bike will cost me a lot of time between collecting the parts and the manual work. A few things will go wrong before finally getting the finished product.
If I can answer all these questions, then I can start building my bike. Costing needs to be further clarified.
For the most part, buying a complete bike is cheaper. At times when building a bike, I can save a few bucks.
The difference is bike manufacturers have deals with the original part manufacturers since they buy them in parts. The fact that I am building my own bike means it would be hard to get deals and discounts unless I get lucky and someone is disposing of their bike parts at a good rate.
The frame is one of the most expensive parts to buy. Getting the exact frame that you want for a good price sometimes requires patience and diligence to find it.
It is a way to save the full cost of building the bike. It is advisable that before I build the bike, I must have all the parts I need.
It will help the building process to be continuous. Some of the common parts I need are front and rear wheel-set, frame, front and rear tires, rear cassette, rear through axle, rear disks and plates, pedals, chain brackets, chains, among other parts.
Long Term Considerations
As someone who enjoys performing bikes to enjoy the hills and mountains, buying a mountain bike beats the purpose. I can save a lot on unnecessary parts and put the money into other parts I require.
The creative control is the most attractive thing about building my bike. By picking the parts myself, the bike will be comfortable to use, the height and saddles will be just right, the bike will meet my expectations, and any improvements will come along without complaints to the manufacturers.
The challenging part comes in at the technical and mechanical know-how. This part needs the tolerance to learn which part goes where and at what time.
The first step before buying the parts is having the knowledge and correct tools to build my bike. Different types of mountain bikes need different tools and knowledge.
In this age of information, any bike buyer and builder should be able to get the right information to build a bike from scratch. Before building the bike, many variables go into the challenge of building a bike.
These variables give me a holistic view of how the bike will look like after I finish building. With the idea already in my head, buying the parts will be easy.
There are a couple of vloggers who share information that goes into building the bike online, a few of which I have followed. Their journeys and challenges on YouTube and other sites show me how to do the procedure for different mountain bikes.
There are many compatibility guides online that guide me in my quest to build my bike. These guides assist me when buying the parts, to know which parts are compatible with the other parts I buy.
These guides also assist me in getting the tools I need to build the bike I desire. Bike parts will take time before delivery, which is also a challenge somewhat since I need to start building if those parts are going in last.
In a way, I create room for mistakes while building. The good thing about this is I can read and research more about the improvements I can make.
Finally, before I embark on this challenge, I need the right mindset. By constantly reading and watching bike building content, I know there are many challenges ahead.
These challenges I face are the same ones that will help me finish building the bike. The idea is to plan and make sure you have timelines and deadlines when you start yours. It makes my journey easier when I know what needs doing and when.
Building my bike has been a fun but challenging task. Before building yours, be prepared for the pros and cons!
If you do decide to purchase your bike prebuilt, then you'll want to consider looking into some of the best places to buy a mountain bike online to further save money.