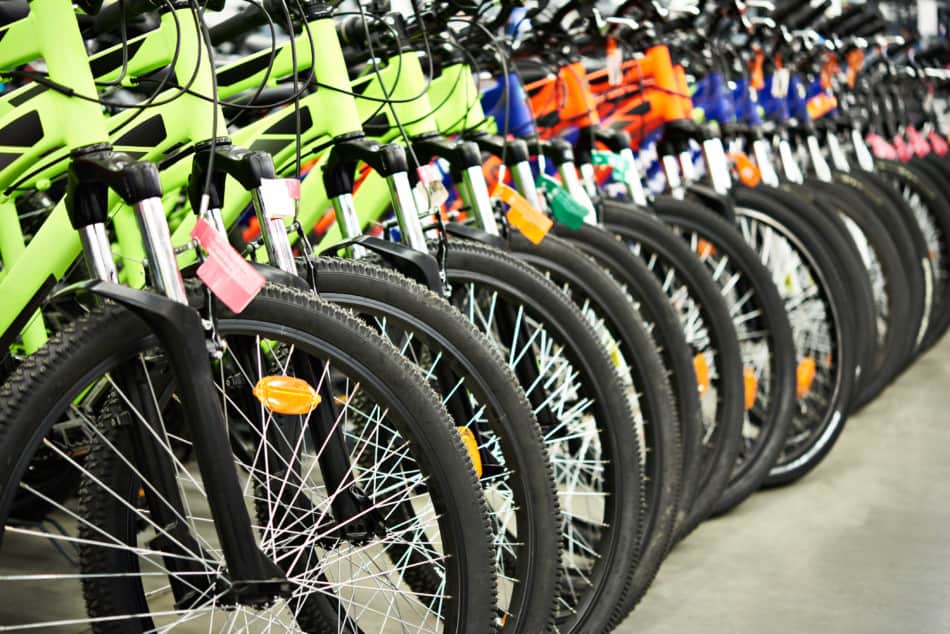 Are you thinking about buying a mountain bike online but not sure where to start? If so, you've come to just the right place!
Take a look through these 19 retailers that provide the option for ordering a mountain bike online as well as some of the pros and cons for each that have been reported.
Since 1974, the company named Nashbar has been selling various bikes and accessories in the U.S. The company has overcome its rough times, and it's back to rails.
Currently, it's owned by a wife and husband. For more information, visit BikeNashBar.com; you will find everything related to biking from battery-powered GPS to T-shirts, which will make your riding experience comfortable.
Pros
Huge selection of bikes
Has bicycles for both tall and short riders
Provides free shipping
Cons
BikesDirect is another online platform that you should consider as far as bikes are concerned. The store offers favorable pricing and another package called "Cyber Specials" on particular accessories and bikes.
The chances are that you will be surprised by BikesDirect.com's affordability choices. Everything from high-tech mountain bike to low budget bikes is found on their website.
Pros
Offers free shipping to forty-nine states in the U.S.
Have money back policy and satisfaction guarantee
Has high-tech mountain bikes
Cons
If you can remember, in 1992, this store was known as Mountain Bike Warehouse, because it used to sell lots of mountain bikes. But what happened then?
With time, the market dynamics changed rapidly; hence, they had to adjust their selection. Hence, they had to include all types of bicycles
The motto of the warehouse is "Be Fit, Be Free, and Have Fun." Their website is also easy to use since it's well organized.
Pros
User-friendly website
Professional customer service
Huge range of bikes and accessories
Cons
Buyer needs to book earlier
Another bike company that has been around since the 1990s is ProBikeKit.com. The company was started by a set of cyclists who so passionate about cycling.
With brands such as Campagnolo, Santini, and Shimano, ProBikeKit.com is one of the bike's one-stop-shop that you should consider.
Pros
Has kits for both beginner and professional riders
Huge range of bicycles and accessories
User-friendly site
Cons
Average customer service (not bad though!)
The company was started in 1976 as pro bikers' flagship by Philip Cabbad, and its original name was R & A Cycles. Soon it became a brand for bike accessories and hard to get imported frames.
Their success in the two fields made them become a worldwide bike store. One of the unique aspects regarding this store is that its mountain bicycles are only sourced through RACycles.com.
What does this tell you? The company's website is reliable and user friendly!
Pros
Uses online in all its transactions
Easy to navigate
Professional customer service
Easily accessible
Cons
For over two decades now, Universal Cycles has been the pillar for mountain bikes, BMX bandits, and road racers alike. The company has two retail stores based in Lancaster, Portland, and P. A.
Their delivery does not take more than three days. All you need to do is to check UniversalCycles.com. They have everything from bikes, clothes, accessories to spare parts.
Pros
Quick delivery
Various categories of bicycles
Responsive customer care
Cons
Well, with the name, we are sure you have a clue about what it may mean. This site is based in Colorado and offers a huge range of premium bikes from triathlon bikes, road bikes, mountain bikes, gravel bikes, and Cyclo-cross bikes.
With the names such as Devinci, Sidi, Shimano, Santa Cruz, and Castelli, the site is worth visiting!
Pros
Wide range of bicycles
Wide range of bicycle accessories and clothing
User-friendly site
Cons
Wheel world is one of the largest bike sites that you will ever come across online; their price ranges start from as little as $70 to high-end prices of $ 6,500.
They have two stores in Los Angeles: Woodland Hills and Culver City, so if you are based in the mentioned area, why can't you visit them?
Besides, the store boasts an outstanding range of apparel, accessories, and parts which any rider will admire.
Pros
Outstanding discounts and bargains
Professional customer service
Good price ranges
Cons
Lacks some bicycles in their catalogue
This is an online bike store that is located in Colorado. Their site purposely targets online bike buyers. The company's site is easy to navigate.
Pros
Purely uses its online platform to serve its clients.
Offer a 10% full discount on every first purchase.
An outstanding range of quality accessories and bikes
Free shipping for products that cost more than $99
Cons
The site is U.K. based, but they also have a U.S. site for USA established clientele. This implies that sales expedition and delivery per se are easily accessible in the United States market.
Pros
Quick delivery of bicycles
Provides essential nutritional supplements to riders
Wide range of complete bikes, accessories, and frames
Can make a bike of your choice
Cons
Difficult to navigate with a phone
This is a multinational company, and it's based in Australia. They also have a corporate headquarter in the United States of America. In a nutshell, if you are looking for a company that deals with all bike categories worldwide, Bike Exchange is one that you should consider.
Whether you are looking for brands such as Bianchi or Santa Cruz, or after the latest bike-related accessories, clothing, or apparel, Bike Exchange.com will meet your desires.
Pros
Deals with all categories of bicycles
Easily accessible
Standard bicycles
Favorable prices
Cons
Deals with only English speakers
In the small village of southern Wisconsin, two friends started manufacturing bicycle frames. They aimed to come up with American oriented racing bicycles.
But as time goes, the two friends realized that the market is not all about racing bikes, which made them change the approach!
At the moment, they are proud manufacturers of high-quality racing bikes, fat bikes, mountain bikes, hybrids, and cross-country bikes.
Pros
High-quality bicycles
Professional customers' service
Outstanding bicycle accessories
Easy to navigate the site
Technology oriented bicycles
Cons
CitizenBike.com is one of the sites that you should not leave behind when it comes to bikes. The site specializes in the traveling cycling niche. Their products are made from steel alloy or steel, so they weigh between 35 to 43 pounds.
The site can provide you with single or multi-geared bikes that suit anyone who wants to see places from the bikes' saddles. Besides, they have incorporated an electric assistance kit into their mountain bikes.
Pros
Durable bicycles
High-tech bicycles
Cons
Poor customer care
Limited bicycle options
Are you looking for an off-road adventure bike? If that is the case, then you should not think further; Jenson USA is a place to be when purchasing your next mountain bike. The retailer provides multiple cycles, such as G.T. Bicycles, Norco, Orbea, and Yeti.
The site's page sorts bike into four categories: cross-country, scale, gravity, and trail. Therefore you can effortlessly search a particular brand's wheel size, rear suspension type, and wheel size.
Once you fill the customer service form, one of their customer service attendants will call you to discuss the bike requirements.
Pros
Best for off-road bikes
Easy to navigate
Provides detailed information for its products
Professional customer service
Cons
Inadequate tracking systems for their shipping products
Can we talk about buying anything online without mentioning Amazon? Amazon offers various types of bikes, such as mountain bikes, toddler bikes, and pre-teen bikes.
You can also search by brand, price, weight, wheel size, age-range, gender, and many more. The other thing the side you provide reliable reviews for various bikes.
Pros
User friendly
Has reliable reviews for its products
Responsive customer care
Good prices
Cons
Besides Amazon, eBay is another popular online business site. Like Amazon, it categorizes its products and services. Therefore it has a section that only deals with bicycles. Under the catalogue of the bike, there is a selection for mountain bikes to further filter your choices.
Pros
Has various types of bicycles sizes
Sells various wheel sizes
Its prices are affordable
Sells kids' mountain bikes
Cons
Not user friendly for beginners
When it comes to sporting products, Dick's Sporting Goods is one of the leading company for sporting products.
Cycling is one of the sporting activities; that is why you need to check on the company's website if you are looking for a mountain bike.
Pros
Best for mountain bikes, kid's bikes, and Road bikes
Affordable prices
Great discounts
Cons
A small range of bicycles
This is one of the most dominant online platforms for bicycles. It has over 150 different options for bikes.
Pros
User-friendly site
Best for specialty and mountain bikes
Very professional
Member rebates
Cons
Keep in mind that while there are a large number of online retailers to buy bikes from, that's far from the only option. You could also choose to buy your own parts and assemble a custom dream bike!
But before embarking on this journey, you should consider taking a look at my article that details "is it better to buy or build a mountain bike".