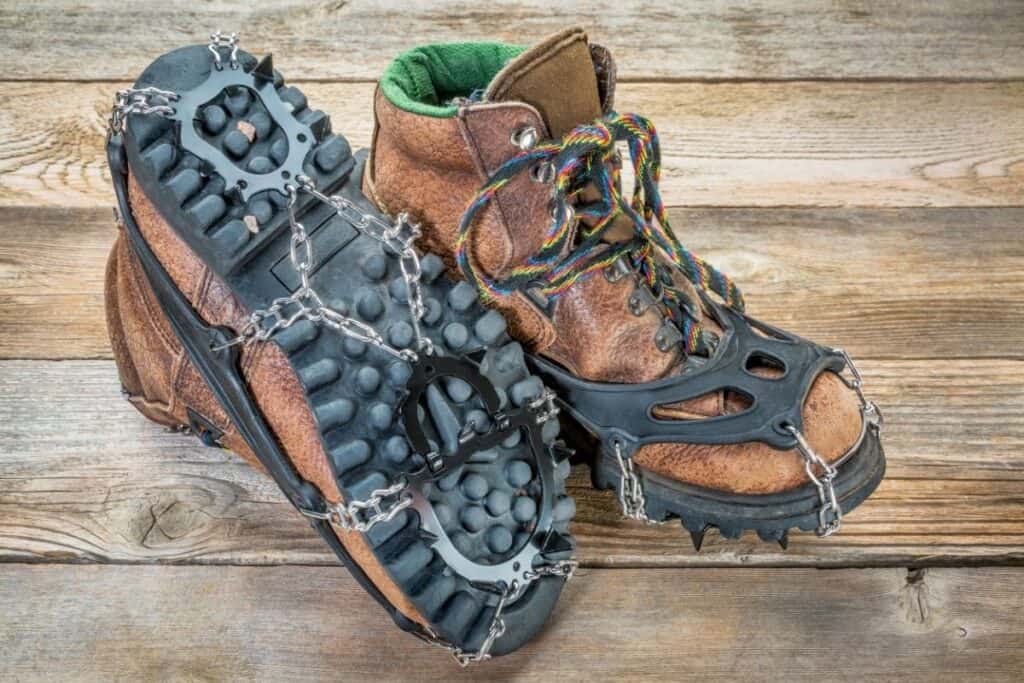 During blistering weather with snow and ice, hikers turn to microspikes for a safer journey. However, are microspikes worth it? Considering there are other comparable options, microspikes have their advantages and disadvantages.
Microspikes provide a cost-effective and beginner-friendly option for providing enhanced traction on slippery terrain. Their compatibility with a wide range of footwear and compact size and weight are also an added benefit over crampons.
In this guide, I'll be diving further into microspikes and cover when they're useful, their pros and cons, and briefly compare them to other options!
Table of Contents
What Are Microspikes?
Microspikes are essential footwear devices for hiking or other snow activities.
Microspikes are considered a winter traction device, with crampons and snowshoes being the other two options hikers use depending on the conditions.
In particular, microspikes are stainless steel spikes on an elastomer harness, wrapping around shoes, providing hikers and others more grounding and balance on challenging terrain.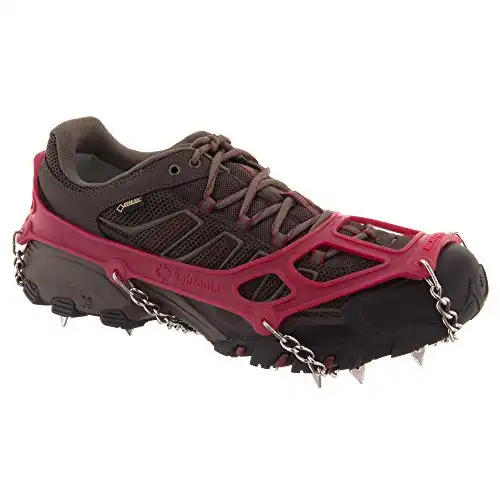 The best quality microspikes have the following features:
Thermoplastic polyurethane (TPU): TPU is an elastomer with properties similar to a combination of plastic and rubber. It is a versatile and robust material that is responsible for holding tight onto shoes.


Spike design: The number of spikes and how they form can make an impact, with most designs using 12 or more heat-treated spikes that are corrosion-resistant, durable, and pierce into icy terrain.


Stainless steel chains: It is crucial the chains last long, and having stainless steel or tougher material is essential for longevity and toughness.


Eyelet design: Having an eyelet design that reinforces critical stress points allows the elastomer to be sturdier and lighter.


Toe bail: An integrated toe bail with durable material like TPU provides security, preventing the toes from breaking through the front of the harness.


Heel tab: Allows easy removal of the microspikes


Elastomer harness: The harness is an essential attribute of microspikes and must come from a durable material such as TPU or more advanced.
Overall, microspikes are supposed to be lightweight and easily pull over your boots, with the spikes penetrating hard ice and snow to avoid slipping and sliding on hikes.
Best Overall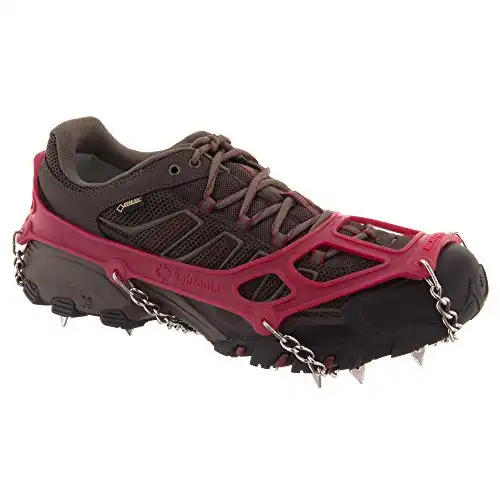 Kahtoola MICROspikes
Lighter and tougher, the new MICROspikes deliver unrivaled traction on icy winter trails. With stainless steel spikes and welded chains tough enough to handle any adventure, they are now designed with an integrated toe bale and reinforced eyelets, allowing for a 50% lower profile elastomer harness.
Buy from Amazon.com
When Are Microspikes Useful?
Microspikes have made a name for themselves because of their various uses, in most winter terrain, providing hikers with stability and other activities.
Microspikes are useful for the following conditions:
Hiking: Microspikes are most commonly used for hiking in the winter along paths with mild or low winter conditions. You can also use them for muddy or rocky environments.


Trail running: Microspikes are lightweight enough to run in low winter surroundings, especially if you see ice and snow along the trail.


Low slopes: If you hike in various types of terrain, you will likely come across slopes. Low slopes at around 20 degrees or lower are good enough for microspikes.


Flat grounds: The ideal environment for microspikes are on flat land that has mild ice and snow.


Shoveling: Microspikes aren't just for hiking or mountaineering, as you can use them to shovel driveways during the harsh winter months.
Overall, microspikes are useful for most winter environments where traction is needed to improve your stability and avoid injury!
Microspikes Pros
There are several advantages to microspikes that make them attractive to hikers of any level.
Continue reading to find out the pros of owning microspikes.
Affordable
An aspect that draws hikers to microspikes is their affordable price tag.
While the most popular brand of microspikes comes from Kahtoola, it is the most expensive on the market. Luckily, other alternatives are suitable for the budget-conscious, which is comparable to the brand.
However, I'd caution against going cheap on something like microspikes.
The rubber is more likely to fail over time compared to the durability of a better-known brand like Khatoola, and that's not something that you want to have to happen on an icy hike!
Easy to Transport
Microspikes are both small and lightweight enough to carry in any backpack or keep in the car, even during winter months.
This makes it extremely easy to justify keeping them with you when you're not worried about excessive weight or space, as might happen with more traditional crampons.
Low Maintenance
It's simple to clean microspikes, requiring a quick wipe down, and dries for a short period.
The most common way to clean microspikes is with warm water and dry air, as harsh terrain in sleet, gravel, or muddy areas can get the device dirty.
Other winter traction devices require sharpening, but microspikes do not, which saves money and time.
Easy to Use
Microspikes are easy to put on and pull off, which is extremely convenient during hiking or a long journey.
This not only saves time but hassle when you're just trying to reach your final destination at the end of a long day!
Versatility
Microspikes aren't just for hiking but are useful for other activities, such as running or trekking!
I've even used them while hiking the steep muddy slopes in Hawaii, so they're useful in warm climates as well.
For those living in locations with strong winters, microspikes can also be handy for daily activities. Whether it be shoveling the snow off your driveway or taking your dog for a walk, wearing your microspikes is a good way to avoid a wipeout!
Longevity
Most microspikes are built with durable materials, such as TPU or stainless steel. Microspikes are least likely to rust with stainless steel or another corrosive-resistant metal.
Most elastomer harnesses with TPU or more advanced technology are long-lasting. High-end materials plus proper maintenance are the key to increasing the longevity of microspikes.
Microspikes Cons
While microspikes have their positives, there are negatives as well. Let's take a look at some of these now!
Prone to Slippage
A common complaint of microspikes is that it shifts to the left or right after prolonged usage. This results in the microspikes becoming crooked, which may become uncomfortable.
A typical solution that may fix this is to get a better sizing of your microspikes that fits your shoe. However, that may not solve the problem for everyone.
Only for Certain Conditions
While microspikes are useful in most conditions, it isn't for harsh, challenging terrain. Think climbing Mount Everest or K2!
If you're an advanced hiker or mountaineer that adventures in tons of snow and ice, microspikes will not be sufficient with deep inclines. At that point, a more advanced winter traction device may be useful, such as crampons or snowshoes.
Microspikes are the most effective on flat terrain with snow or flat ice.
Added Weight
While microspikes are lightweight, they may not be for those new to hiking or winter traction devices as a whole.
The added weight may tire down some hikers, especially beginners. However, with practice and use, it's something that most people quickly get used to.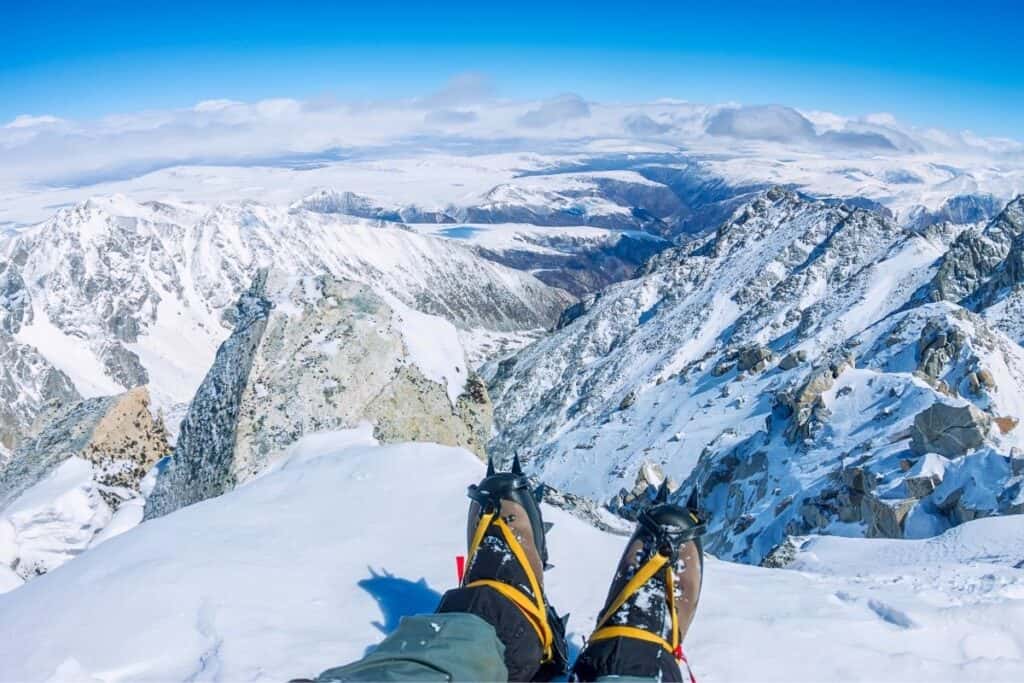 What's the Difference Between Microspikes and Crampons?
There are three types of winter traction devices: microspikes, crampons, and snowshoes.
However, microspikes and crampons are the most comparable to each other due to the design and purpose.
Although there are differences between microspikes and crampons, such as:
Price: Most commercial-grade crampons tend to be similar in price to microspikes. However, more advanced crampons can be double or triple the price of microspikes.


Maintenance: Microspikes are more low maintenance than crampons. Most crampons need proper upkeep, such as filing the spikes to ensure their sharpness to continue penetrating through ice and snow.


Different environments: Microspikes are more for flat surfaces, while crampons are useful for challenging, harsh weather with more snow and ice. Crampons are also for climbing ice, while microspikes are for walking on ice.


Spikes: The spikes on crampons tend to be bigger than microspikes and need sharpening because they're more useful in rigid winter environments.


Difficulty level: Microspikes are relatively easy to use and ideal for beginners. Crampons require training and experience to operate safely.


Running: If you're running in icy conditions, microspikes are safe to use, but crampons are dangerous to use for running.


Frame: Microspikes use an elastomer harness with an eyelet design to attach to your footwear. However, crampons use straps, a step-in system, or both.


Durability: Because crampons tend to have larger spikes and frame design, they are more sturdy as they impale ice and snow. Microspikes are great for flat surfaces, but in rougher terrain, the spikes may wear out over time.
Factors to Consider: Microspikes vs. Crampons
While there are differences between microspikes and crampons, there are factors to consider between these two winter traction devices, such as:
Slope: If you're hiking or outdoors and are in an area with steep slopes, it is not safe to use microspikes. Crampons are designed for climbing ice and steeper slopes. This includes snow climbing up gullies, headwalls, or couloirs.


Snow and ice conditions: Microspikes work best with snow, with a mix of ice and rock. While hiking and you face mild, rocky conditions, the microspikes will be good enough for the job. In some cases, ice freezes at night with the snow becoming more challenging, where crampons are more suitable.


Experience: Microspikes are relatively easy to use and are great for novices to try if they want to experience hiking at the next level. However, crampons require training and experience because their slightly heavier, bigger spikes are harder to maneuver in at the beginning.
In all, both crampons and microspikes have their positives and negatives.
Both excel in certain environments, with microspikes being the perfect winter traction device for the inexperienced.
Conclusion on the value of microspikes
Many hikers who want that extra challenge in the winter may continue to wonder, "Are microspikes worth it?"—the answer depends on the hiker and their experience level.
However, microspikes are a great option to start if you're looking to take hiking to the next level in the snow and ice. Also, microspikes allow outdoor enthusiasts to try something new using a secure and safe device.
Lastly, its affordability, versatility, and low maintenance make it an attractive purchase to include in a hiker's arsenal.
Related Articles
If you found this article helpful, then make sure to also take a look at my other related articles!