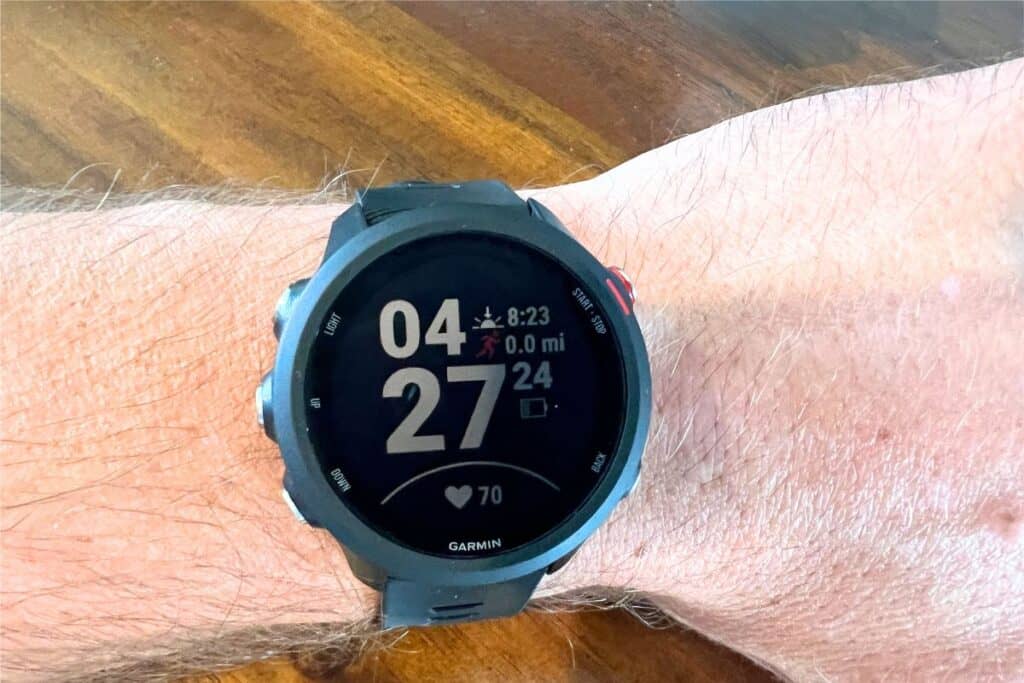 A good sports watch can help you measure your progress, map your routes, track your heart rate, and even listen to your favorite tunes while you hit the pavement. One such watch is the Garmin Forerunner 245 Music, a standout option in the fitness watch market.
The Forerunner 245 Music is designed for athletes who want a versatile watch that offers powerful and efficient tracking features combined with the added benefits of on-the-go music listening.
It provides accurate GPS performance and heart rate monitoring, and the watch also allows you to store and listen to your favorite songs, playlists, and podcasts – making your running experience even more enjoyable!
When considering a running watch, it's important to focus on essential factors such as the watch's accuracy in tracking distance and pace, battery life, overall usability, and comfort on the wrist.
Additionally, for music enthusiasts, the quality of the integrated music player, ease of use, and compatibility with popular streaming services are critical points to consider.
After an extensive evaluation of the Garmin Forerunner 245 Music, I've found that it delivers an impressive array of features, making it an ideal choice for both dedicated athletes and music lovers alike.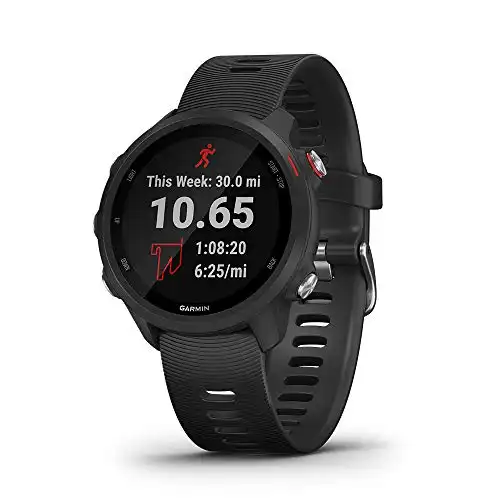 Garmin Forerunner 245 Music
This GPS smartwatch has storage for your favorite tunes, so you can keep moving to the music without having to lug your phone along. It also tracks your stats, crunches the numbers, and learns about your performance, training history, and even goals.
Pros:
Lightweight design and comfortable fit

Advanced training features and metrics

Integration with music streaming services
Cons:
Battery life could be better with music and GPS usage

Some advanced running dynamics require additional accessories

Limited smartwatch features compared to competitors
Get It On Amazon.com!
Garmin Forerunner 245 Music Review
Overall, the Garmin Forerunner 245 Music is an excellent GPS smartwatch for runners with advanced features and music capabilities.
Pros
Lightweight design and comfortable fit
Advanced training features and metrics
Integration with music streaming services
Cons
Battery life could be better with music and GPS usage
Some advanced running dynamics require additional accessories
Limited smartwatch features compared to competitors
I recently had the opportunity to purchase a Garmin Forerunner 245 Music, and it has quickly become my go-to fitness companion.
The lightweight design and comfortable silicone strap make it easy to wear during runs, bikes, hikes, and workouts, and the clear 1.2-inch display helps me keep track of our performance with just a glance.
The advanced training features, such as adaptive training plans and performance monitoring, really help optimize workouts.
It's great to see detailed metrics like ground contact time balance, stride length, and vertical ratio — although it's worth noting that some of these require additional accessories like the Running Dynamics Pod or HRM Run/Tri monitors.
One of the standout features is the integration with music streaming services like Spotify, allowing us to store and play our favorite songs directly from the watch.
It's so convenient to leave our phones at home and still have access to our running playlists!
However, with this convenience comes a tradeoff in battery life… I've found that using GPS and music together can drain the battery in about 6 hours, but it can last up to 7 days in smartwatch mode.
It's important to note that the Forerunner 245 is primarily a running watch, so it doesn't have all the bells and whistles of some other higher-end smartwatches.
But for those of us who love to run and are seeking a reliable watch that goes the extra mile, the Garmin Forerunner 245 Music is highly recommended.
Garmin Buying Guide
As we explore the Garmin Forerunner 245 Music, it is essential to consider several aspects to ensure that it's the best product for your needs.
In this buying guide, let's focus on a few key features and specifications to evaluate before making your decision.
Battery Life
Long battery life is essential, as it impacts the usability of your device during workouts.
Consider how often you plan to use your watch and for how long, then ensure the battery life meets your needs.
Music Storage
As the name suggests, the Music feature is pertinent to this device. Make sure the watch has enough storage capacity to hold your preferred playlists.
You may also want to verify whether it is compatible with streaming services.
GPS & Navigation
GPS accuracy and navigation functionality are crucial for runners and cyclists.
The device should provide precise location data and tracking features to help you monitor your progress, pace, and distance.
Health & Fitness Metrics
A vital aspect of any fitness watch is its ability to track a variety of metrics. Evaluate the device's capability to monitor different activities, from running and cycling to swimming and strength training.
Heart rate monitoring, VO2 max estimation, and sleep tracking are all valuable features to consider.
Compatibility & Connectivity
Ensure the watch is compatible with your preferred fitness apps and can connect to your smartphone for notifications and app syncing.
This compatibility enhances the user experience and makes tracking and analyzing your performance easier.
Durability & Water Resistance
A durable watch with water resistance is essential for athletes who train in various environments.
Make sure the device can withstand the elements and has a good water resistance rating for activities like swimming or running in the rain.
Comfort & Design
The comfort and design of your device can greatly influence your satisfaction. Choose a watch that fits comfortably on your wrist and has a design that appeals to your personal preferences.
Remember to weigh these factors according to your personal needs and how you plan to use the device. By doing so, you will be better equipped to choose the best product for you.
Frequently Asked Questions
How is the battery life of the Forerunner 245 Music?
The battery life of the Garmin Forerunner 245 Music is quite impressive. In smartwatch mode, it can last up to 7 days; with GPS mode and music streaming simultaneously, it lasts up to 6 hours.
Given its feature set and target audience of avid runners and athletes, we find the battery life to be more than sufficient to cater to most users' needs.
Does the Forerunner 245 Music support third-party music apps?
The Forerunner 245 Music supports a wide range of third-party music apps such as Spotify, Deezer, and Amazon Music. You can simply sync your playlists and enjoy music from these platforms during your workouts.
We appreciate the flexibility this offers in accessing your favorite music or podcasts while staying hands-free and focused on your activities.
Can you track swimming activities with the Forerunner 245 Music?
Unfortunately, the Forerunner 245 Music does not support swimming activity tracking. It is primarily designed to be a running and general fitness smartwatch.
If swimming is an essential activity for you, we suggest considering other Garmin models, like the Garmin Swim 2 or the Forerunner 945, which provide more comprehensive swim tracking capabilities.
How does the Forerunner 245 Music compare against the Forerunner 55?
The Forerunner 245 Music and the Forerunner 55 are both excellent running watches, but they target different users with varying needs.
The Forerunner 245 Music, with its music streaming capabilities, advanced running analytics, and customizable screens, caters to more serious athletes and those who require a more comprehensive feature set.
The Forerunner 55 is a great entry-level watch that offers essential features for runners and casual athletes at a more affordable price.
Are there any major updates or improvements compared to previous models?
Compared to its predecessor, the Forerunner 235, the Forerunner 245 Music comes with several significant updates. The most notable is the addition of music streaming capabilities, allowing users to import playlists and stream music directly from the watch without needing to carry a smartphone.
Other improvements include the Pulse Ox sensor for altitude acclimation and sleep monitoring, a more accurate GPS, and a sleeker design.
Is the GPS accuracy reliable in the Forerunner 245 Music?
Yes, the GPS accuracy in the Forerunner 245 Music is quite reliable. Garmin uses a combination of GPS, GLONASS, and Galileo satellite systems to ensure accurate tracking during outdoor activities.
We have found this to provide dependable data, which is vital for runners and athletes who rely on accurate performance metrics for training and improvement.