Do mountain bikes hold their value? I wondered this question while wandering through my local mountain bike shop taking a look at high-end bikes. If cars can lose 10% of their value right after purchase, how much value does a mountain bike lose over time?
After spending hours analyzing the details of 231 mountain bike sales, I'm ready to share the results of my analysis to help answer this question. I leveraged sales data from bikeexchange.com, pinbike.com, eBay, and bicyclebluebook.com to help answer this question.
I'll be upfront in stating that in no way do I think that my analysis is perfect. My intent is to provide helpful information so that you better understand how well mountain bikes hold their value when purchasing one.
Additionally, it can also act as a general guideline for how much you can sell your own used mountain bike for.
Compared to their MSRP, on average mountain bikes lose the following percentages of their value each year after purchase.
| | |
| --- | --- |
| Time after Purchase | Loss of Value |
| 1 Year | 41% |
| 2 Years | 48% |
| 3 Years | 57% |
| 4 Years | 62% |
While these numbers indicate the average depreciation of a mountain bike, I was surprised to see the differences between brands.
From the standpoint of trying to purchase a used high-end mountain bike, it was also interesting to see how you could leverage depreciation to get a stellar deal on a bike!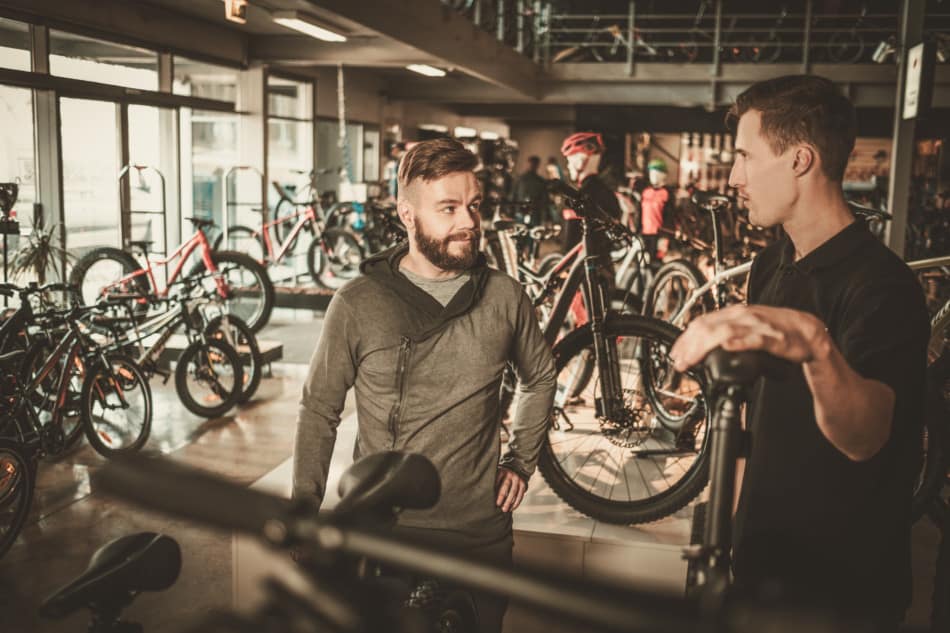 Let's start with all of the conclusions
Conclusion #1: Mountain bikes lose the most value in the first year
While there were differences between brands, the overwhelming result that I found was that mountain bikes lose the most value in their first year.
This logically makes sense. However, I was surprised to see just how much value was lost in the first year, compared to the differences in value between years two, three, and four. Below is a quick table to help illustrate the point.
| | | |
| --- | --- | --- |
| Time after Purchase | Loss of Value | Year over Year Value Change |
| 1 Year | 41% | 41% |
| 2 Years | 48% | 7% |
| 3 Years | 57% | 9% |
| 4 Years | 62% | 5% |
You should notice that this table is identical to the first one. With the exception of the newly added column "Year of Year Value Change". This is referring to the change in value between years rather than absolute loss of value from the original purchase price.
In other words, the difference in value between purchase and one year, the first and second year, etc…
The bike's value will continue to drop every single year, but the change in value after from the first year is by far the most substantial. Therefore making it the perfect age to purchase a used mountain bike.
Conclusion #2: Bikes from certain manufacturers hold their value better
While the loss of value in a mountain bike from any manufacturer was substantial, certain ones held up better than others.
For my own sanity, I chose to focus on crunching the data for some of the most popular mountain bike manufacturers for comparison rather than trying to gather data on every single one.
Locating a statistically significant set of sales data that spans multiple years for smaller manufacturers isn't easy, so my data collection only focused on mountain bikes made by Giant, Trek, Specialized, Cannondale, and Santa Cruz.
Naturally, I'm sure that there are others who deserve to be on this list but I'm simply working with the data that's most readily available for comparison.
After evaluating 231 bike sales, I found that the best mountain bike manufacturers based on value retention to be:
Specialized
Santa Cruz
Trek
Giant
Cannondale
Taking a look at the bar graph below, you can visually see that mountain bikes from Specialized depreciated (lost value) at a slower rate compared to the others.
In fairness, the absolute differences of depreciation between manufacturers aren't massive. But when you're talking about spending potentially thousands of dollars on a bike, it doesn't hurt to save money anywhere that you can.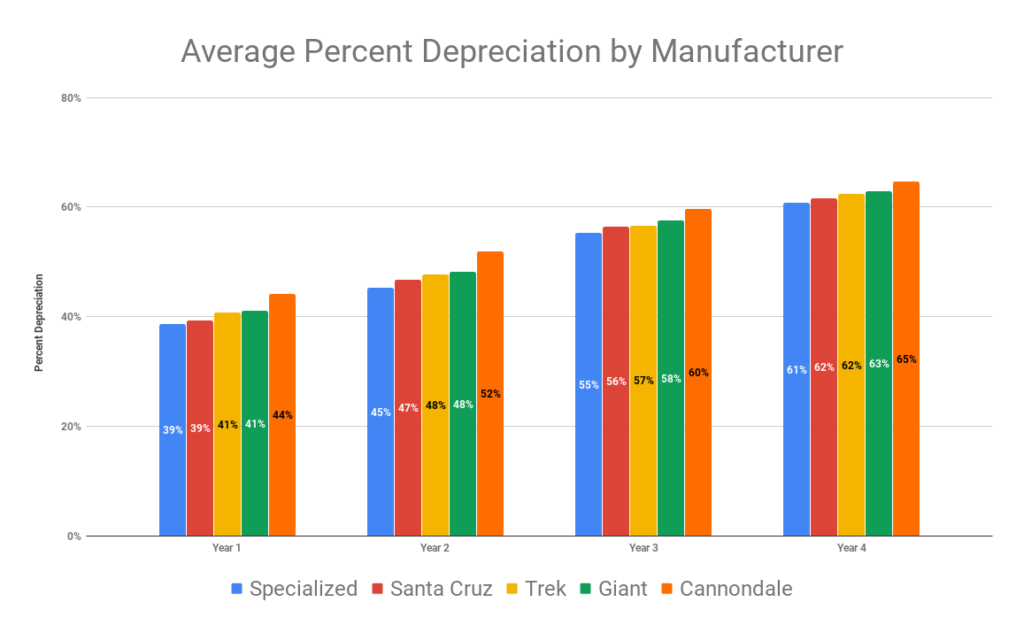 Conclusion #3: More expensive mountain bikes lose their value faster
Just like buying a Maserati, more expensive mountain bikes lose their value faster cheaper mountain bikes.
Manufacturers spend big bucks to pump the latest technology into the top-end bikes, therefore leading to dramatic price increases over even mid-range bikes.
While it's fun to ride these tricked-out beauties in the short term, they're unfortunately not going hold their value in the long run.
To get a better sense, I re-ran my analysis across all manufacturers to instead focus on price ranges to see how it impacted a bike's depreciation. After the first column, the remaining column headers are referring to the bike's purchase price range.
The net takeaway was that mountain bikes with a purchase price over $5,000 depreciated faster than cheaper bikes.
In case it's hard to read below, the green line in the chart below marks the depreciation of mountain bikes with an original purchase price over $5,000.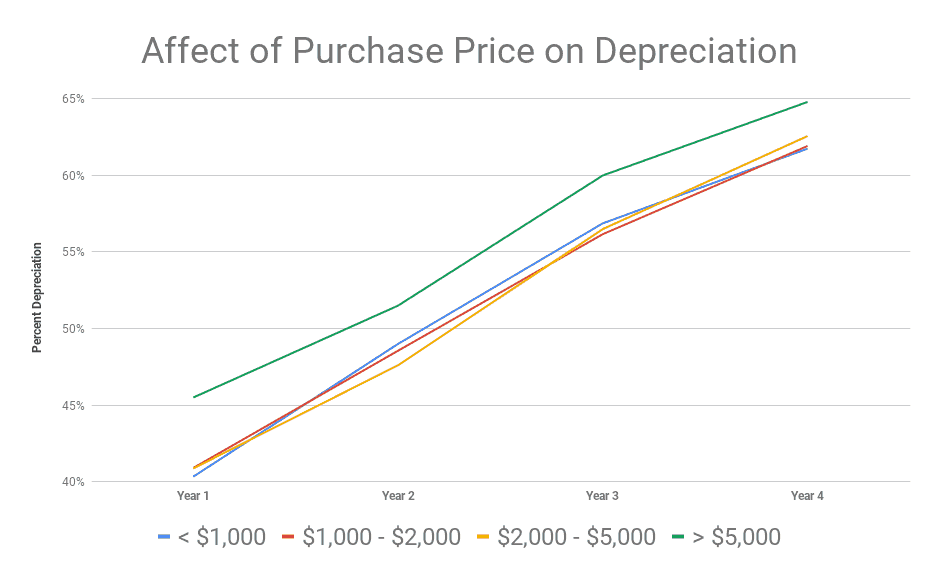 With time and practice, manufacturers refine technologies to the point where they become economically viable to trickle down into the mid-range and eventually low-end mountain bikes.
In essence, high-end bikes are the testing grounds for the latest technologies and buyers of these bikes quite literally pay for it.
Tip: If you're thinking about buying a high-end bike and wondering if it's still worthwhile, make sure to take a look at my dedicated article here to help make your decision.
Conclusion #4: The sweet spot for buying used mountain bikes is one year
There's no doubt that the price of used mountain bikes goes down with each passing year. However, there's definitely a trade-off between price versus wear. Purchasing a mountain bike that is around a year old will give you the best return for your money.
The longer that a mountain bike has been used by a previous owner, the more wear and tear it has taken. With wear and tear comes the need to replace components, and an increased chance of future part failures.
Not to mention the fact that a 1-year old mountain bike has already dropped ~41% in price! Yes, finding the same bike a year older will save you roughly another 7% but is it really worth it?
I would argue that it's not 😉
How much do mountain bikes depreciate per year?
If you thought that losing 20% of a car's value in the first year was a bad deal, then I've got even worse news for you. The average mountain bike loses 41% of its value in the first year after purchase!
Now while this varies slightly from manufacturer to manufacturer, it's still a stunning number to look at.
To use a real-world example, if you were to purchase a new mountain bike for $2,500, it would only be worth $1,475 after one year. Talk about a quick thousand dollars out the window!
To further illustrate the example. let's take a look at the same bike's value over a 4-year period. (I'm running these number using the overall depreciation numbers rather than those specific to any manufacturer).
Original purchase price: $2,500

Bike value after 1 year: $1,475 (41%)

Bike value after 2 years: $1,300 (48%)

Bike value after 3 years: $1,075 (57%)

Bike value after 4 years: $950 (62%)
This depreciation schedule can be even further accelerated when new technologies or trends are introduced that makes your bike "unfavorable".
Think about the trend to larger wheel sizes like 29ers, 27.5s, etc… these have vastly lowered the value of used 26-inch tire bikes.
Even worse yet, any component upgrades that you made over the course of owning the bike will do little to help boost their value.
Wheels, shocks, one-by transmissions, etc… they're all fantastic enhancements, but they won't make a big difference in the bike's overall value.
Don't get me wrong – these upgrades definitely make it a better bike. They just don't necessarily translate into the resale value that you may have hoped for.
The best thing that you can do to help retain the value of your mountain bike is to take great care of it. Don't leave it outside to weather in the elements.
Take the time to clean it after rides where it gets particularly dirty. Extend the life of components by oiling them, avoiding banging them up, etc…
Last but not least, make sure to perform a basic service roughly every three months and a full service once per year. This ensures that it both looks and functions great when it comes time to find a new owner.
Basic servicing should include:
Wash the frame, components, and wheels
Lubricate the drivetrain
Tighten all fasteners
Align and adjust brakes and shifters
Adjust the headset
Inspecting tires for wear and the state of tubes or sealant levels
A full bike service is more in-depth and covers the same items as a basic service plus the additional following items:
Overhaul and replacing bearing systems
Replacing cables and housing
Full suspension overhaul
True up the wheels
How much can you sell a used bike for?
As I've already covered, the primary factor affecting the value of your used mountain bike is its age. The goods news is that the drop-off after the first year is far less severe. The bad news is that you'd better sell that bike ASAP before it either:
Has features that become less desirable or irrelevant due to new technologies or trends e.g. larger tires
Accumulates more wear and tear from use
Sits too long and continues to lose more value
The other primary factor affecting how much you'll be able to get for your used mountain bike will be its condition. As defined by bicyclebluebook.com, here are descriptions for some of the conditions that your mountain bike could be in.
Excellent – The bicycle looks new and is in like-new mechanical condition. The frame and fork have no visible or detectable blemishes or damage. All components, parts, and accessories are clean and free of any visible and detectable blemishes or damage. No service is required on any component, part, or accessory. Tires and grips/handlebar tape are original spec and in pristine condition.

Very good – The bicycle looks good, may have minimal cosmetic (only) blemishes on the frame, fork, components, parts, and/or accessories. The bicycle may require minimal service adjustments without the need for replacing any parts. The suspension and braking surfaces are clean with some signs of usage yet free from grooves and pitting. The tires, grips/handlebar tape, and brake pads may show signs of usage yet have a majority of their life remaining.

Good – The frame or fork or components or accessories have cosmetic blemishes. The frame (if metal) may have minor, aesthetic dings. Paint is faded slightly and/or slightly discolored and scratched. Bicycle is free of major mechanical issues but may require some service. A tune-up is recommended. Some parts may require replacing, not to include front or rear shocks, wheels, shifters, front or rear derailleurs, braking systems, crankset, or chainrings. Items that may need to be replaced include tires, tubes, grips/handlebar tape, brake pads, brake hoods, chain and cassette, brake cables, gear cables, any/all housing, brake fluid, and shock oil. Braking surfaces may have minor grooves or discoloration. Suspension and brakes may need to be serviced.

Fair – The frame or fork or components or accessories have cosmetic blemishes. Paint is faded slightly and/or slightly discolored and scratched. The bicycle has some mechanical issues and a tune-up is necessary. An overhaul is recommended. Multiple parts need to be replaced. Suspension and brakes need to be serviced.
Estimating the value of your mountain bike
Now while those are admittedly pretty lengthy condition descriptions, they should help to clarify what condition that your bike is considered to be in.
With this knowledge in hand, you can then take this classification and lookup an estimate for your specific make, model, and year on a site like bicyclebluebook.com.
Keep in mind that this site is more of a general estimate, so it's best to look for recent sales of your bike on sites like bikeexchange.com, pinbike.com, or eBay. Finding out how much people have actually been willing to recently pay for your mountain bike is the best possible gauge.
If that sounds like too much work (and believe me it's not easy), you can also try my shortcut route for calculating a fair selling price.
Rather than get into the nuances of specific conditions, I'll make the assumption that you've ridden this bike a fair amount but it's still in working condition and only a couple years old. The value of your mountain bike is likely 50% of the original purchase price.
Where to sell used mountain bikes
Once you've got a price in mind it's time to sell your used mountain bike!
While Craigslist may seem like an easy choice, it's gotten pretty scammy and can sometimes be more trouble than it's worth. If you do decide to go this route, make sure to meet people at public locations for safety reasons.
eBay helps to do away with some of these hassles, but their commission structures can also quickly eat into your sale price.
Knowing that you've already lost a considerable chunk of the bike's value to time, it seems silly to throw away even more to commission fees.
The next best option may be working with bike-specific sites like The Pros Closet, Bike Exchange, and Singletracks. These may help to simplify the selling process for you.
They have the benefit of introducing you to your ideal audience – mountain bike geeks! Many will be well educated and can really make for a straightforward sales process.
If online sites aren't your thing, you could also try visiting local sporting goods stores or bike shops.
Additional tips for selling your mountain bike
Regardless of which route you choose, here are a few tips to help make the sales process more efficient.
Get the bike cleaned and serviced – Take the time to get the bike as clean as possible before a sale. If you're able to service it yourself, all the better. If not, take it in to get serviced to ensure that it's in good (safe) working condition before trying to sell it.

Take great photos – For an online listing, I can't tell you just how important great photos are to a sale! While you can certainly whip out your DSLR for photos, any modern cell phone will take good enough shots.

What most people get wrong is failing to remove clutter from the background, not taking shots in well-lit conditions, or have the photo be out of focus or blurry. Make sure to also take close-ups of individual components from different angles. This allows potential buyers can see exactly what they're buying.

Provide accurate and thorough descriptions – Saying that your mountain bike has Shimano components isn't going to cut it. Shimano has many different levels of components, so you need to share exactly which one is on your bike.

The same goes for the bike's make, model, year, tires, etc…Make sure to also itemize any upgrades or customizations that you've made to help differentiate your bike from others on the marketplace.