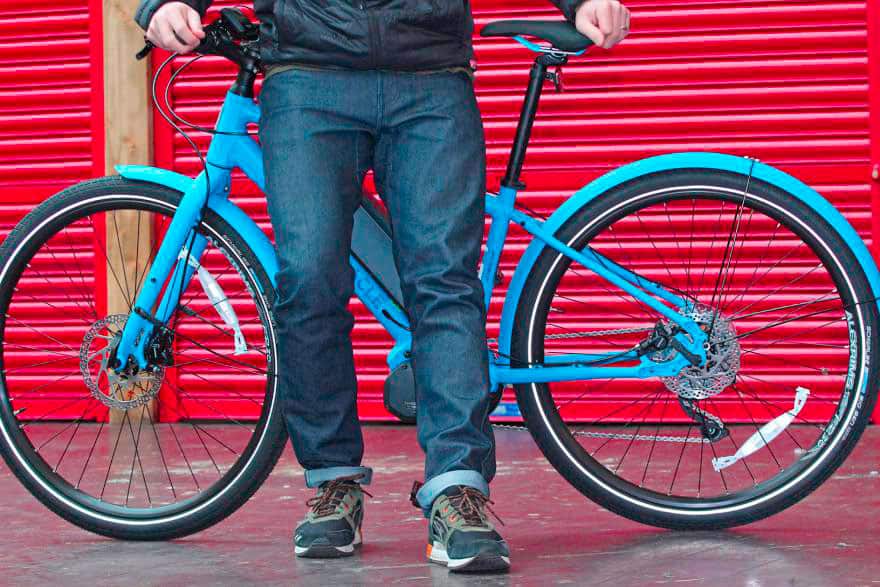 With all of the fancy MTB specific gear you can find in bike shops these days, it made me wonder if you can just mountain bike in jeans? Now while that might seem like a silly question, I rarely wear jeans because I find them too constrictive and certainly haven't gone for a ride wearing them.
So – can you mountain in jeans? Yes, there's no reason why you can't mountain bike in jeans. However, other fabrics are better suited because they provide moisture wicking, insulation when wet, and better flexibility.
While jeans may be suitable for casual rides in cool or dry climates, they are not the best performance material. Other material choices can provide not only more flexibility but also better wind resistance and warmth when wet.
Mountain biking in jeans
While there's nothing stopping you from riding in jeans, it's probably not the best possible choice of fabric for long, technical, or challenging rides. If you're just thinking about going for a quick cruise or taking a joy-ride then don't let jeans stop you!
For starters, denim is made of 100% cotton. While cotton can be extremely comfortable for everyday wear, it's not a great choice for performance fabrics. Cotton provides no moisture wicking, meaning that as you sweat it's not going to pull the moisture away from your skin.
This is a huge concern in hot and humid climates such as those found in the American southeast. For dryer climates in states such as Arizona and Colorado, this may be less of a concern.
If the jeans do get wet, they're also not going to dry on their own any time soon. This is especially important for cooler conditions where you don't want to be both wet and cold. Cotton completely loses its insulative properties once wet.
As moisture builds up in the jeans, it can create more rubbing friction against the legs and hips that cause irritation. The irritation from the rubbing of wet cotton against the skin seems to affect some people more than others, but something to keep in mind.
From a movement perspective, I find many pairs of jeans to be a bit restrictive. In particular, deep knee and hip flexion can be tricky depending on the flexibility of your particular pair. While you can certainly get away with wearing jeans in an upright riding position, it's not likely that they'll be comfortable for more aggressive forward-leaning postures or tough climbs.
If you're still dead set on wearing jeans, make sure that they have a tapered cuff to prevent them from getting caught in the chain.
What about stretchy jeans?
Traditionally jeans have been made of 100% cotton. While they looked great, at times they could be incredibly stiff and cause friction burns around the hips, knees, and low stomach. For this reason, many manufacturer's have started to include elastane for extra stretch.
Elastane is a synthetic fiber known for its superb stretch. Commercially it's also known as Spandex or Lycra, which I'm pretty sure everyone has heard of these days! The elastane is incorporated into the jeans to account for 1% – 3% of total fabric and blended with the denim.
In 2016, Levi's even took to incorporating some stretch into their 501 jeans. This particular line of jeans had remained unchanged for 140 years, so it's telling that they were willing to change it to add some stretch!
There's no doubt that all of this added stretch is certainly going to make your mountain bike rides in jeans more comfortable. However, what it's not going to fix are its negative performance aspects.
The jeans will still fail to wick moisture away from the body, and won't keep you warm once wet.
Jeans made for "cycling"
If you're still set on mountain biking in jeans then the best recommendation I can give is to find ones made for cycling. Like your standard stretch jeans, they have a bit of Lyrca incorporated to allow for more stretch.
Re-inforced crotches are another common theme to ensure that they're able to withstand more than a few months of use. Many are also made of lighter-weight denim to increase breathability and flexibility.
Keep in mind that most of these are really made for those bike-commuting to work who wish for more comfortable jeans. They're not optimized for the wear and tear of hard trail riding or poor weather conditions.
Here are a few pairs of men's cycling jeans to consider:
Levi Commuter 504
Osloh Traffic Bicycle Jean
Resolute Bay NX3 Slim Fit Cycling Jean
Sombrio Riff Denim Pant
Club Ride Apparel Shift Denim Pant
Club Ride Apparel Cog Jean
DU/ER Performance Denim Slim Pant
And here are a few pairs of cycling jeans for the ladies:
Ligne 8 Aubrey Straight Leg Jean
Prana Kara Denim Pant
Levi's Commuter
Betabrand Straight-Leg Yoga Jeans (not technically cycling jeans, but they've got the stretch!)
What fabric materials are in good mountain biking pants?
If you're ready to look beyond jeans, there are a number of really good pants made specifically for mountain biking.
A good set of mountain biking pants meets several key requirements from a materials and construction standpoint.
Moisture-wicking properties to allow a rider to stay cool
Durability to survive crashes, snags, and in general the abuse of mountain biking
Flexibility to allow a rider to move comfortably through a wide range of motions
Sufficient breathability and air-flow to prevent the rider from overheating
Water resistant nature to help a rider stay dry in wet conditions (optional depending on your climate)
As you can see, that's quite the list of requirements. Because no one fabric can truly handle all of these, many of the best mountain biking pants are often constructed from multiple synthetic materials like polyester, nylon, and spandex.
Each used in specific areas to meet specific needs, and enhance the rider's experience.
Additional specs that you may also care for for in a pair of technical mountain biking pants include:
Tapered leg cut to prevent chain snags and reduce flapping
Additional stretch zones in the knees and hips (pre-shaped knees also a bonus)
Zippered ankle openings
Taped seams for additional water resistance
Additional ventilation holes around the crotch
An array of pockets for storage when riding without a bag
An adjustable highbacked waistband with a no-slip strip on the inside
Abrasion-resistant paneling
Mountain Biking Pants to Consider:
To save you time trying to find these on your own, I've put together a sample list of some of the most popular mountain biking pants out there.
Troy Lee Designs Sprint MTB Pants
Fox Flexair Pants
Fly Racing Kinetic Era Pants
O'Neal Legacy Pant
Leatt DBX 4.0 Pants
45Nrth Naughtvind Trousers
Fasthouse Fastline MTB Pants
What else do you wear for mountain biking in the fall (or other cool weather)
If you're this interested in mountain biking in jeans, then it's fair to assume that it's because cooler weather has made its way to you! In addition to pants, you'll also want to consider a few more pieces of clothing to help stay warm on your ride.
After you've covered up your legs, it makes logical sense that your next move should be to cover-up your upper body. Biking jackets are meant to act as an outer shell that shields you from wind and water.
These lightweight layers can easily be compacted into your bag in the event the ride starts warm but has a good chance of ending on the chilly side!
While the vents in helmets are a godsend on hot days, they can quickly make your head cold on a chilly day. Headwear comes in many forms, and can help you to adapt to a range of temperatures.
A simple headband may be enough to take the edge off cool days. For even cooler days, skull skullcaps and beanies come to the rescue.
Cold feet are one of my least favorite things on this planet. For this reason, I choose to upgrade my biking socks in cooler weather. Changing out your thin, moisture-wicking summer socks for thicker merino wool can add a nice boost of much-needed warmth.
Just be careful that your thicker socks aren't making your shoes too tight and causing circulation to be cut off.
However, when it comes to mountain biking in hot weather – that's an entirely different story! Make sure to look at my article on the best types of clothing for hot weather here.