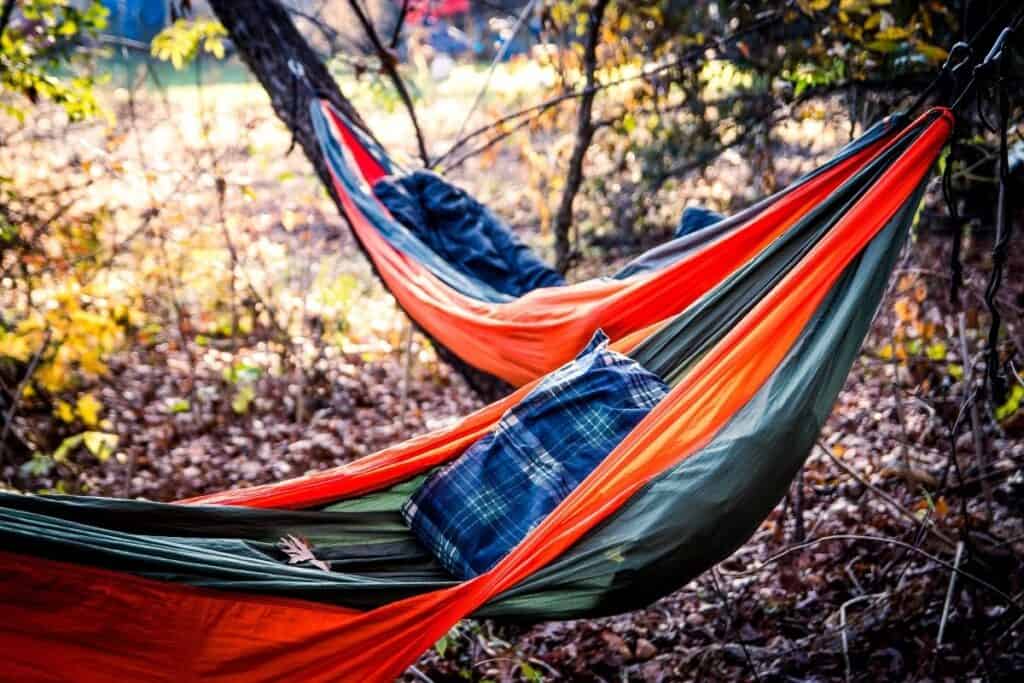 You are heading out to the great outdoors and want to prepare yourself so you can make the most out of your adventure. I get that. After all, how are you supposed to enjoy yourself if you're cold, uncomfortable, and wet?
There are quite a few hammock camping accessories on the market that avid hammock campers swear by. I took the liberty of rounding them up for you, so you can spend more time enjoying the great outdoors and less time huddled over your computer or phone!
Are mosquitos buzzing in your ear all night? Are you waking up with itchy bumps all over your arms and legs? No thank you! In most climates, mosquitos will be a problem, and without the right protection, you'll be a delicious feast.
If your hammock doesn't have a built-in mosquito net, you will want to purchase a stand-alone one with 360-degree protection.
Nets that have very fine holes keep even the smallest bugs out and are considered the best. Sometimes cheap mosquito nets tear, so be sure it is durable and high quality.
Keep in mind that fine netting will probably obscure your view, so it is a compromise. 
You'll want to keep your valuables and gear safely stored while you're relaxing. This means off the ground, dry, and away from critters!
Seasoned hammock campers prefer an underbelly sling–which looks like a mini hammock that hangs under your hammock–to store their belongings.  
If you're bringing along a furry friend, your underbelly sling can also act as a bed for them. That is if he/she isn't too big!
It would also be a good idea to have a separate storage system for your food and odorous items (toiletries/cosmetics), especially if you're camping in "bear country." Do not store these items under your hammock–unless you want something scratching at your door in the middle of the night!
There are regulations in parks across the United States for storing items that could attract bears and other animals. It is wise to follow these guidelines so you don't get fined. It could also mean life or death, which is more important.   
You can buy a sleeping pad explicitly designed to fit in your hammock for additional insulation, comfort, and protection. These pads have tapered ends–instead of sharp corners–so you can more easily slide into your hammock.
Types of hammock sleeping pads include air pads, closed-cell foam pads, and self-inflating pads.
Keep in mind, some sleeping pads are slippery, which can be annoying… So look for one with a non-slip surface!
4. Tarp and Rope, Etc.
Even if you plan for a weekend getaway with a clear forecast, sometimes you get a little rain anyways. It's good to prepare yourself for this.
To shelter yourself from windy, rainy nights, hang a tarp (sometimes called a "rain fly") above your hammock to create a tent-like shelter. You will need guy-lines, rope, and stakes so you can suspend your tarp properly.
Tarps come in various shapes, sizes, thicknesses, and weights. There are asymmetrical tarps, diamond-shaped tarps, hexagonal tarps, and rectangular tarps. Which kind you choose depends on how much coverage you need, how much extra weight you can carry, and the season.
Before purchasing your tarp, measure how big your hammock is. You will want to make sure your tarp covers your entire hammock, plus about six to 12 inches, past each end.
If you're camping during the summer, a smaller diamond tarp will do. But for the spring and fall, you should choose a catenary hexagonal tarp.
Sitting in your hammock, drinking a cold one, and watching the stars – it doesn't get much better. While a cooler is not an essential accessory, it will seriously elevate your hammock camping experience!
Hammock coolers or "soft coolers" are a great way to keep things nice and chilled on a hot day. They are also a nice change from the massive, heavy dinosaur coolers.  
Most hammock coolers are soft, compact, portable, waterproof, and insulated. There are two types of insulation in hammock coolers: closed-cell and open-cell.
Closed-cell insulates a little better than open-cell. However, it is more expensive and heavier. Open-cell is the lightweight, affordable option that provides good insulation too. 
If you're going to hang a hammock between two trees, you'll need something to hang it. For hammock camping, the best hanging gear to have is tree straps.
Not all hammocks come equipped with straps, so you'll probably need to purchase them separately. However, most hammocks do include carabiners (a coupling link with a safety closure, usually used by rock climbers). 
You won't need to purchase carabiners unless you would like to hang extra gear off your hammock or use them around the campsite. 
Finding a durable set of straps is paramount to feeling safe and secure in your hammock overnight. Quality tree straps should be able to handle virtually any tree you use to hang your hammock–no matter the type of bark on the tree. The ideal distance between trees is 13-16 feet. 
These tree straps are made out of polyester material and inch wide–making them "tree-friendly." They are very durable, won't stretch, and can hold up to 500 pounds. They are also straightforward to use, and you should be able to set up your hammock in under a minute.
You will appreciate how many adjustments it has. Each strap is 10 feet long with 19 loops. Lastly, it comes with a carry bag for quick setup and easy hanging, as well as carabiners.
For optimal warmth and comfort, you'll want to have an underquilt. It straps to the bottom of your hammock and relieves you of Cold Butt Syndrome. 
Hot tip (no pun intended): When you suspend your under quilt, there should be minimal tension. Also, make sure there are no gaps between the hammock and the quilt because it will work against insulation.
Buy it in camo or "coyote brown"!
The top quilt acts as a comforter, so you stay nice and cozy.
Hammock campers choose a top quilt/under quilt combo instead of a sleeping bag because the pressure your body puts on the sleeping bag reduces its thermal properties.
It's also easier to get in and out of a two-piece set instead of having to unzip yourself continually.
Many people enjoy the quick entry and exit with snaps – no zippers! You can wear this top quilt as a poncho while relaxing by the campfire if you would like.
Regular, large, and x-large quilts are available in dark blue and olive green in both summer and winter weights.
One of the biggest mistakes hammock campers can make is not having a hammock repair kit.
When you're out in the wild, you should expect your hammock to get a tear, burn, or hole, which gets worse over time–not better.
If you carry along a hammock repair kit, you can repair the damage to your hammock before it turns into a big problem–like not having anywhere to sleep for the night!
Are you going camping with your best friend? It's possible to hang two hammocks side by side using the same anchor points.
A tandem hanging system uses a lightweight pole system that keeps the hammocks separated. It seems pretty simple but also pretty awesome.
Another plus is you only need to bring one tarp, set of stakes, and rope, further saving weight.
Keep in mind; there should be enough space so your shoulders won't brush. Also, for best results, the hammocks should be similar in length.
Some people do not like the tandem hanging system because whatever you do will affect your partner. Generally, I don't see this as a problem because hammock sleepers are essentially in a cocoon, and you can't move too much anyways.
However, if you get up in the night to go to the washroom, I suggest doing it slowly or warning your partner. You could dump them on the ground!
Your hammock won't come with a pillow. However, some sleeping pads come with pillows attached.
If you have neck problems, you will need a pillow when hammock camping. It will keep your head insulated and comfortable for a better night's sleep.
I would suggest one that works well in both hot and cold temperatures. For example, a pillow made with both fleece and microfiber materials is excellent. I would also suggest using something to attach the pillow to the end of your hammock so it stays in place. Otherwise, it will move around on you.
Pillows are also easy to store and carry, so the bit of extra space they take up is worth it for the extra comfort you'll have while sleeping.
Final Thoughts
Going camping is exciting and exhilarating, but you have to prepare yourself for anything nature will throw at you. If you're planning on hammock camping, you should look into adding a few extra accessories to make your experience all the more memorable.
Mosquito nets will keep out unwanted insects that will cause you discomfort during your camping trip while sleeping pads can make your sleeping experience more comfortable. A cooler is an ideal accessory to keep your food properly stored and protected from wildlife, and a repair kit is necessary for any rips, tears, or issues you may encounter with your hammock.
These accessories, along with the others on our list, can make all the difference when you're enjoying the great outdoors.
Related Articles
If you found this article helpful, then make sure to take a look at some of my other related articles linked below!